Meghan Markle Just Wore Another Pair Of Perfect Jeans From Her Favorite Denim Brand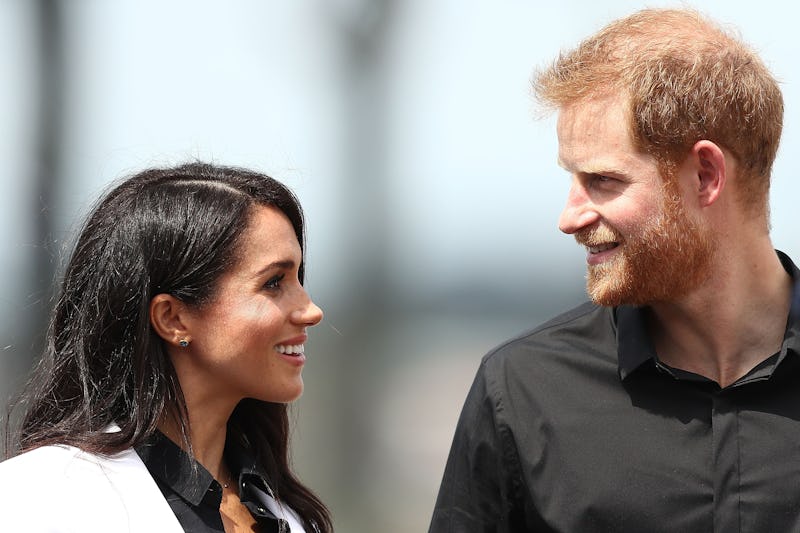 Mark Metcalfe/Getty Images Entertainment/Getty Images
Meghan Markle has rocked killer outfit after killer outfit while on a royal visit in Australia with husband Prince Harry, and it's given royal style fans some serious fashion inspo. Now, she's repeated a seeming favorite. Meghan Markle's Mother jeans are back but it's not the same pair she was to the Invictus Games before. This is a while new pair, and the best part is that they're even more affordable than the last!
If you don't remember, Markle wore a super stylish pair of light wash, lightly distressed jeans with a raw edge hem from brand Mother to the Invictus Games in Toronto back in Oct. 2017. The soon-to-be duchess paired the denim with a classic, white button down and flats. The look was minimalist and and seemed to resonate hard with royal fans because the Mother jeans ended up with a 400 person waitlist. Eventually, the jeans did come back in stock, but now, there's another pair to look out for.
While in Australia at the Invictus Games, Markle mixed luxury with her Mother denim wearing an Altazurra blazer and the Mother Denim Looker jeans according to Fashionista. Typically, Altazurra blazers cost around a whopping $1500-$1800 dollars, so unless you've got a lot of disposable income, it's not really affordable. The jeans, however, are doable, and as of press time, they're still in stock.
The Mother Denim Look jeans are currently up for grabs for $196 on the Mother website. They're even slight more affordable than the original Mother denim that Markle wore. Those rang in at $228.
For her appearance at the games, Markle appears to have chosen the Not Guilty wash, but as for the rise, that's a guess since her shirt was not tucked in. That can be all your preference for you want to rock the jeans as well.
The jeans aren't the only brand that Markle has repeated on her trip to Australia, though. While it's not known for sure that Mother is her favorite denim brand, there seems to be a pattern of the duchess wearing brands repeatedly. That would indicate favorite status, right?
While in the country on her royal visit, Markle also repeated wearing Sarah Flint shoes. Not only did she rock a pair of Tortoiseshell pumps for she and Prince Harry's arrival in the country, but she wore a pair of Sarah Flint sandals with her thigh high slit Reformation dress over the weekend.
It's not just that Markle has been repeating brands on the trip, either. It's that, like the Mother Denim, she's been wearing some pretty affordable gear. From her Serena Williams blazer to her Rothy's flats, pieces of her Australian wardrobe have been accessible to we mere peasants.
If you want to cop the duchess's style, her Mother Denim Looker jeans are still available on the Mother website. Don't worry, though. Markle has been rocking some affordable finds lately, and there could be more styles must-haves to come from the Duchess of Sussex.