Meghan Markle's Recipe For This Iconic Fall Treat Will Make You Drool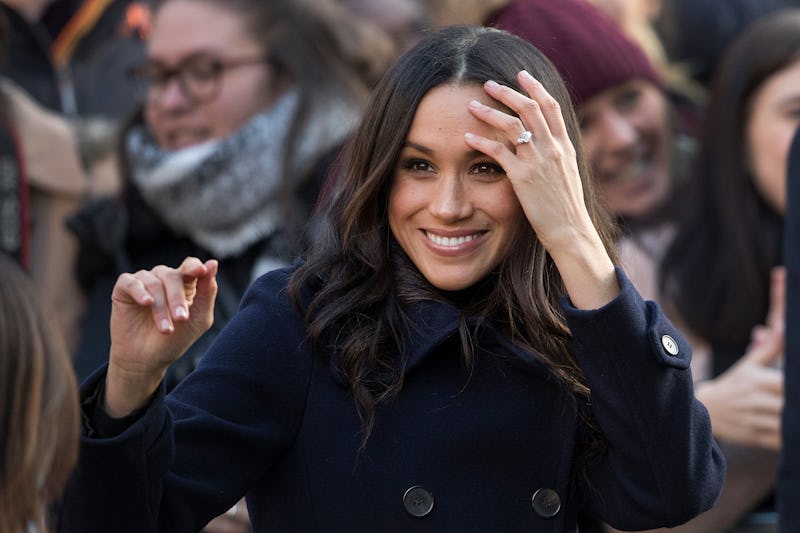 Christopher Furlong/Getty Images Entertainment/Getty Images
Fans of the Duchess of Sussex all know that before she was a duchess and was just a lowly successful television actor, she had a blog called The Tig. On her blog, the now-royal wrote fashion stories, shared beauty and travel tips, and posted a whole lot of recipes. And one of those recipes is perfect for any fall entertaining you might be doing. Meghan Markle had a poached pear recipe on The Tig that looks fancy as all get out, but doesn't actually sound that hard to make.
Markle deleted The Tig, leaving only a goodbye message to her readers, in April 2017, with the speculated reason being that she was preparing to join the royal family. But while The Tig is officially gone, it's not actually gone, because some of the old posts have been saved online. The Wayback Machine archive has several pages of the blog copied, including the poached pears recipe.
The October 2016 blog post begins with Markle talking about how the restaurant Fig & Olive was offering a prix fixe menu during that time with part of the proceeds going towards the National Breast Cancer Foundation. Markle wrote, "But on the off-chance that you don't live near one of their fine locations, today we're offering their recipe for the healthy and delicious dessert (or finale, if you will) of this special menu for you to make right at home. Read on to see how easy it is to bring this perfectly light poached pear to life!"
Markle then lists off the ingredients along with some super cute little pictures of them. Everything seems like it would be pretty easy to find except granola with pistachios (though, you could just buy whatever granola and add pistachios) and micro basil (but you could probably do without micro basil... or buy regular basil).
The recipe also seems pretty easy, if time consuming. Apparently, the pears have to poach for one to three hours, so you might want to pull this one out only for your closest friends. You can read the full recipe here.
The poached pears are far from the only perfect for fall recipe that Markle shared during her time writing The Tig. She has an onion pizzette with with sage and goat cheese. She has sweet potato and white bean soup. She has red wine hot chocolate. She even has pumpkin fondue, about which she wrote, "I am going to go out on a limb here and say that this may be my favorite recipe of all time. A bold statement, indeed." You could even have Meghan Markle themed fall gathering and base your whole menu on recipes from her blog. It just might be a very decadent meal — she likes bold flavors and is not afraid of heavy cream. And to think, the Queen won't even let her eat garlic.
If these recipes don't speak to you, Markle shared a ton more during her years of writing The Tig. You can check out some more of the recipes she posted here, or read saved portions of the blog on the Wayback Machine here.