Meghan Markle's Reaction To Her Drama Teacher Being At The Royal Wedding Is So Adorable — VIDEO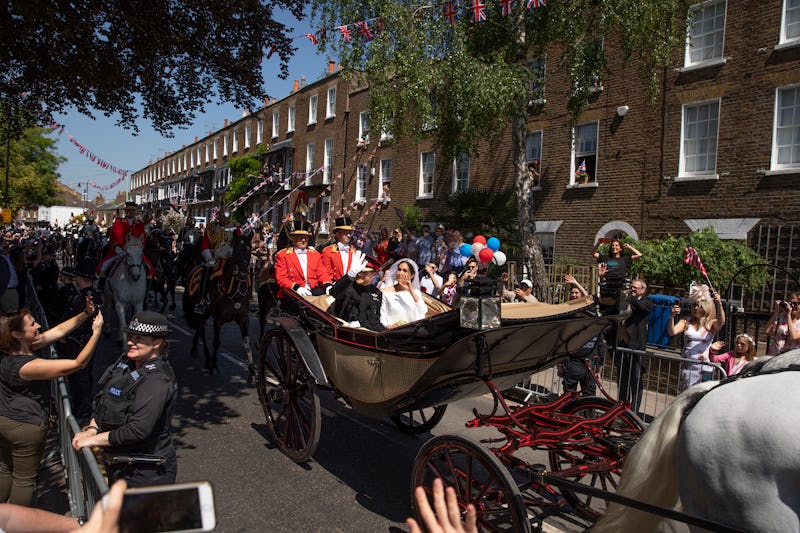 Dan Kitwood/Getty Images Entertainment/Getty Images
In a day of royal wedding joy, here's one more moment to make you smile. According to reports, Meghan Markle saw her drama teacher Gigi Perreau for the first time in 20 years during the procession after the wedding at Windsor Castle. In a video of that sweet moment, Meghan shouted, "Oh my God!" from the horse-drawn carriage which took her and Prince Harry from the ceremony.
Rohit Kachroo, an editor with ITV News, a British publication, tweeted that he was standing next to Perreau in the large crowd gathered to greet the new couple following their nuptials at Windsor Castle. Perreau told Kachroo that she wondered if Markle saw any interviews she had given earlier in the week.
Alex Beresford, a TV presenter, was also standing with Perreau in the crowd along the road leading to Windsor Castle. Before the four-horse carriage carried the newlyweds away from the royal wedding, Beresfod tweeted that Perreau wondered if Meghan would recognize her — and it appears that she did.
Hundreds gathered on the street leading away from the wedding site in hopes that would glimpse the Duke and Duchess of Sussex after they said their wedding vows. Perreau was among a throng of onlookers as the carriage quickly passed, but Meghan's face lit up and she exclaimed, "Oh my God!" when she turned her head and saw Perreau.
Perreau is a former child actor who started working at 4 years old. According to Turner Classic Movies website, Perreau has worked with famous actresses such as Bette Davis, Lana Turner, and Irene Dunne. She appeared in 25 movies before she turned 10 years old, according to the Los Angeles Times. Her star on the Hollywood Walk of Fame is on the 6200 block of Hollywood Boulevard.
Perreau went to the Immaculate Heart High School in Los Angeles, where she briefly taught drama to students, including Meghan. In case you've been living under a rock, Meghan has starred in the American TV show Suits for the past seven years. Upon her engagement to Prince Harry, Meghan announced her retirement from acting.
Hello! Canada's editor-in-chief, Alison Eastwood, told the Toronto Star last year that Meghan could keep acting if she wanted, but it's unlikely.
"There's no royal decree stipulating that once you become a member of the Royal Family, you must forgo other professional activities," Eastwood told the newspaper. "It's not written in the royal rule book, but the fact is it becomes completely unpractical to sustain once you are a working member of the Royal Family. The level of scrutiny and security alone really make it prohibitive."
Perreau, like many connected to the royal couple, has given numerous interviews in the lead up to the royal wedding. She was also a contributor to ITV News in the days before the royal wedding.
Perreau had also talked to royal biographer Andrew Morton for his book, Meghan: A Hollywood Princess about her time as Meghan's drama teacher. She described Meghan as "very hardworking." even as a teenager.
"We never had a moment's problem with her, she was spot on, learned her lines when she had to, very dedicated, very focused," Perreau told Morton. "She was a wonderful student, a lovely girl even then, and very hardworking."
Perreau talked about Meghan's father's involvement in the high school drama department, where he frequently built sets for the plays. But Perreau said she knew she would hear about Meghan after high school.
"I wasn't sure which direction Meghan would ultimately be going in because she also had interests in humanitarian activities," Perreau told Morton. "She had a good heart, had absorbed the school's philosophy that there is nothing we cannot do, and she seemed to be focused on her future."