Meghan's Relationship With The Queen Is SO Different To Kate's Based On This Detail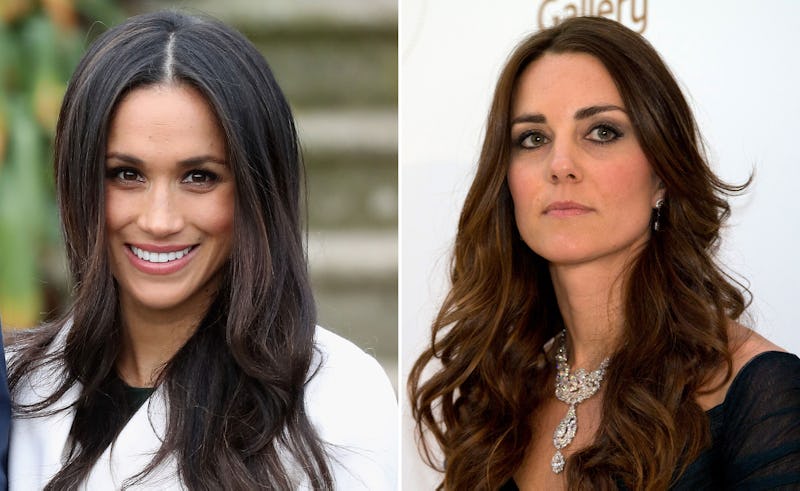 Chris Jackson/Getty Images Entertainment/Getty Images WPA Pool/Getty Images Entertainment/Getty Images
What does the Duchess of Sussex have in her diary now that she and new hubby Prince Harry are back from their honeymoon? An appointment to hang out solo with his grandma, of course. Well, actually, not just hang out. She is undertaking an official solo public engagement with the Queen on June 14. It's literally just the two of them — and the public, a full media pen, and a retinue of advisers, of course. So what does this tell us about Meghan Markle relationship with the Queen? Actually, quite a lot.
Undertaking a solo engagement with just the Queen is a huge deal. While the Queen and Kate Middleton clearly have a strong relationship of their own — the monarch has famously had Kate's parents to stay with her in Balmoral — Middleton didn't complete a solo engagement with the Queen until she'd been married to Prince William for almost a year. Even then, in March 2012 when she went to London's Fortnum & Mason, the pair were accompanied by Camilla, The Duchess of Cornwall. The pair of them flying solo together feels quite significant, and while we'll never know the exact cause, it does suggest their pair are perhaps closer than we first realised.
Before she married Harry, there were some who questioned how well the former Suits actress would adapt to life in the royal family. Markle has been very vocal on key feminist causes and she hasn't been afraid to talk openly on controversial topics in her charity work either. I wonder if perhaps her fresh attitude has helped Her Majesty to bond with Markle? Prince Harry famously cited that even the Queen's corgis love Markle, according to Vogue, so perhaps that has strengthened the bond between the pair.
For their first official solo engagement together, Markle and the Queen, who is now 92, will be visiting Chester. The day will entail the unveiling of the Mersey Gateway Bridge at Catalyst Science Discovery Centre, the opening of a theatre, and lunch in the local town hall, according to the website for Official Engagements of the Queen.
The fact that Markle is throwing herself into public life so quickly isn't shocking. Her bio on the Royal Family website states:
"From a young age, The Duchess had a keen awareness of social issues and actively participated in charitable work. Aged 11 she successfully campaigned for a company to alter their television advert that had used sexist language to sell washing-up liquid. Her Royal Highness also volunteered at a soup kitchen in Skid Row, Los Angeles from the age of 13-17. She continued to volunteer at the soup kitchen when she would return home to Los Angeles until the age of 22. These early experiences helped to shape her lifelong commitment to causes such as social justice and women's empowerment."
Although all eyes will be on Markle for the time being, Middleton technically remains a more senior royal as she is married to the future king. With that in mind, it is all the more interesting that the Queen is spending time with Markle and investing in their relationship. It perhaps suggests it is in some way personal, rather than based on professional needs.
History suggests that the Queen makes a considerable effort to integrate new additions to the family. The Duchess of Cambridge spoke warmly about how the Queen made her feel welcome at Christmas by placing the homemade Chutney Kate had given her as a gift on the table for the following day. It will be interesting to see the dynamic between the Queen and Markle as they complete their first engagement together. I'd just love to be a fly on the wall in the car as they travel those hundred or so miles together. Just imagine the royal gossip.