Meghan Markle's Wax Figure, Thankfully, Includes Her Favorite Feature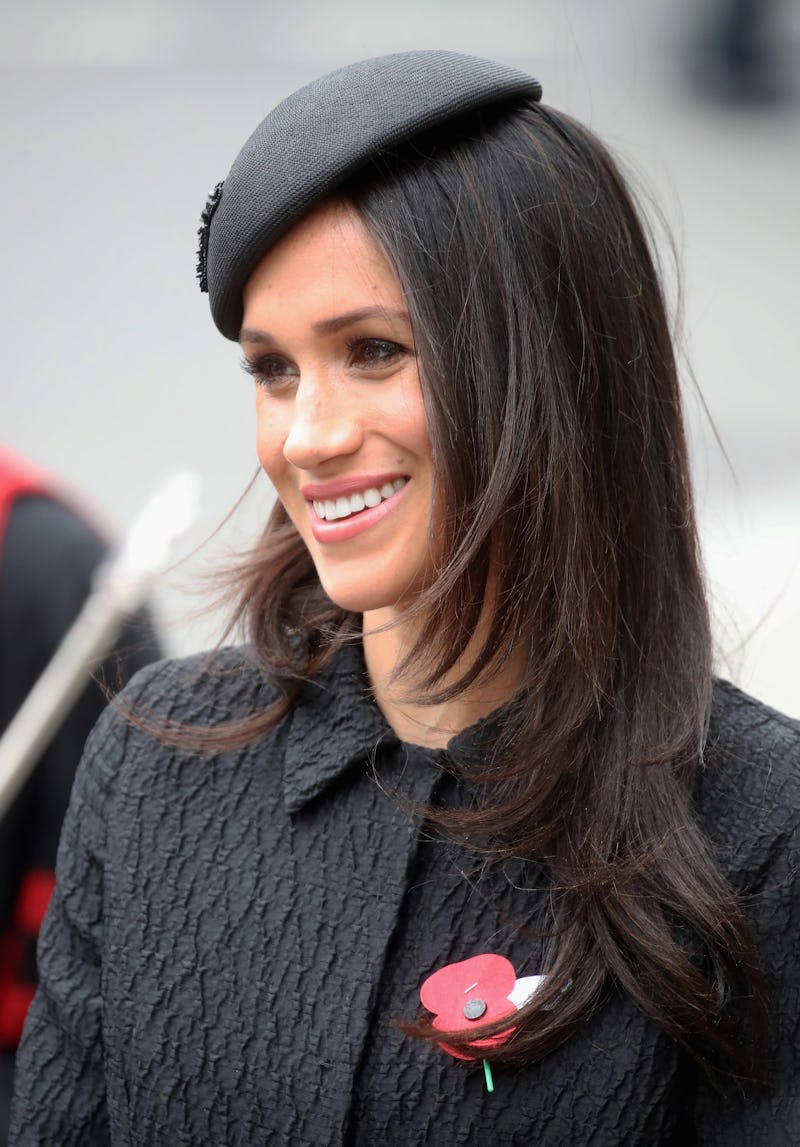 Chris Jackson/Getty Images Entertainment/Getty Images
While they can typically be pretty hit or miss, Meghan Markle's Madame Tussauds wax figure was revealed in London on May 9 — and, honestly, it looks really real. It even includes the facial feature that Markle loves most: her trademark freckles. The famous museum unveiled her replica in anticipation of the royal wedding, and fans can get up-close-and-personal with the (fake) soon-to-be duchess starting on May 19, according to the Madame Tussauds website.
Markle's statue was styled to reflect her appearance during the couple's engagement announcement, the museum's website notes, and is dressed in a hunter green P.A.R.O.S.H shift. It also includes a carbon copy of her Cleave and Company-crafted engagement ring, but it's safe to assume that the one her figure is wearing does not include diamonds from Botswana and Princess Diana's personal collection.
Most importantly, though, Markle's wax figure kept her freckles in tact. The former actor spoke to Allure in March 2017, and told the magazine that she couldn't stand it when the facial feature got eliminated in photos. "To this day, my pet peeve is when my skin tone is changed and my freckles are airbrushed out of a photo shoot," Markle said.
She went on to recount a sweet adage about her signature trait, saying, "For all my freckle-faced friends out there, I will share with you something my dad told me when I was younger: 'A face without freckles is a night without stars.'" Aw. Definitely stealing that.
Harry's figure — which will now appear alongside Markle's — was originally created to mark his 30th birthday in 2014. Now, though, the Prince's replica matches his appearance from the couple's engagement announcement as well. The museum updated Harry's look by dressing him in a copy of his sleek, navy suit, and also made sure to add the Prince's "dashing beard," according to their website. Dashing, indeed.
The website also noted that some fans will have a chance to get a sneak peek of Markle and Harry's statues on May 18 — the eve of the couple's "last night of freedom." Tussaud's is throwing the replicas a "hen and stag do" (the British version of a bachelorette and bachelor party, respectively) that night, "complete with a bar and live DJ — the perfect way to party with the golden couple ahead of their big day." No word yet on whether or not Markle's figure will include a "bride" sash for the event, though.
The museum will also be live-streaming the royal wedding when Markle and Harry's new figures are unveiled to the public on May 19, and fans can take photos with the replicas in front of a variety of backgrounds. Can't make it to London for the occasion? According to the Telegraph, Madame Tussauds sister venue in New York City will be revealing their version of Markle — dubbed "American Princess" and featuring a different outfit and pose — on May 9.
In all seriousness, Markle is super lucky that her replica does her justice, because that's definitely not always the case when it comes to wax figures. Prince William and Kate Middleton's wax figures are actually pretty good, but remember what happened to stars like Kim Kardashian, Justin Bieber, and Emma Watson? Oof. Not the best work.
If you're not in New York or London, though, and still want to see Markle and Harry up close, your best bet is to head to the movies on May 19. 200 theaters across the U.S. will be showing the royal wedding — titled "Harry & Meghan: The Royal Wedding" — on the big-screens, which will undoubtedly give you a pretty good view of everything, including Markle's signature freckles.