Why You Shouldn't Dress Up Like Melania In That "I Really Don't Care" Jacket For Halloween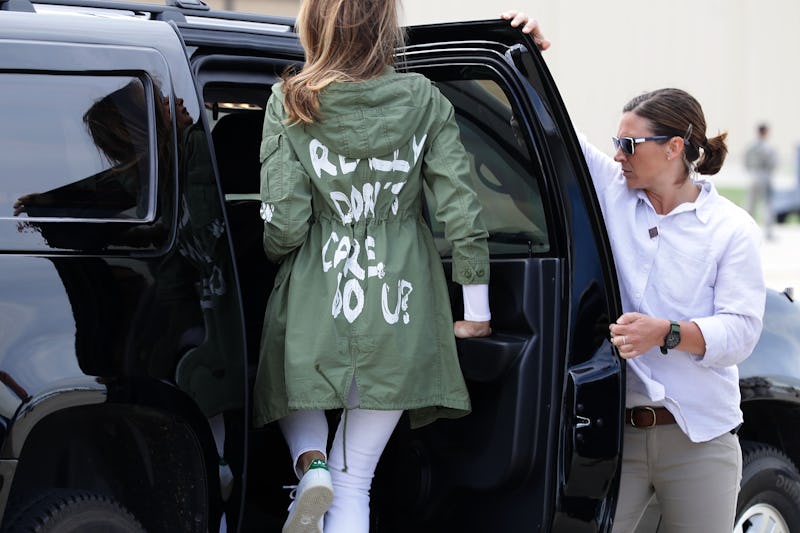 Chip Somodevilla/Getty Images News/Getty Images
It may not be October just yet, but that doesn't mean you can't already start planning for your costume for this Halloween season. And sometimes, amidst the rows upon rows of familiar costumes like black cats and bumblebees, you want to dress up as something a little more inventive and unique than your traditional costume fare. But please, please, please maybe reconsider dressing up as Melania Trump in that "I really don't care. Do U? jacket for Halloween. You know, the infamous $39 Zara jacket that Melania Trump sported on her way to visit detained immigrant children at the Texas-Mexico border last June?
In case you need a refresher on the army green jacket seen around the world, its back was emblazoned with the phrase, "I really don't care. Do U?" in a loud, white font. It was seen as a major departure from the First Lady's typical uniform of designer dresses. At the time of the incident, it was reported that Trump's spokespeople were adamant that the jacket's words bore no weight. When asked what message the First Lady's jacket intended to send, FLOTUS' spokeswoman Stephanie Grisham said it was just a jacket. "There was no hidden message," she said. "After today's important visit to Texas, I hope this isn't what the media is going to choose to focus on."
It was seen as a bizarre comment, considering how the media obsessively tracks what First Ladies and other female political figures wear as a rule. A First Lady's outfit featuring a giant and controversial message scrawled on the back of it is bound to get photographed and take over the Internet.
But the problem isn't with the jacket itself; it's the particular day Trump chose to wear such a jacket. During an administration riddled with criticisms about its approach towards issues like immigration and especially the treatment of immigrant children, the jacket was seen as incredibly insensitive commentary that spoke volumes, without the first lady having to say anything at all.
As The New York Times reported, Trump didn't wear the jacket while visiting the detained immigrant children at Upbring New Hope Children's Shelter in McAllen, Texas, but she wore it upon her return to the capital, where she was sure to be seen by countless photographers keen to snap her arrival. This fashion indiscretion came after the first lady's decision to wear stilettos to a hurricane relief zone last year, which was also the subject of a social media firestorm and criticism. In an online survey conducted by Marie Claire, 75 percent of the nearly 100,000 survey participants voted that there was, in fact, a hidden message behind the jacket.
The fashion industry already made the questionable decision of co-opting MAGA hats — a decision that doesn't effect any change in the face of an administration that is routinely criticized for its anti-women, anti-immigrant, anti-minority policies. Even if a Halloween costume incorporating this jacket intends to poke fun at these figures, the reality is that the jacket itself will simply be a reminder of these cruel policies.
There is a truly never-ending list of alternative, ~edgy~ costumes that don't normalize or trivialize the deeply harmful attitudes of this administration. If you're really strapped for ideas and are still set on going as something cutting-edge for Halloween, you can always dress up as the physical embodiment of "ghosting." But please, reconsider using that jacket as a costume.