Here's How Melania Trump's First-Ever Meeting With The Queen Went Down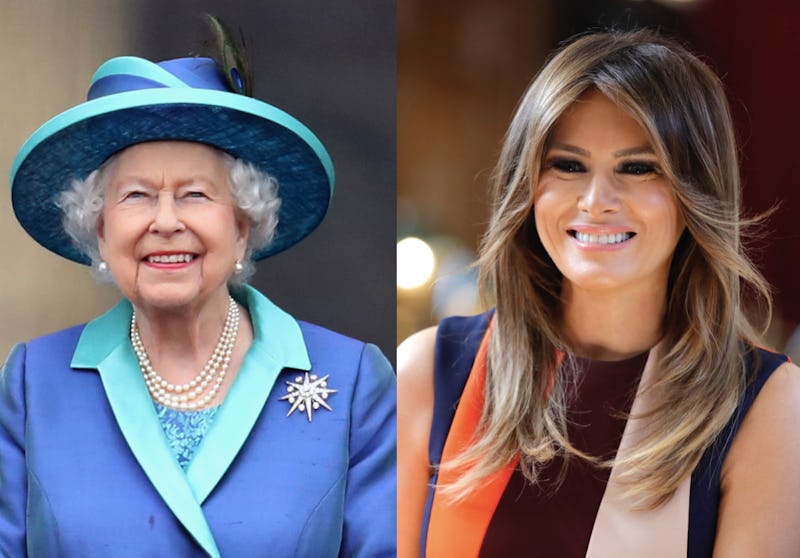 Chris Jackson/Getty Images Entertainment; WPA Pool/Getty Images News/Getty Images
President Donald Trump and first lady Melania Trump met with the queen at Windsor Castle on Friday for a classic British activity: tea. And Trump and Melania's first meeting with Queen Elizabeth was a formal affair, with a rousing rendition of the "Star Spangled Banner" being played as the queen shook hands with the first couple on the Quadrangle at the castle.
There was plenty of speculation about what the first lady would wear, especially considering the unofficial dress code for meeting the queen can be rather stringent. Melania Trump's outfit for meeting Queen Elizabeth was perhaps just as formal as the meeting itself; the first lady donned an elegant Dior two-piece, off-white jacket and skirt, cinched with a thin black belt.
The number one rule for meeting the queen is not to upstage or out-dress her with your outfit. All things considered, Trump seemed to play her cards right with her two-piece shell suit. The queen herself wore a light blue dress and a hat with a large, luxurious bow.
Earlier in the week, Donald Trump told The Sun newspaper that he was excited to meet the queen. He called her "a tremendous woman. I really look forward to meeting her. I think she represents her country so well."
He also expressed pride about introducing his wife to the 92-year-old monarch. "My wife is a tremendous fan of hers," Trump told The Sun. "She has got a great and beautiful grace about her."
Although Trump's U.K. visit was met by large protests in the country, Mary Jo Jacobi, a former White House aide who served George H.W. Bush and President Ronald Reagan, told CNBC that Trump's meeting with the queen was a victory that would overshadow all of the demonstrations.
"He has already won, he is meeting with the queen and his lifelong wish has been meeting with the Her Majesty so from his personal perspective it is a win already," Jacobi told CNBC's Squawk Box Europe.
Trump is the 12th American president who's met Queen Elizabeth. The monarch has also met with the three most recent first ladies, Michelle Obama, Laura Bush, and Hillary Clinton.
The fact that Melania Trump simply shook hands with the queen may seem modest, but it's right on par with royal traditions. In fact, Michelle Obama reportedly experienced something of a gaffe when she met with Queen Elizabeth back in 2009, and gave the monarch a hug. Although her royal highness hugged Michelle back, no one is supposed to touch the queen, and, really, can only shake her hand if it's offered by the monarch.
So. the fact that Melania Trump played it safe by not going in for a bear hug isn't surprising. Neither of the women is really the PDA type, after all.
Trump's elegant outfit seemed to play well in the media. This was another win for the presidential family — especially after the first lady's recent bold choice to wear a jacket that said "I Really Don't Care, Do U?" in white lettering on a visit to see displaced children at the U.S.-Mexico border last month. It's also an improvement over the reviews from Michelle Obama's 2009 outfit snafu. When the former first lady met with queen for a lunch at the time, she wore a J. Crew sweater, which many frowned upon.
It's important to note that there's no official code of conduct for meeting Queen Elizabeth — in fact the British monarchy's website emphasizes that the best way to meet a monarch is just use your manners.
"There are no obligatory codes of behaviour when meeting The Queen or a member of the Royal Family, but many people wish to observe the traditional forms," the site says.
But code or no code, Melania Trump seems to have cracked it this time.