These Photos Of Thousands Of People Protesting Trump In London Are Just, Whoa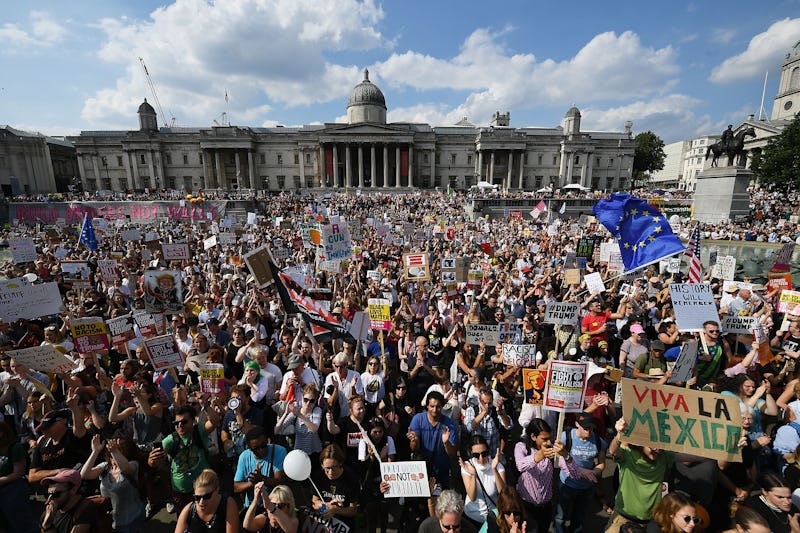 Chris J Ratcliffe/Getty Images News/Getty Images
Just prior to his visit the the United Kingdom, President Donald Trump claimed that people there like him "a lot." But it seemed like his words didn't ring true for everyone. Tens of thousands of people turned up at demonstrations in London to protest Trump, and the photos from the streets of the English capital show just how huge the turnout was.
According to NBC News, a somewhat rowdy crowd had been protesting the president's visit since his helicopter Marine One arrived in the U.K. on Thursday night. His arrival was met with protesters with megaphones and signage chanting a profanity-laden message.
NBC said the protesters cheered, "F*ck Trump, F*ck Trump, F*ck Trump," as they banged on makeshift drums, pots, and pans. This all seemed to negate Trump's claim that he's well-liked in Britain.
CNN reported that on Friday morning, protesters gathered in London's Portland Place for a rally lead by Women's March London, a group that had formed in opposition to Trump's behavior and remarks toward women. Their group said they expected 8,000 people to attend throughout the Friday of Trump's visit.
Meanwhile, a second group of protesters gathered around a giant, orange balloon depicting Trump as a baby in a diaper. Organizers told CNN they hoped the balloon would address Trump "in a language that he understands, which is personal insults." The Independent reported that rallies were also being planned outside of Chequers and in Scotland, which is where the president is set to have tea with the queen at Windsor Castle on Friday evening.
One organizer of the Together Against Trump march at Portland Place told The Independent that they were over 100,000 people protesting, but the publication said a Metropolitan Police spokesperson couldn't confirm how many people had attended.
However, photos of the rallies seemed to capture just how many people were in attendance, but even if officials couldn't
Reports say there are dozens of other protests planned around the country, all with a similar message of opposition to the U.S. president. There are a host of issues British citizens have qualms with when it comes to Trump, and immigration, race relations, and climate change are just a few of many, CBS News reported.
However, some pro-Trump protesters also showed up in the mix, exchanging chants with the anti-Trump crowd. CBS News reported that police stood shoulder to shoulder to separate the two groups, but CBS's Haley Joelle Ott reported that the demonstrations were peaceful so far.
Some higher-profile protesters attended the rallies to speak out against Trump, including Michael Avenatti, the lawyer for the film star Stormy Daniels. The lawyer previously tweeted that he was ready to "#BringTheNoise."
Although all of this noise and energy is directed at Trump, he's missing most of the protests against him. That's because his meetings were scheduled away from central London where most of the action is. An official previously said Trump's team didn't strategically plan it that way to avoid the protests.
CNN noted that Britain has a history of welcoming presidents of the United States with similar angsty protests.
Back in 2003, former President George W. Bush and First Lady Laura Bush were greeted by demonstrations in London's Trafalgar Square that tens of thousands attended. This was after the U.S. kicked off the invasion of Iraq, and the Brits were less than thrilled.
However, CNN pointed out that former President Barack Obama and First Lady Michelle Obama were greeted more warmly during their trips.
And all of these protests were just made crazier by an inflammatory interview Trump gave to The Sun newspaper that was published on Friday. The paper published quotes from Trump insulting Prime Minister Theresa May about Brexit, and seemingly blaming London Mayor Sadiq Khan for terrorism.
As was expected, things are heating up across the pond and plenty of people are waving signs and making their voices heard. And, again, many of those voices aren't expressing how much they "like" Trump.