Melania Trump Had Some Words For People Who "Ridicule" Her Be Best Campaign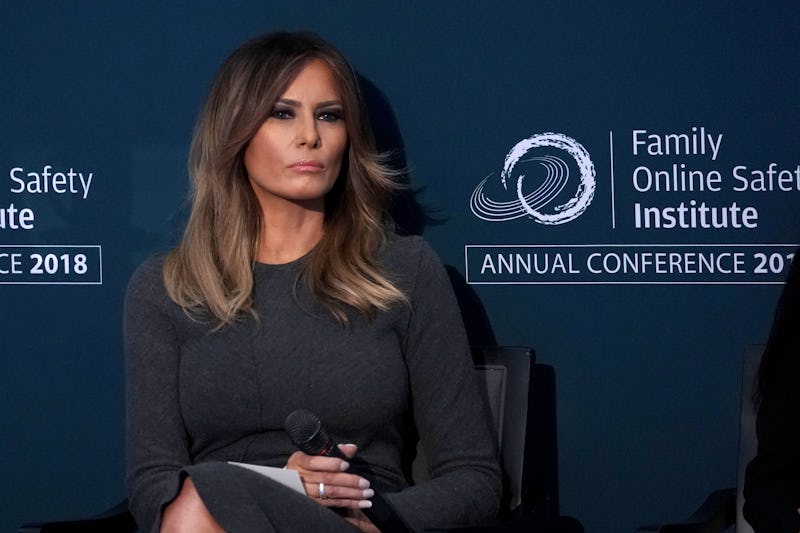 Alex Wong/Getty Images News/Getty Images
The first lady has long said that she wants to tackle online bullying, and her "Be Best" campaign aims to do exactly that. But she's also been mocked for this, given that her husband regularly bullies people online. On Thursday, Melania Trump responded to the "Be Best" critics who've ridiculed her efforts, and said she's committed to her campaign regardless of the criticism she's received.
"It is not news or surprising to me that critics in the media have chosen to ridicule me for speaking out on this issue, and that's OK," Trump, who recently declared herself "the most bullied person in the world," said at the Creating a Culture of Responsibility Online panel. "I remain committed to tackling this topic, because it will provide a better world for our children." Bustle has reached out to Trump's office for additional comment.
Trump's Be Best campaign has been criticized on numerous fronts. For one, it's not entirely clear what it consists of on a substantive level; although the Be Best website makes clear what the initiative's goals are, it doesn't suggest any concrete steps to accomplishing them or set any benchmarks for success.
Moreover, Trump's anti-bullying efforts have drawn scrutiny on account of the fact that Donald, whose political career she's supported, ascended to the White House largely by bullying his opponents, often in cruel and personal terms.
Merriam-Webster defines a bully as a person who is "habitually cruel, insulting, or threatening to others who are weaker, smaller, or in some way vulnerable," a description that certainly applies to Donald. For instance, although he consistently led in the polls during the Republican presidential primary, he regularly attacked his fledgling opponents, in several instances by suggesting that they were too ugly to become president.
Trump refused to denounce Donald's bullying when given the opportunity; at a rally in April 2016, she said that when Donald is attacked, he'll "punch back 10 times harder." When her supporters flooded a Jewish journalist's inbox with anti-Semitic insults for writing an unflattering article, Trump disavowed any responsibility and instead criticized the journalist, saying she "provoked" the racist comments herself.
According to The Washington Post, the Be Best campaign has struggled to gain traction for a few reasons. For one, Trump was hospitalized for a month with a kidney condition a week after she announced the campaign in May. Additionally, the first lady only has 10 staffers working for her, according to The Post, which is fewer than any first lady since Mamie Eisenhower.
Trump made headlines earlier in the week for publicly denouncing Mira Ricardel, who at that point was the deputy national security adviser to the president. Through her spokesperson, Trump said that Ricardel "no longer deserves the honor of serving in this White House" — an extremely rare example of a first lady directly criticizing a member of her husband's administration. The next day, the White House announced that Ricardel would no longer be serving as deputy national security adviser.