How Melania Described Her Visit To A Former Slave Holding Facility In Ghana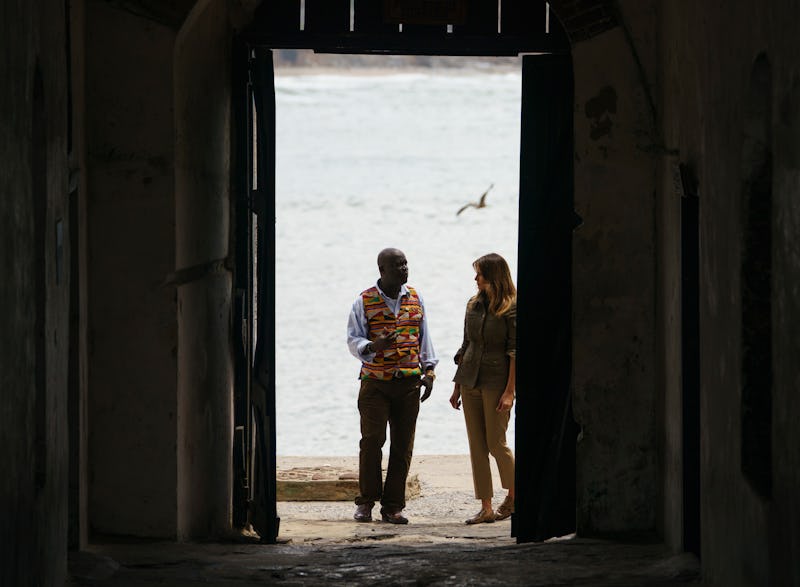 Carolyn Kaster/AP/Shutterstock
The first lady began her second day in Ghana with a visit to one of the sites that President Barack Obama and his family visited in 2009: a castle that was used as the final holding facility for slaves before they were shipped to the Americas. Melania Trump toured the Ghana ex-slave facility and said that it is "really something that people should see and experience," according to TIME.
The trip to the castle, which was originally built by the Swedish to trade timber and gold in the 1600s, included a nearly hour-long tour guided by museum director Kwesi Essel-Blankson. Trump went down to the dungeons where the male slaves were once held for 10 minutes and passed through the "Door of No Return," where slaves were loaded onto ships for the New World. She also left a wreath, had a moment of silence, and signed the guest book, according to the Associated Press.
"I will never forget [the] incredible experience and the stories I heard. The dungeons that I saw, it's really something that people should see and experience," Trump said after her visit, according to the AP, also adding that it was "very emotional" and a "special place." This was her main stop on Wednesday; the castle is more than a two-hour drive from Accra, where the first lady is staying.
The main focus of Trump's visit to Africa is child welfare and maternal health. But before her trip, the first lady's communications director Stephanie Grisham also said that Trump would spend time recognizing the culture of each of the "four beautiful and very different countries" she'll visit. In addition to Ghana, Trump plans to visit Kenya, Malawi, and Egypt.
"She is interested in Africa because she has never been before and knows that each country will have its own unique history and culture," Grisham said. Wednesday's other stop did have a link to children, though.
Bloomberg White House reporter Jennifer Jacobs reported that the first lady also stopped at Emintsimadze Palace to request permission from the regional king to enter his lands. In addition to offering a gift of drinks and speaking to the king through a translator, Trump met with students the king had invited, per Jacobs.
It's possible that never before has anyone with a disability been allowed to enter the palace, Jacobs reported. But the king decided to invite two children — one deaf and one blind — to join in the ceremony welcoming Trump. The first lady met with the children and took pictures with them.
On Tuesday, the first lady visited a hospital in Accra where she met new mothers and saw how the facility weighs babies — they put them in a sack that then put on a hook — and administers vitamins, according to Al Jazeera. She also received a tour of the more advanced neonatal intensive care unit.
Other stops on Tuesday included a visit with Ghana's first lady, Rebecca Akufo-Addo, who gave Trump a silver Chippendale tray with an image of the White House. The two had tea together.
Trump's upcoming visits will primarily focus on where U.S. aid is making a difference for children. At a reception for spouses of world leaders at the United Nations General Assembly last week, Trump announced the trip. "There are many programs across the country that are doing great things for children, and I believe we can replicate many of these programs overseas," Trump said. In the coming days, Trump will highlight them.
This article was originally published on