Melania Trump's Vs. Michelle Obama's Comments On Diversity Are Subtly Different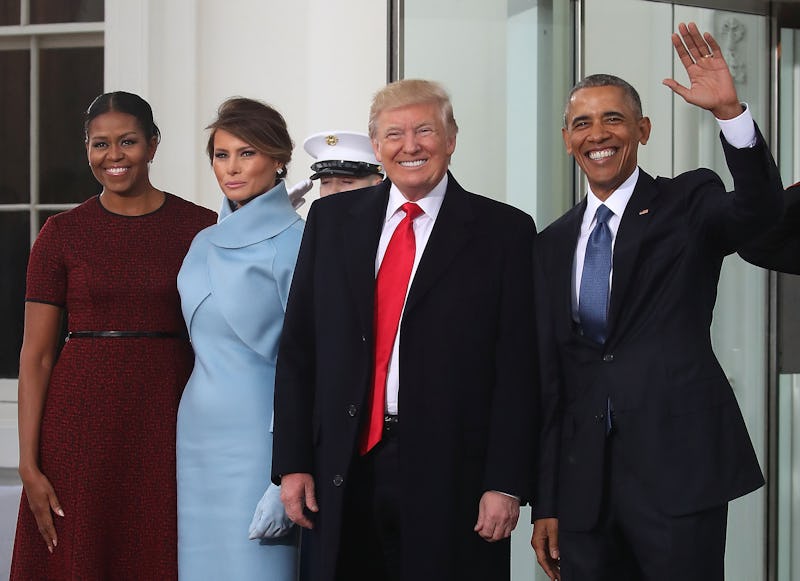 Mark Wilson/Getty Images News/Getty Images
When it comes to politics, religion, and ethnicities in America, diversity is a subject of both interest and importance. Over time, presidents and first ladies have shared their varying opinions on it. Among those who've talked about the importance of diversity are Michelle Obama and Melania Trump. Here are just some of the remarks they've given on the topic.
As you may already know, Obama has been pretty vocal about diversity in the country. In her last formal speech as the first lady, she praised diversity and encouraged people to be open about their backgrounds without fearing prejudice.
"Our glorious diversity — our diversities of faiths and colors, and creeds — that is not a threat to who we are, it makes us who we are," Obama said in January 2017. "If you or your parents are immigrants, know that you are part of a proud American tradition: the infusion of new cultures, talents and ideas, generation after generation, that has made us the greatest country on earth."
In that speech, Obama emphasized religious diversity as well, saying that "if you are a person of faith, know that religious diversity is a great American tradition, too." Whether one identified as Jewish, Muslim, Hindu, Christian, Sikh, or other faiths, Obama said, "These religions are teaching our young people about justice and compassion, and honesty."
Trump, too, has spoken about diversity on occasion, though in slightly vaguer terms. In March 2017, the current first lady brought up diversity at that year's Secretary of State's International Women of Courage Awards. "As leaders of our shared global economy, we must continue to work towards gender empowerment and respect for people from all backgrounds and ethnicities, remembering always that we are all ultimately members of one race, the human race. Each one of us is uniquely different," Trump said.
During the same event, Trump also mentioned "horrendous atrocities" in the world and urged global leaders to "fight injustice in all its forms, in whatever scale or shape it takes in our lives." The first lady said that the violence against women and children needed to be ended and that the time for "empowering women around the world is now."
Noting that women are critical to shaping democracies around the globe, Trump added, "For wherever women are diminished, the entire world is diminished with them." In February this year, Trump hailed the "celebration of diversity" in a tweet about Black History Month, which some Twitter users pointed out was hypocritical when juxtaposed with her husband's comments about African Americans and minorities in general.
Other comments from Trump and Obama about diversity appear to be on opposing ends. For instance, when it comes to speaking foreign languages, Obama has shared encouraging remarks. "Some folks out there have a different perspective," Obama said in June 2016. "They believe that diversity should be contained instead of a resource to be tapped."
In contrast, Trump — who speaks six languages herself — told People magazine in September,2015, "My opinion is that more languages you speak, better it is, but when you come to America, you speak English." These two opposing perspectives may be enough for some readers to know where the former and current first ladies stand on diversity.