Melania Trump Just Sharply Criticized Her Husband's Family Immigration Policy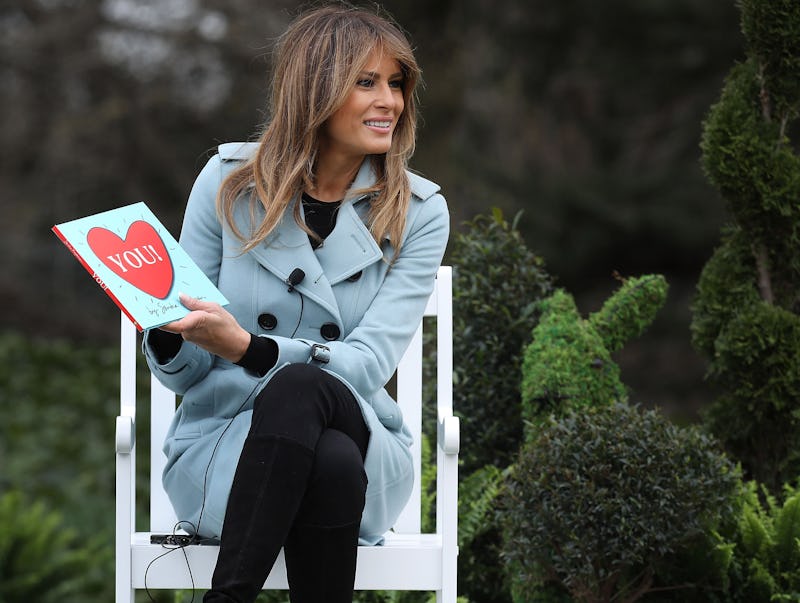 Chip Somodevilla/Getty Images News/Getty Images
The first lady isn't known for public statements, nor for contradicting President Trump, but on Sunday, she did just that. In a rare statement, issued by her communications director, Melania Trump spoke on the immigrant family policy and said she "hates to see children separated" from their families at the border, according to CNN.
"Mrs. Trump hates to see children separated from their families and hopes both sides of the aisle can finally come together to achieve successful immigration reform," said Stephanie Grisham, the first lady's communication director. "She believes we need to be a country that follows all laws, but also a country that governs with heart."
This is the first time Melania Trump has spoken out about the issue of children being separated from their families at the border, as it has dominated headlines all week. On Friday, the Department of Homeland Security announced that 1,995 children were separated from 1,940 adults over a six-week period that ended at the conclusion of May. The adults in question will now face prosecution for the unlawfully crossing the U.S. southwestern border.
The policy of separating children from their family is new under the Trump administration. The Washington Post reported that the policy was put into place in April under Attorney General Jeff Sessions. There's no law stating that children need to be separated from an adult entering the country without documentation.
Previous administrations typically referred those with children to immigration courts, but this new "zero tolerance" policy means that those crossing the border will be prosecuted for federal crimes, according to CNN.
While public statements from the first lady are rare, the issue of family separation is in her wheelhouse. In May, Trump announced Be Best, her first lady platform that aims to help children live their best lives. Her official platform covers three areas—well-being, social media abuse, and opioid addiction prevention — none of which is immigration.
While the first lady rarely gives public statements outside official events, it is even rarer these days to see her speaking out about immigration. When questions were raised about her immigration visa from 2001, Trump chose to give minimal comments in response. Michael Wildes, her attorney, told The Washington Post she was "more than amply qualified and solidly eligible" at the time of her application, but declined to discuss those qualifications in detail.
Before her husband's presidential campaign, she had publicly supported Donald Trump's birtherism theory, which purported that former President Barack Obama was not born in America and was therefore ineligible from serving as president, according to Teen Vogue.
Melania Trump's comments are much different than other administration official's comments. On Thursday, Attorney General Jeff Sessions suggested migrants were at fault for the family separations by the very act of migrating. "If you cross the Southwest border unlawfully, then the Department of Homeland Security will arrest you and the Department of Justice will prosecute you," Sessions told a group of law enforcement officers in Indiana, according to NBC News. "Having children does not give you immunity from arrest and prosecution."
President Trump at one point blamed Democrats for a policy implemented by his administration. "I hate the children being taken away," Trump said during an informal press conference outside the White House. "The Democrats have to change their law — that's their law."
Melania Trump's call for bipartisan solution to the separation of children from their parents at the border could have a solution in a bill put forth by Democratic California Sen. Diane Feinstein. Feinstein's bill would outlaw the separation of children and parents at the border. As of Friday, Feinstein said there were 43 Democrats in support of the bill, but no Republicans lawmakers.