Melania Trump Wouldn't Say Whether Or Not She Believes Christine Blasey Ford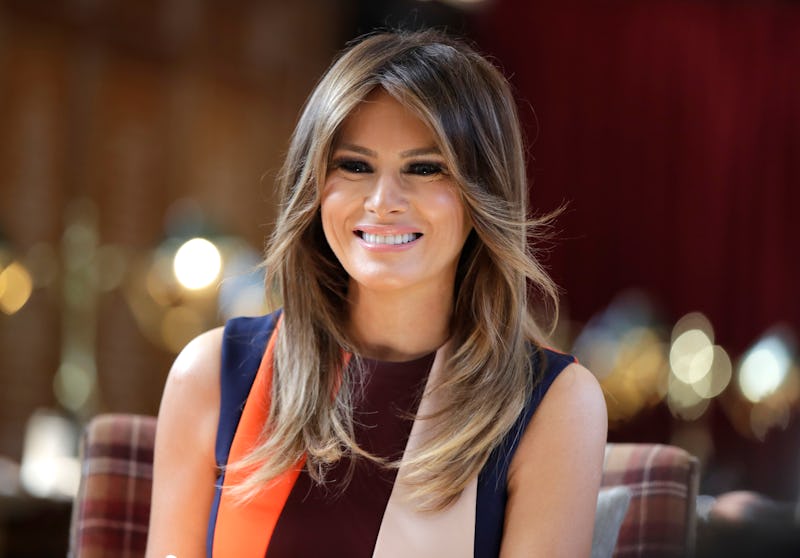 WPA Pool/Getty Images News/Getty Images
The women in the president's family largely stayed silent as Brett Kavanaugh's nomination remained in limbo, but First Lady Melania Trump commented on Christine Blasey Ford's allegations against her husband's Supreme Court pick from Egypt on Saturday morning. When specifically asked whether she believes Ford's account, she wouldn't give a straight answer.
"I will move on [from] that," the first lady told NBC News, standing in front of the Great Sphinx of Giza. "I think that all the victims, we need to help all the victims no matter what kind of abuse they had, but I am against any kind of abuse or violence."
Although the first lady's solo trip to multiple African nations focused on maternal and newborn care in hospitals and education for children, Saturday's scheduled vote to determine whether Kavanaugh will sit on the Supreme Court bench led her to respond to what's happening back home. The president announced in a tweet that the full Senate will vote on Kavanaugh between 3 and 5 p.m. EST on Saturday after a cloture vote gave them just 30 hours to debate the issue.
Though the president has publicly doubted Ford's allegation, which Kavanaugh has repeatedly denied, the first lady didn't take such a strong stance. She did say she believes Kavanaugh is "highly qualified for the Supreme Court," however.
"I'm glad that Dr. Ford was heard, I'm glad that Judge Kavanaugh was heard, [and that an] FBI investigation was done," Trump said on Saturday.
Ford testified before the Senate Judiciary Committee last week that Kavanaugh attempted to assault her in high school, claiming that she's "100 percent" sure it was him. Kavanaugh vehemently denied this, adding that her accusation was "character assassination" that it has "destroyed" his name.
The FBI investigation Trump referenced concluded on Wednesday. After reading the FBI's notes on the probe into Ford's allegations, Senate Judiciary chair Sen. Chuck Grassley (R-Iowa) said in a statement that the "uncorroborated accusations have been unequivocally and repeatedly rejected by Judge Kavanaugh, and neither the Judiciary Committee nor the FBI could locate any third parties who can attest to any of the allegations." He added, "It's time to vote."
Senate Democrats, on the other hand, claimed on Thursday that the FBI investigation wasn't thorough enough to accurately determine whether Ford's allegation was credible. Nevertheless, the Senate is expected to confirm Kavanaugh on Saturday, as two swing votes — Sens. Susan Collins (R-Maine) and Joe Manchin (D-West Virginia) — announced that they'll vote in Kavanaugh's favor.
The first lady stayed quiet about the Kavanaugh debate until Saturday, when she offered a vague response in support of his confirmation. But refusing to say whether she believed Ford allowed Melania to take her husband's position on Kavanaugh without calling Ford a liar or mocking her testimony, as her husband has done. Yet calling the judge accused of sexual assault "highly qualified" to serve on the nation's highest court implies that she either doesn't believe Ford or doesn't think sexual misconduct should disqualify someone from the Supreme Court.