Melania's Immigration Lawyer Just Ripped Into Trump Over The Border Policy's "Inhumanity"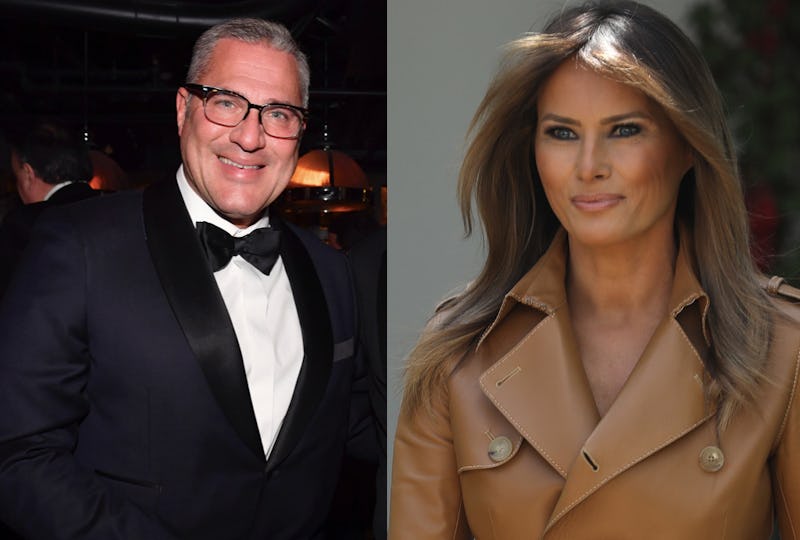 Larry French/Getty Images Entertainment; Win McNamee/Getty Images News/Getty Images
President Donald Trump is under significant fire from both sides of the political spectrum for his immigration policy. On Tuesday, in an interview on Fox and Friends, even Melania Trump's immigration lawyer slammed Trump's family separation policy, referring to it as an "inhumanity."
The first lady's immigration attorney, Michael Wildes, helped her along with her sister and parents with migrating to the United States. On Tuesday, he had some strong words for the president's family separation policy. "The inhumanity of what we see is reminiscent of detentions center of Nazi Germany, of the slave trade," Wildes said on Fox and Friends. "We can do better when we try to figure out this problem."
The attorney also said that the Trump administration's justification for forcing children away from their parents as a form of deterrence "goes against the very ethos of our founding documents and fathers." Wildes cautioned, "Let's not forget this problem needs to be fixed because the greatest risk takers and the greatest entrepreneurs historically have been immigrants in this country."
You might agree with Wildes. Some of the most prominent immigrants have enriched America with advancements in science, technology, fashion, sports, literature, and more. Think of Sergey Brin behind Google, Levi Strauss behind the famous blue jeans, NBA legend Dikembe Mutombo, Joseph Pulitzer of the Pulitzer Prize, iconic writer Isabel Allende, designer Oscar de la Renta, famous pitcher Mariano Rivera, and more.
All of these figures have one thing in common: they weren't originally from the United States.
The first lady's immigration attorney didn't mince his words while criticizing Trump on Fox and Friends. "Children are separated [from their parents] because this president has decided that he's going to hold the letter of the law," Wildes said.
"He's going to put people first into the federal criminal system," he went on to say. "When a parent is first introduced to a federal criminal system, by certain consent decrees children have to then be placed in the Health and Human Services division and they are quarantined until the parents come out."
Wilde also noted that there was an entire process that had to be completed before an individual was sent to federal prison. "If they've given a credible fear interview for asylum, if they have remedies, if they've reentered the United States after being deported, there are different kinds of dispositions," he said.
Wilde's condemnation of Trump's immigration policy arrives after several prominent Republican representatives and senators have urged the president to rethink his family separation policy. From former first lady Laura Bush, GOP Sens. Ben Sasse, Susan Collins, Orrin Hatch, Lisa Murkowski, Rep. Will Hurd, and others, it's clear the heat is on Trump.
But the criticism hasn't stopped his administration from asserting its "zero tolerance" policy towards immigrants. In one case, Attorney General Jeff Sessions used the Bible to support the current presidency's aggressive anti-immigrant position. The same stance was taken by White House Press Secretary Sarah Huckabee Sanders who said it was "biblical to enforce the law."
Recently, Sessions used strong phrasing to deliver his commitment to the administration's immigrant policy. The attorney general said that anyone "illegally entering this country will not be rewarded, but will instead be met with the full prosecutorial powers of the Department of Justice." Trump has blamed the family separation policy on Democrats.
By the looks of Wilde's appearance on Fox and Friends, it seems like the lawyer's message was that federal law should also be considerate of basic ethics and humanity. "In the end, it's really a matter of priorities," Wilde said. "When our founding fathers fought the pirates in the high seas, we didn't lose the moral compass of what it is to be America. When we're dealing with this challenge, we should not be quarantining children from parents."