'Sabrina The Teenage Witch' Is Getting A New Series That Already Sounds So Spooky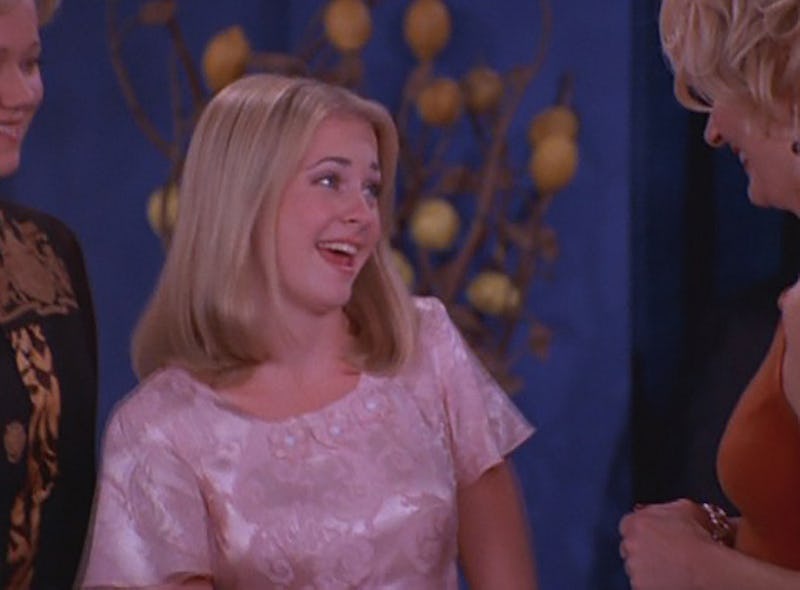 ABC
There's yet another reboot on the horizon for fans of the '90s and 2000s sitcom era. Reports from Vulture claim that Sabrina The Teenage Witch is getting a dark revival from the showrunners of the fellow Archie based drama, Riverdale. Yes, you heard that correctly: a Sabrina The Teenage Witch reboot is in the works. It sounds totally amazing, right? Yeah, well, not so fast, because details on the new project, while intriguing, may be a bit more chilling than you think.
While it's certainly exciting to hear that Sabrina is coming back to primetime TV, fans of the original comedy series should be aware that this is not the same sweet and bubbly Sabrina Spellman (played by Melissa Joan Hart from 1996-2003) that we once knew and loved from ABC's coveted T.G.I.F. line-up. This is Sabrina 2.0, so expect things to get just a tad bit more horrifying than the sarcasm of Salem, the talking black cat.
The new series, which is entitledThe Chilling Adventures Of Sabrina, would be a one-hour reboot that will re-imagine the adventures of Sabrina as a dark drama, leaning more towards the horror genre, an element which makes it a complete departure from its original television format from the late '90s. As far as the new title is concerned, Vulture indicates that the eponym was adopted from the 2014 Archie comic book series of the same name.
The Chilling Adventures hopes to make its big debut on the CW network during the 2018-2019 season in conjunction with its sister show, Riverdale, according to reports by Vulture. The CW indicates that the reset,
"...reimagines the origin and adventures of Sabrina the Teenage Witch as a dark coming of age story that traffics in horror, the occult and, of course, witchcraft. Tonally in the vein of Rosemary's Baby and The Exorcist, this adaptation finds Sabrina wrestling to reconcile her dual nature — half-witch, half-mortal — while standing against the evil forces that threaten her, her family and the daylight world humans inhabit."
The forthcoming show is being written and produced by Riverdale developer, Robert Aguirre-Sacasa (who is also responsible for creating the Sabrina comic book series), alongside Riverdale co-producers, Greg Berlanti, Sarah Schechter and Jon Goldwater. So it's safe to say that this project is in the best possible hands for its spooky second coming. After all, Riverdale put a dark spin on the usually wholesome Archie series that attracted fans old and new to the drama.
It's also expected that the character of Sabrina will be introduced into the Riverdale narrative sometime before spinning off into its own series, according to Entertainment Weekly. The teen drama has alluded to ties with the city of Greendale, which just so happens to be Sabrina's hometown, in past episodes, leading fans to believe that Sabrina will one day be introduced as a character on the hit show. And while this may be bit of a spoiler alert for fans of the Riverdale series, The Chilling Adventures comic books have minor appearances from Betty Cooper and Veronica Lodge in it's second issue. So, as Riverdale gears up to make it's sophomore debut in Oct. 2017, fans should be on the lookout for an appearance from the formerly happy-go-lucky witch gone rogue.
While it's unclear right now what will take place in Sabrina's new world and exactly how she's changed since we last saw her, it's safe to say that as long as she has her aunts, Hilda and Zelda, along with her bae, Harvey, and, of course, Salem by her side, any adventure of Sabrina the Teenage Witch is to going be one hell of a ride.