Melissa McCarthy Is An Eco-Warrior In This Kia Ad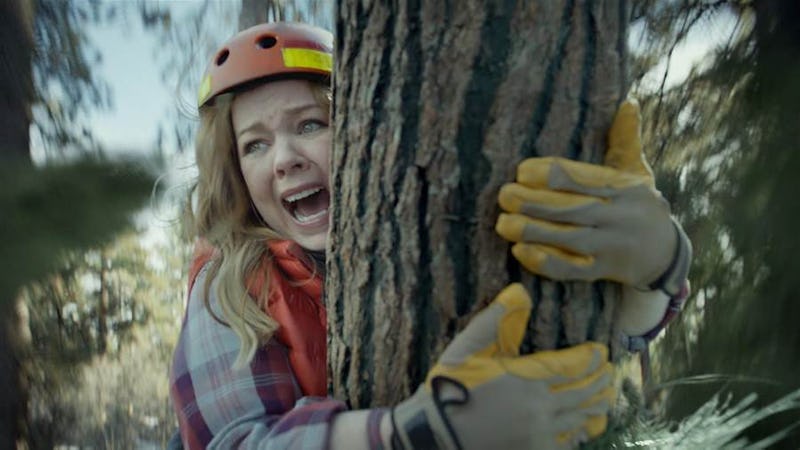 Kia Motors America/YouTube
There's a time and a place for playing against type and subverting your audience's expectations of you — and there's a time for playing to your well-known strengths. Unsurprisingly, Melissa McCarthy's Kia Super Bowl commercial is the latter type of entertainment. Given the high-profile nature of the year's biggest sporting event, the car company has teamed up with the Oscar-nominated Bridesmaids actress to craft a hilarious commercial that blends a timely environmental message with McCarthy's prodigious physical comedy strengths.
The one-minute ad portrays McCarthy in her pursuits as an eco-warrior, being summoned upon to help save the whales, the trees, the ice caps, and the rhinoceroses. Of course, things don't go too well for her. True to the bumbling nature of her characters in films like Spy and Bridesmaids, she proceeds to make a huge mess of things, getting body-slammed by a humpback, falling out of her tree, breaking off a piece of a glacier, and getting gored by a rhino. Fortunately, there's still one way she can help protect the environment: by driving her eco-friendly Kia Niro, which the ad proclaims as "the most fuel-efficient crossover."
"It's hard to be an eco-warrior," the commercial sums up in its thesis statement, "but it's easy to drive like one." This message comes at crucial time, as the environment and the havoc wrought by climate change have been one of the issues at the forefront of our country's recent political conversation. McCarthy's efforts to save the planet come at the same time that President Donald Trump is seeking to "abolish" the Environmental Protection Agency, according to transition team member Myron Ebell in an interview with The Guardian. His nominee to head that very same organization, Scott Pruitt, "has led or taken part in 14 lawsuits aimed at blocking EPA regulations" in his former job as the Oklahoma attorney general, according to a recent report by The New York Times.
This timely — and pointed — message puts Kia in the company of other Super Bowl commercials unafraid to make a political statement, including Budweiser's immigration-themed ad and Audi's championing of equal pay for women. While Super Bowl commercials in the past have largely been focused on sheer entertainment value alone, it's gratifying to see so many companies take the opportunity of this high-profile event to take a stand.
Of course, as welcome as the message of Kia's commercial is, viewers shouldn't take it as an excuse to become complacent. Just driving a fuel-efficient car isn't enough; you can drive a Kia and also try to help save the whales or the trees or whatever else needs protecting. But McCarthy's environmental exploits are a decided step forward from the politics-free Pierce Brosnan spoof the car company aired this time last year. So bravo to Kia… and bravo to all the world's eco-warriors who have dedicated their lives to protecting this planet we all call home.