Twitter Isn't Taking Channing Tatum & Jenna Dewan's Split Well... Like, At All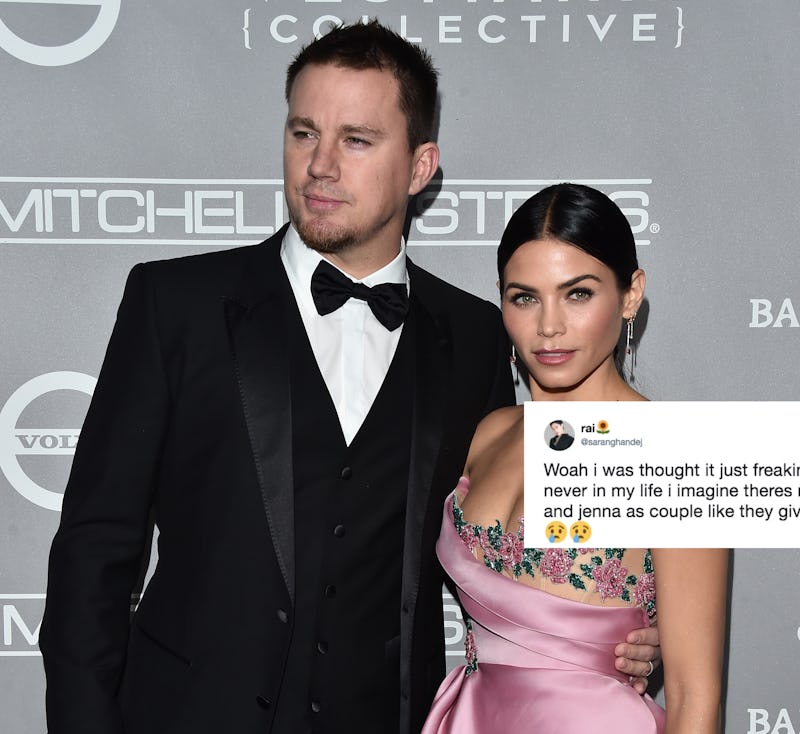 Alberto E. Rodriguez/Getty Images Entertainment/Getty Images; saranghandej/Twitter
Yet again, the internet is proclaiming "love is dead." And as usual, that over-the-top response is the result of another celebrity split. On Monday, Channing Tatum and Jenna Dewan announced their separation, and while their joint statement sounds as amicable as can be, the internet is having a bit of a rough time wrapping their head around it. Memes and tweets about Tatum and Dewan's split show fans were really rooting for the pair. And yes, that means they're breaking out *that* Tyra/ANTM GIF for emphasis.
In a lengthy statement on Instagram, the pair broke the news of their breakup:
"Hey world! So...
We have something we would like to share.
First off, it feels odd that we have to share this kind of thing with everyone, but it's a consequence of the lives we've chosen to lead, which we also happen to be deeply grateful for. We're living in an incredible moment in time, but it's also a time where truth can easily get distorted into 'alternative facts' ;) So we want to share the truth so you know that if you didn't read it here then it's most certainly fiction."
The message also points out that they've still got plenty of love and respect for one another. Tatum and Dewan continue:
"We have lovingly chosen to separate as a couple. We fell deeply in love so many years ago and have had a magical journey together. Absolutely nothing has changed about how much we love one another, but love is a beautiful adventure that is taking us on different paths for now.
There are no secrets nor salacious events at the root of our decision—just two best-friends realizing it's time to take some space and help each other live the most joyous, fulfilled lives as possible."
And if you thought something like this would negatively impact their little family, you thought wrong. Their post points out they're focusing on their daughter first and foremost:
"We are still a family and will always be loving dedicated parents to Everly. We won't be commenting beyond this, and we thank you all in advance for respecting our family's privacy. Sending lots of love to everyone, Chan&Jenna"
Although everyone knows Twitter can sometimes get vicious, it seems fans are respecting the privacy part. Instead of trying to start rumors or digging for details, the internet is busy wallowing in its own heartbreak. Seriously, just look at the reactions.
They Range From Disappointed...
The Tyra meme may not be original, but it sure is relevant.
... To Hoping This Is Some Sort Of Prank
The day before was April Fools' Day after all... but this would be a pretty cruel prank. (For the record, this definitely doesn't appear to be a belated joke.)
Some Couldn't Help But Care... A Lot
Not out of nosiness, but pure sadness.
"Love Is Dead"
If that last GIF is any indication, people are drowning their sorrows with their pals named Ben and Jerry.
Fans Are Shifting Their Focus To Another Pair
Uhhh, no pressure or anything, Blake Lively and Ryan Reynolds. Apparently you're just the internet's "only hope" of love still existing. (OK, that is a lot of pressure.)
People Took The News Pretty Personally
That Peter Griffin clip really seems to run the gamut of emotions.
Step Up Won't Be The Same
It's safe to assume that watching the movie where life imitated art (since Tatum and Dewan fell for each other IRL) probably will feel different now, given this news.
Then again, rewatching Step Up may be the perfect way for the internet to work through its rollercoaster of emotions. Because even though Twitter is devastated, it sounds like the actual couple is handling the news maturely and in the best possible way.