1 In 4 Men Think Women Have To Be "Convinced" To Have Sex, According To A New Survey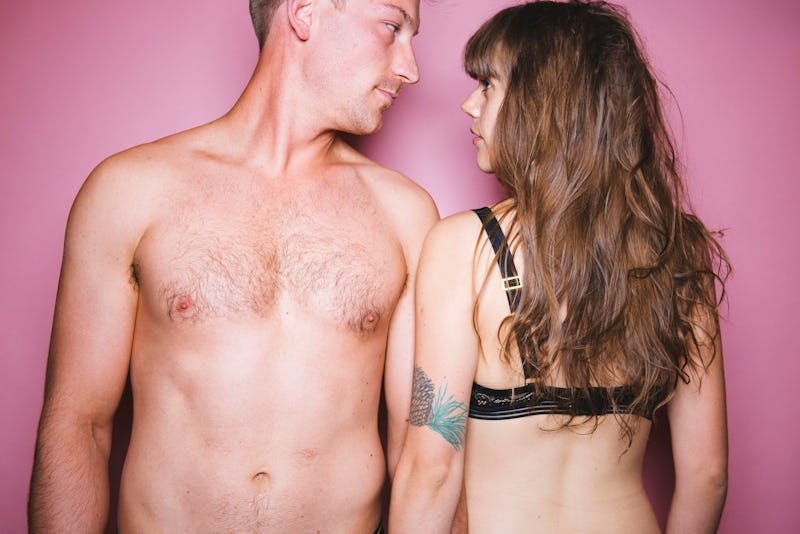 BDG Media, Inc.
With the recent sexual misconduct allegations in Hollywood and fictional stories about gender dynamics in dating like "Cat Person" going viral, it's brought up a lot of dialogue about sexual consent, pleasure, and enthusiasm. But it really doesn't seem like it should be that complicated. Having happy, consensual sex means that you pay attention to your partner's cues, whether verbal or non-verbal, and only have sex if they're as enthusiastic and excited as you are. Ignoring or pretending you don't understand their reservations is not OK. It sounds simple, so why is sexual assault and unwanted sex still so common?
Well, new research from Confi, a digital health startup founded at Harvard Business School, shows that expectations may have something to do with it. Their survey of 1,200 young people between 18 and 25, the majority of whom identified as straight, found a worrying disparity between male and female expectations when it comes to sex. Forty-five percent of men surveyed said they expect vaginal sex from someone who goes home with them after a party. Now that's fairly disturbing on its own — nearly half of men expect sex from someone who goes home with them. Not just a kiss or some touching — they expect penis-in-vagina penetration. But when you consider the fact that just 31 percent of women said the same, you can really see the problem: there's a 14 percent disparity of expectations. That means that 14 percent of the time there may be men expecting sex that women aren't planning on having.
The truth is, sex should never be expected, from anyone. Consent is a conversation — and an ongoing one. Even if all the signs are there, even if you're in a relationship with someone, you still need to make sure that the consent is always being discussed.
"While we were not surprised that more men than women expected sex when going home together, we were surprised by how expectations differed across the types of sexual activity that could happen when you go home with someone (i.e. kissing, oral, vaginal, anal)," Rachel Hanebutt, a co-founder of Confi, tells Bustle. "Something that surprised us even more was how big the difference was between an individual's perception about two other people going home together, versus their own expectations about going home with someone. These discrepancies in expectation vastly increase the likelihood that two people going home together will have different expectations of what is going to happen. It's especially problematic that someone might have a skewed perception or make assumptions about the expectations of the person they are going home with."
But that's not the only unsettling finding from the survey about the disparity of expectations. Here are the other key findings from the survey: