#MeToo Founder Tarana Burke Is Releasing A Memoir & It Has An Important Message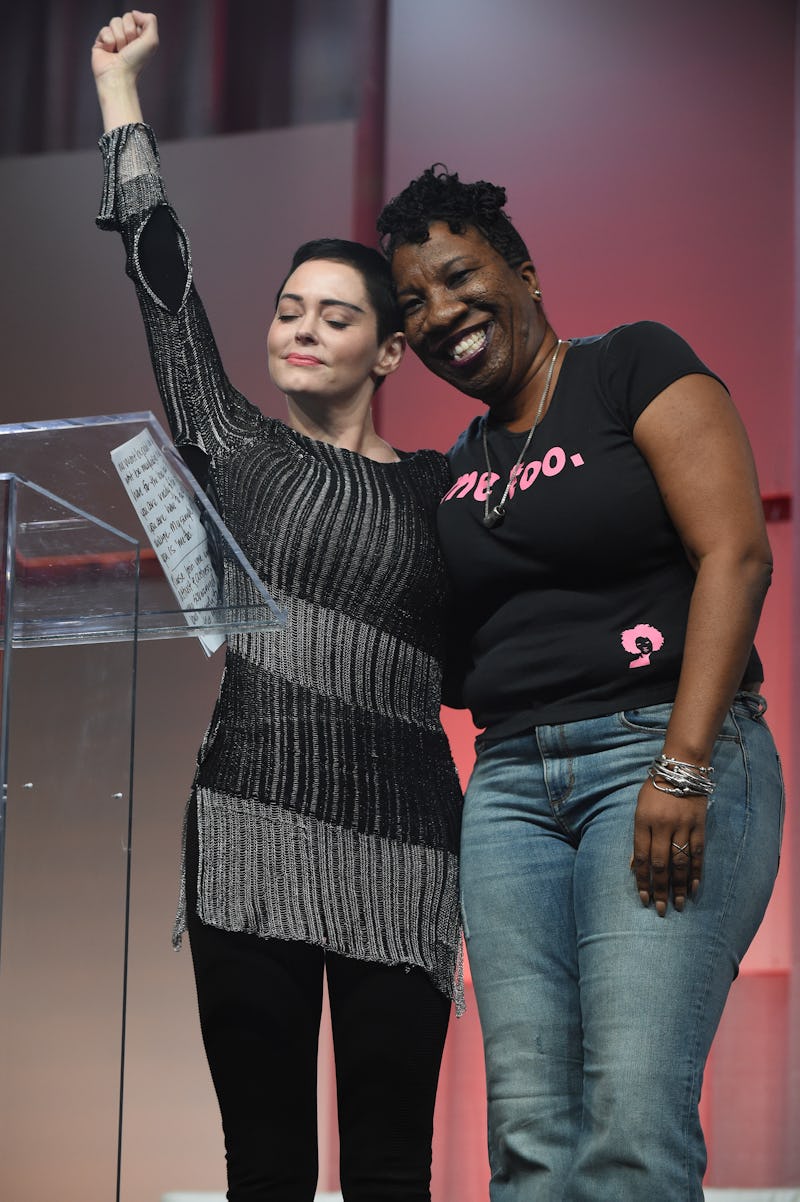 Aaron Thornton/Getty Images Entertainment/Getty Images
When she started a movement to raise awareness for sexual violence survivors a decade ago, activist Tarana Burke had no idea that, years later, it would become the center of an important national conversation and the catalyst for serious cultural change. Now, the founder of the "Me Too" movement is writing a memoir about her experiences, and the few details already released make it sound incredibly inspiring.
Due out in early 2019 from Simon & Schuster imprint 37 Ink, Where the Light Enters: The Founding of the 'Me Too' Movement is being labeled as a memoir, but according to Burke, her book seeks to go beyond sharing private experiences and personal anecdotes. Instead, Burke's memoir uses the author's own experiences with sexual violence, trauma, recovery, and activism to examine what it really means to be one of the million of survivors who can say "Me Too." This will be Burke's first book, but she will be getting some assistance from co-writer asha bandele, who recently collaborated with Black Lives Matter activist Patrisse Khan-Cullors on the critically acclaimed New York Times bestseller When They Call You a Terrorist.
An official synopsis for Where the Light Enters has yet to be released, but in a statement about the upcoming title shared with EW, Burke explained what her memoir is about, and why it is so important to the #MeToo movement and the future of sexual violence survivors activism:
"Using my story as a backdrop, Where the Light Enters: The Founding of the 'Me Too.' Movement, will explore what 'survival' really looks like by taking the reader through my ordinary, extraordinary journey from victim to survivor to thriver; while providing an understanding of why something like the 'me too.' movement was not just necessary for my community but for the world. The book will also help readers understand the often overlooked historical connections of the role sexual violence plays in communities of color, specifically Black communities, even today, while exploring ways the same communities have been both complicit and resilient. More than anything, this memoir will provide survivors across the spectrum of sexual abuse a roadmap for healing that helps them understand that the 'me too.' movement is more about triumph than trauma and that our wounds, though they may never fully heal, can also be the key to our survival."
I don't know about you, but I'm ready to read this incredibly powerful book now. Can it be 2019 already?
Burke originally founded the hashtag-less "Me too" movement following a heartbreaking encounter with a young victim of sexual violence. (You can read her experience on Just Be.) Feeling ill equipped to help the girl and unable to admit she too had a similar experience, Burke was inspired to start the Me Too campaign. The purpose of the movement was to encourage other survivors to share their stories of sexual violence with one another as a means to create a supportive community built on the principles of connection, communication, and healing.
Nearly a decade later, actress Alyssa Milano took to Twitter using the hashtag #MeToo and asked women to share their stories of sexual harassment and assault online. Since her first tweet in October, #MeToo has appeared in over 1.2 million tweets and become the emotional center of a nation-wide reckoning on sexual violence and the culture that allows it to flourish. In the last three months, powerful men like Harvey Weinstein and Kevin Spacey have lost their jobs after being outed for alleged sexual harassment and assault, several government officials guilty of misconduct have stepped down or soon will, and it seems the entire nation is ready to say "Times Up" for misogyny, sexism, gender inequality, and sexual violence.
Without Burke's original "Me Too" movement, none of this would be possible. Now, readers can find out all about how it got started, why it is important, and what it means to keep it going, from the woman who inspired it all. Where the Light Enters: The Founding of the 'Me Too' Movement will be out sometime early 2019, and I for one can't wait to see what secrets — and inspirations — it holds.