Michael B. Jordan Only Wants Roles Written For White Men — Here's Why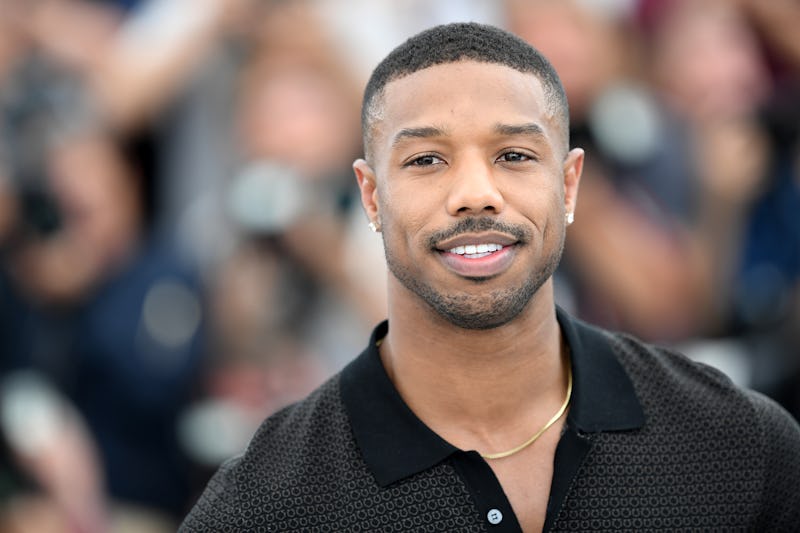 Pascal Le Segretain/Getty Images Entertainment/Getty Images
After his 2013 film Fruitvale Station, Michael B. Jordan started auditioning for roles written for white men. The reason Jordan wanted to try out for those roles, according to Variety, is so he wouldn't be typecast. Essentially the Black Panther star wants to define who he is as an actor, and he's making it clear that his career ​won't be defined by race.​
When Jordan sat down with Insecure's Issa Rae for Variety's Actor on Actor interview series recently, he revealed that he told his agents he didn't want to just try out for roles specifically written for black men. "I said, I don't want it. I want to only go for like, [roles written for] white males. That's it. That's all I want to do," he explained. "Me playing that role is going to make it what it is... I don't want any pre-bias on the character."
Jordan wants to be the one who shapes his roles, not writers who think they know what kind of actor or even what kind of person he is. "Sometimes writers write what they know," he explained, "what their encounters of us would be and that's a slight bias." Jordan knows he can play anything, and by trying out for roles that some may not see him in, he forces people to rethink their biases, while also encouraging more color-blind casting.
It's something fans might not have initially realized since he's best known for his roles as Erik Killmonger in Black Panther and Adonis Creed in Creed, both roles that were written specifically for a black actor. But these roles are completely different, and show once again how he's diversifying his career to play a variety of characters.
And Jordan's approach seems to be working, since Rae told Variety she's started expanding the kinds of roles she can take. Rae remembered getting roles from agents early in her career and knowing she just wasn't what they were looking for based on her race. "If it were a leading woman of a certain type, I just knew the type that they would go for, so I'm just not going to even bother," Rae said.
But she's started rethinking who can be a leading lady in Hollywood, and she chalks it up to Black Panther, which has showed black women and men playing all types of leading roles. "Even just the confidence that a movie like [Black Panther] and other films by other filmmakers of color that have come out have really just changed what people perceive as leading lady, as the beautiful person, the daring or the bold action adventure type," she said. "That just feels so dope to me."
Jordan said for him it was his role in the 2012 movie Chronicle that showed he could try out for any role. The character was originally written as a white teenager named Steve Kaczynski, but Jordan changed their minds with his audition. It's something he also did with his latest film Fahrenheit 451, in which he played the role of Guy Montag, and as the Human Torch in Fantastic Four, both of which were written as white characters. Fantastic Four might not have done well with critics or fans, but it did show the world a black superhero three years before Black Panther became the first Marvel movie led by a black actor.
This has been his small way of breaking down a huge Hollywood barrier, since he said the limited number of roles for black actors can end up pitting them against one another. "It was just how do you reverse engineer that problem, that kind of pitted competition between each other," Jordan said about his decision to try out for roles written for white men. "And just put more opportunity out there for people to eat and be successful at what they want to do."
In some ways, it's not unlike what Denzel Washington has done in his career, playing roles that many would have once unfortunately assumed could only be played by a white man, and expanding the idea of what a black male lead could be. It's why it's rather fitting that Jordan has been called "a young Denzel."
Back in April, in an interview alongside Washington for The New York Times, Jordan talked about how much the legendary actor's career meant to him. "When someone says you're like your idol," Jordan said, "It's like: 'Really? You see that in me?' I'd only done that one movie. But then I started using it as motivation."
It might be too early to anoint Jordan the second coming of Denzel. But, Jordan is clearly trying to change the way Hollywood looks at black actors by giving them more opportunities. And honestly, who doesn't want to see more Michael B. Jordan on the big screen?