Lordy, There's A Tape Of Trump Talking About Paying Off A Playboy Model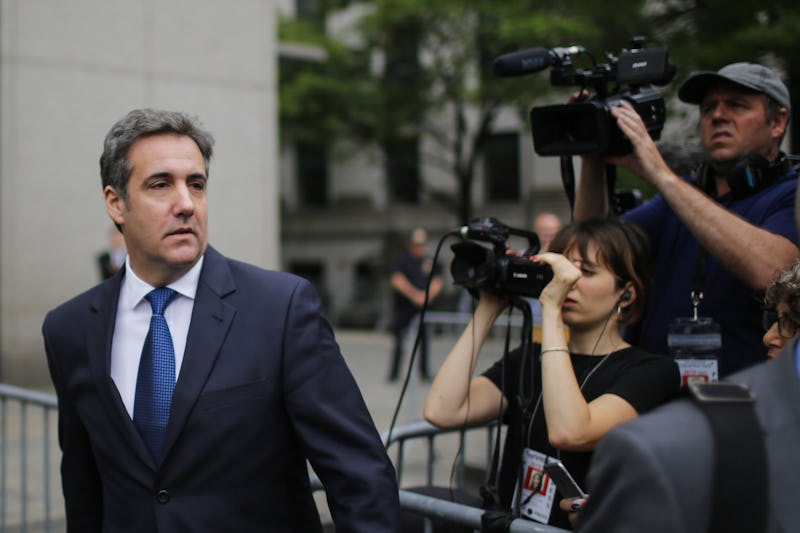 Eduardo Munoz Alvarez/Getty Images News/Getty Images
A secret tape has once again brought President Trump's relations with women into the spotlight. This time it's coming from his lawyer: The New York Times revealed on Friday that Michael Cohen recorded a conversation with Trump about Karen McDougal that they had two months before the election. They reportedly discuss potential payments to the former Playboy model on the tape. McDougal claims that she had an affair with Trump in 2006, while the president continues to deny it.
According to The Times, the FBI seized the tape when they raided Cohen's apartment in April. Rudy Giuliani, another of Trump's lawyers, confirmed on Friday that a short tape exists of a conversation about possibly paying McDougal but that such a transaction never actually happened.
In fact, Giuliani suggested that the tape would help support Trump's side of the story. "In the big scheme of things, it's powerful exculpatory evidence," he told The Times.
Of course, McDougal does seem to have received a payment to keep her story quiet — it just wasn't directly from Trump. Just days before the 2016 election, The Wall Street Journal reported that The National Enquirer had paid McDougal $150,000 for the story of her affair and then never published it. This "catch and kill" practice is considered to be a way of keeping stories from becoming public. For its part, The Enquirer said in March that this was not its intention and insisted that the story "may be published" still.
When that Wall Street Journal story broke, Hope Hicks — who was Trump's campaign press secretary at the time — said that "We have no knowledge of any of this," suggesting both that the affair was made up and that the Trump team had been unaware of The Enquirer's payment to McDougal.
But some have suggested that the president may have been more involved with that payment than Hicks admitted. David Pecker, The National Enquirer's publisher, has been a close friend of Trump's for a long time, and recent reporting from The New York Times shows that their relationship has continued throughout his tenure in the White House. In response to reports about their enduring friendship, The Washington Post wrote in March, "It is getting harder for President Trump to distance himself" from the payment.
Giuliani insists that the newly-revealed tape from Cohen supports Trump's version of the events. "Nothing in that conversation suggests that he had any knowledge of it in advance," he told The Times on Friday.
But some reports suggest that the president was unhappy to hear that Cohen had made the recording and that it was in the FBI's possession. According to CNN's Dana Bash and Gloria Borger, a source with knowledge of the tape said that Trump was displeased at the news, saying, "I can't believe Michael would do this with me." The source also suggested that Cohen made other tapes of his conversations with Trump that are also in FBI custody.
McDougal alleges that she had a 10-month affair with Donald Trump beginning in 2006, shortly after Melania Trump gave birth to the couple's son, Barron. In March, McDougal told CNN that she loved Trump but ended their relationship out of guilt about his wife.
When asked about the tape, Cohen's lawyer told The Times, "We have nothing to say on this matter."