Michelle Obama Is Giving Away Thousands Of Book Tour Tickets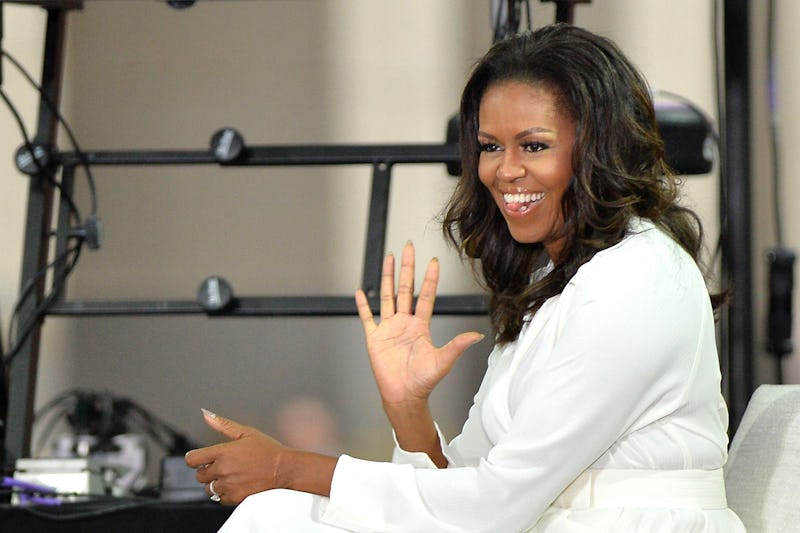 Kristin Callahan/ACE Pictures/Shutterstock
Michelle Obama's book tour for Becoming, her first memoir, out Nov. 13 from Crown, will make 12 stops in 10 cities, beginning with an appearance at Chicago's United Center on the title's release date. Now, Michelle Obama and Live Nation have announced some of the winners of free book-tour tickets at various stops along the tour, and I've got the rundown for you below.
Readers have known to watch for the former first lady's memoir since March of last year, when news broke of the Obamas' joint book deal totaling $65 million. Now that Becoming is on the verge of hitting store shelves, Michelle O.'s biggest fans are gearing up to see her on tour. According to a Sep. 12 announcement from Live Nation, the tour's events "will feature intimate and honest conversations between Mrs. Obama and a selection of to-be-announced moderators, reflective of the extraordinary stories shared in the wide-ranging chapters of her deeply personal book."
Becoming by Michelle Obama, $32.50, Amazon or Indiebound
If they can afford to, that is. Affordable tickets to Obama's book tour sold out quickly. Re-sale and remaining tickets are hella expensive. When tickets went on sale in September, The Hill reported that "The cheapest single ticket available to Obama's 'Becoming' talk at a Nov. 25 stop in Washington was $850 on Friday, shortly after sales were open to the general public." Noting that all of the tickets priced around $30 had sold out, The Hill went on to observe that, "At a Boston stop, the least-expensive seats were running more than $400 on Friday, while in Detroit just a single $180 standard ticket was left, with the next cheapest pass running $775."
To ensure that local groups get to attend the Becoming tour, Michelle Obama and Live Nation are giving away 10 percent of the available tickets in each market to worthy organizations, including the Girl Scouts and The National Association for Urban Debate League. Here's the full list of recipients announced so far:
In the Oct. 26 press release from Live Nation, Michelle Obama said of the free tickets, "It was important to me that all sorts of people could come to the tour events, not just those with means or who happened to be by a computer when the tickets went on sale. That's why we are giving away thousands of tickets to people around the country, particularly to young people striving to be their best. I want them to see themselves in my story — to see the value in the fullness of their lives and to imagine who they might become in the years ahead."
The full list of Michelle Obama's book tour dates is as follows:
Nov. 13, United Center in Chicago
Nov. 15, The Forum in L.A.
Nov. 17, Capital One Arena in Washington, D.C.
Nov. 24, TD Garden in Boston
Nov. 25, Capital One Arena in Washington, D.C.
Nov. 29, Wells Fargo Center in Philadelphia
Dec. 1, Barclays Center in Brooklyn
Dec. 11, Little Caesars Arena in Detroit
Dec. 13, Pepsi Center Arena in Denver
Dec. 14, SAP Center in San Jose
Dec. 17, American Airlines Center in Dallas
Dec. 19, Barclays Center in Brooklyn
Michelle Obama's first memoir, Becoming, goes on sale Nov. 13. The book is available for pre-order today from your favorite retailer.