Twitter Absolutely Cannot Handle Beyonce, Demi, & Miley Releasing New Music In The Same Week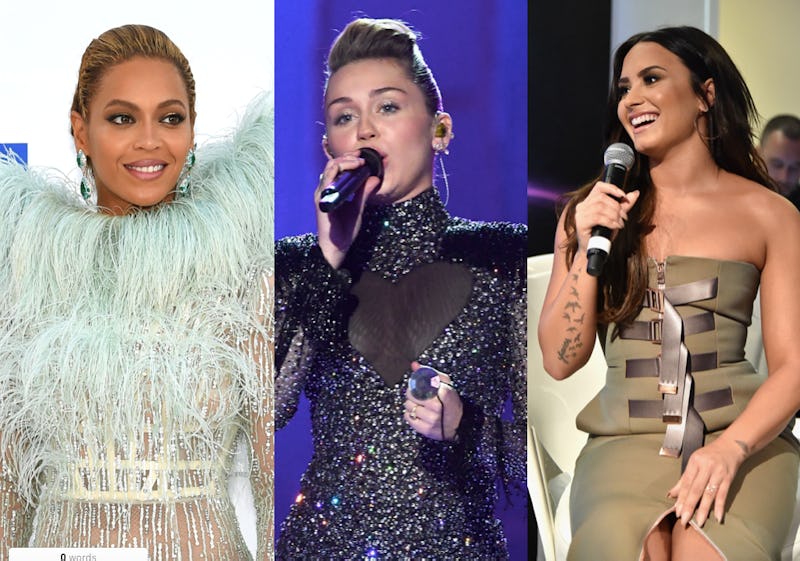 Jamie McCarthy/Getty Images Entertainment/Getty Images ; Kevin Winter/Getty Images Entertainment/Getty Images; Mike Coppola/Getty Images Entertainment/Getty Images
It's certainly been a glorious couple of days for fans of entertainment. All within the span of a few hours, Miley Cyrus, Demi Lovato, and Beyoncé dropped new music, and everyone seems to be feeling super blessed about the projects from these badass women. Oh, and Pink and Tamar Braxton also released new tracks that are worth noting. It goes without saying that fans can never get enough of the tunes coming from any of these talented ladies, so to wake up to an avalanche of releases from these empowering feminine forces is certainly worthy of rejoicing.
This news is seriously too much to handle all at once. To start things off, we have Miley Cyrus, who finally released her highly anticipated sixth studio album, Younger Now. Fans have been patiently waiting to get their hands on the album ever since the singer first teased about the new music during an interview with Billboard back in May. The project is the entertainer's first full-length release since 2015 and notably her first since reportedly rekindling things with longtime bae, Liam Hemsworth, so Smilers have been listening with a close ear, hoping to get some more insight into the "Wrecking Ball" singer's personal life.
There's also Cyrus' former Disney Channel associate, Demi Lovato's equally anticipated Tell Me You Love Me album. TMYLM is Lovato's first album in nearly two years, and Lovatics everywhere seemingly haven't been able to get enough of the entertainer's new music.
That brings us to Tamar Braxton's fifth studio project, Bluebird of Happiness, which the singer also announced will be her last, according to Entertainment Tonight. Both the album and that news has had Tamartians completely losing it on social media. Meanwhile, Pink released her second single "Beautiful Trauma" from her forthcoming album of the same name. The new body of work will be Pink's first offering in five years, so fans have been all over that as well.
And last but not least, there's Beyoncé — the superstar just dropped a surprise remix to J Balvin and Willy William's hit, "Mi Gente." Needless to say that the Beyhive went completely nuts over the track which the singer announced will support relief efforts for hurricane and earthquake victims in Puerto Rico, Mexico, and the other affected Caribbean islands.
It goes without saying that fans are overjoyed to have so much new music to listen to this upcoming weekend. As news begins to pour in surrounding the projects coming from these femme phenoms, the reactions have been simply priceless.
1. The Ultimate Gift
One fan can't get over the tremendous blessing of receiving these musical gifts.
2. Mandatory Music
Meanwhile, this social media user demands that you listen to each and every tune from Beyoncé, Cyrus, and Lovato ASAP.
3. #Blessed
It sounds like it's going to be a long night for one listener who plans stream both Beyoncé and Braxton until the early morn.
4. Rise & Shine
Another Twitter user can't believe what difference a little nap can make.
5. State Of Confusion
This fan seems to have very valid questions about how to take it all in.
6. Night To Remember
The excitement of learning of the new releases is just too much for one user to take in at the same time.
7. Life Is Good
All of the music madness seems to be giving this fan life.
8. Attitude of Gratitude
One listener gets spiritual over the "iconic" releases from Lovato, Cyrus, and Beyoncé.
9. Happy Days
It sounds like somebody is having one of the best days ever after finding out about the new music.
10. Ovation
This meme describes the feelings of joy felt amidst the news.
11. Fri-YAY
It's going to be a good day for this fan who feels "spoiled" by all of the great releases from Cyrus, Lovato, Beyoncé, Pink, and more.
As the new music begins to make its way up the charts and continues to trend on social media, fans can revel in the fact that they officially have (a few) new soundtracks from their favorite badass artists.