Ring The Alarm: Beyoncé Just Dropped A New Song To Support Hurricane Relief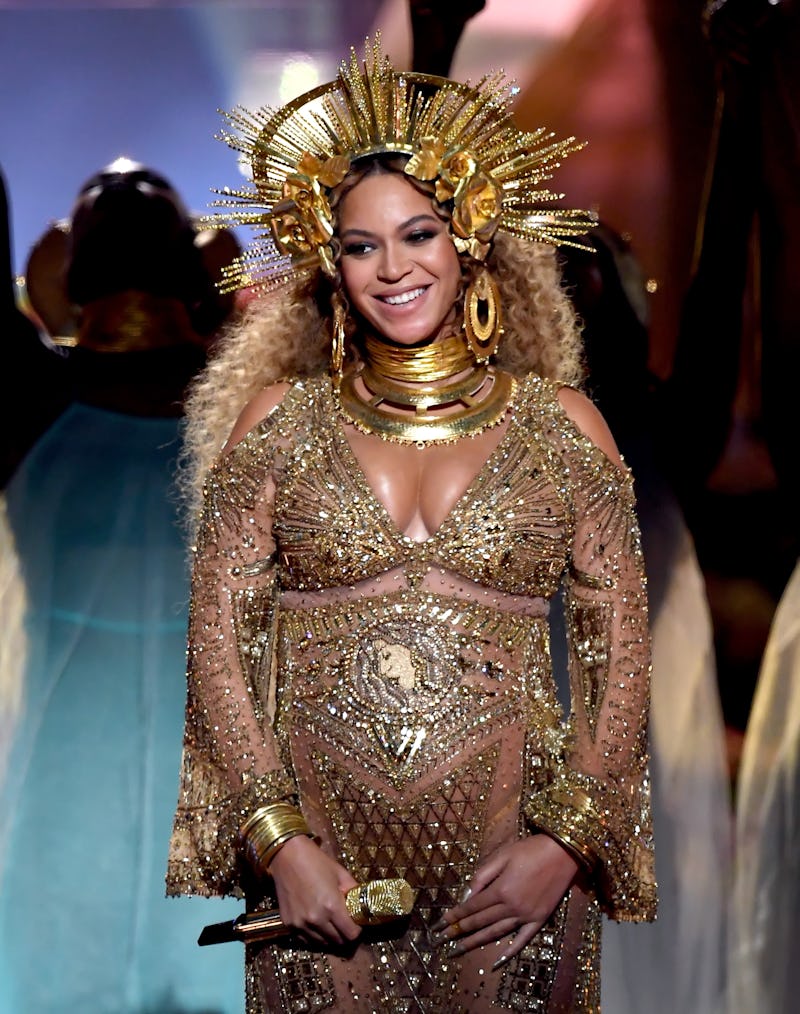 Kevin Winter/Getty Images Entertainment/Getty Images
Ring the alarm: There's a new Beyoncé song and it's raising money for hurricane relief in the process. OK, it's not a new song per se, but it's a remix of J Balvin and Willy William's "Mi Gente" featuring Beyoncé, and that makes it worth a listen. On Thursday night, the queen of the surprise music drop posted on Instagram,
"I am donating my proceeds from this song to hurricane relief charities for Puerto Rico, Mexico and the other affected Caribbean islands. To help go to Beyonce.com/reliefefforts."
Even if you're familiar with the original "Mi Gente" track, this is definitely an updated version, including a new video and Bey's verse, which shouts out Puerto Rico, Mexico, and Texas, areas all recently hit by devastating national disasters. The lyrics include:
"Lift up your people
From Texas, Puerto Rico
Dem Islands to Mexico"
The video — which includes the lyrics along the bottom, sing-along style — features a range of clips of people dancing, presumably all over the world. While it's easy to feel helpless in times of tragedy, Bey is giving a simple way to give back: downloading this very track. And come on, who wasn't going to download a new Beyoncé song anyway? Now, it actually benefits more than just your eardrums.
Not only that, but on her website, Beyoncé shared ways to give back to various areas around the world who need it most. The singer wrote,
"We're heartbroken by the hurricanes and earthquakes that have devastated families around the world. There are many ways to help. We've listed a few organizations that are on the ground from Mexico to the Caribbean, lending a hand to those who need it most."
In addition to that heartfelt message, she includes a range of resources, including UNICEF and One America Appeal. It's a bulleted list, separated by location, including how to help Puerto Rico, as they continue to recover from Hurricane Maria, as well as ways to support those in Mexico, who experienced horrific earthquakes this month. And, of course, you can't forget the Caribbean communities, Florida, and Houston, all featured on Bey's list.
Given the singer's track record of publicly supporting causes she cares about, this shouldn't come as a huge shock. Sure, the actual song drop was unexpected, but Beyoncé has supported Houston ever since Harvey hit. A few weeks ago, she visited St. John's Church in her hometown, where a photo of the singer hugging hurricane survivors went viral. According to Entertainment Tonight, Bey addressed the crowd,
"Houston is my home. I thank God that you're safe, your children are safe. I think that really matters is your health and your children and your family. I just wanna say I love you. I've been blessed so that I can bless other people and I ask of God to continue to do that for other people."
Additionally, at the telethon to raise money for Houston after Harvey, Bey delivered this message during a pre-recorded video segment:
"Natural disasters don't discriminate. They don't see if you're an immigrant, black or white, Hispanic or Asian, Jewish, or Muslim, wealthy or poor. It doesn't matter if you're from Third Ward or River Oaks, we're all in this together. Seeing everyone of different racial, social and religious backgrounds put their own lives at risk to help each other survive, restored my faith in humanity."
Now, by using her voice and her reach to raise even more relief funds for both Puerto Rico and Mexico, Bey is making good on this message — and hopefully inspiring her fans to do the same.
More On How To Help:
How To Help Puerto Rico After Hurricane Maria Ripped Apart Homes & Wiped Out Power
How To Donate Clothes To Puerto Rico Victims Of Hurricane Maria
How To Donate To Mexico City Organizations That Are Essential To Earthquake Recovery Efforts
How To Help Mexico Earthquake Victims In This Desperate Time Of Need