Miley Cyrus' "Wildflowers" Tribute To Tom Petty Will Take Your Breath Away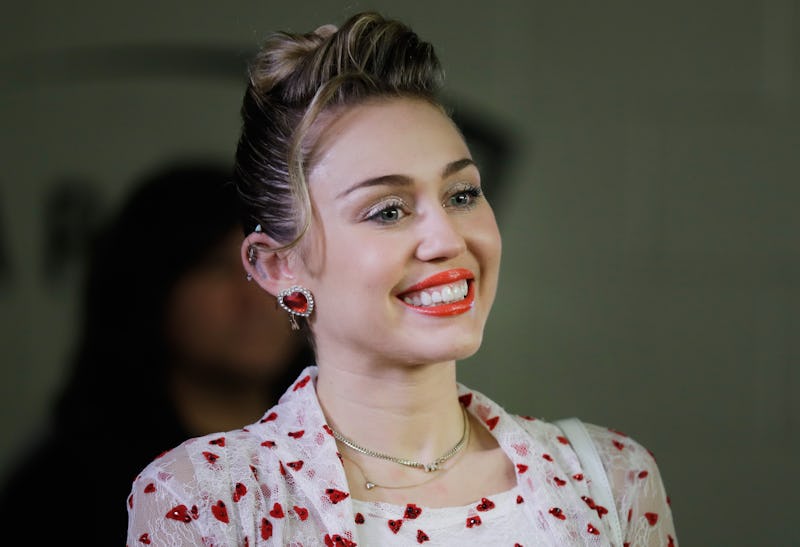 Isaac Brekken/Getty Images Entertainment/Getty Images
It's only been a few days since Tom Petty passed away, but it's already obvious how much the music world is hurting. Following Dave Matthews, Emmylou Harris, Steve Earle, and Patty Griffin's cover of "Refugee" comes a performance that's every bit as touching — because Miley Cyrus's tribute to Tom Petty is quietly devastating. Cyrus opted to perform an acoustic version of a track from Petty's 1994 album of the same name, "Wildflowers." It was a particularly deft choice, since the one Petty lyric fans keep quoting following his passing has been a line from that exact same song: "You belong among the wildflowers."
It's easy to see why fans are so keen to quote that line in particular. As Jen Chaney, writing for Vulture about her memories of listening to Petty, put it, his music represented "the spirit of a summertime that would never end." There's a sense of freedom, a certain roominess in his music — and what's more free than wildflowers? It may seem a little unexpected that Cyrus —whose music doesn't have an obvious connection with Petty's rockier sound, and who's on the late-night show circuit to promote her new album — chose to deliver a tribute. But her The Tonight Show performance, in which the star is accompanied by her father Billy Ray Cyrus, speaks for itself.
Of course, this wasn't the first time the star had performed her rendition of the song. She'd already performed "Wildflowers" for radio on The Howard Stern Show on Oct. 4, but this was her first live TV performance. According to MTV, on the radio show, Cyrus explained why she'd chose "Wildflowers" as a tribute. She said,
"It's just really hard for me, watching those people that I grew up with leaving. The reason why I chose this song is because it's hopeful. It's hopeful rather than mourning."
That same hope is present in the lyrics. The track urges the listener to be entirely themselves: as untethered and spontaneous as they may be. They're encouraged to run away and "find you a lover" before the singer suggests, "Go away somewhere all bright and new." It's a song about the joy of constant newness, constant change, about having a hunger for life, and all the experiences a person can find along the way. It's the ultimate happy ending song for someone who even in his sixties, hadn't given up touring — according to Time, Petty's last world tour closed on Sept. 25, just a week before his death.
That same hope can be heard in the music. The beauty of this particular cover comes from the touches that the singer adds to make it her own, rather than performing a perfect imitation of the original. It's softer and breathier than the original and that's not just about vocals — according to Rolling Stone, Cyrus' "Wildflower" cover adds a fiddle and steel guitar to the mix.
And perhaps, Cyrus is exactly the right person to pay tribute to the artist, because despite their different sounds, they both cite the same musician as inspiring them to make music. Her "Younger Now" video shows the singer dressed as Elvis Presley. According to The Mirror, Cyrus admitted her album Younger Now as a whole was inspired by Presley and stated, "I really wanted to create a song that kind of felt like Elvis... whether it's 'Jailhouse Rock' or whatever. It is just kind of being able to take some of that Elvis spirit and put it onto a song."
Of course, Presley is the same musician that inspired Petty to pick up a guitar. According to The Guardian, when he was just 11 years old, his aunt and uncle took him to watch the musician filming Follow That Dream and Petty said, "I caught the fever that day and I never got rid of it."
Thank heavens he didn't. The world would be a sadder, more strait-laced place without his music — and Cyrus' gorgeous cover just goes to prove it.