Millie Bobby Brown Is 'TIME' 100's Youngest Honoree, Yet She's SO Much More Than Her Age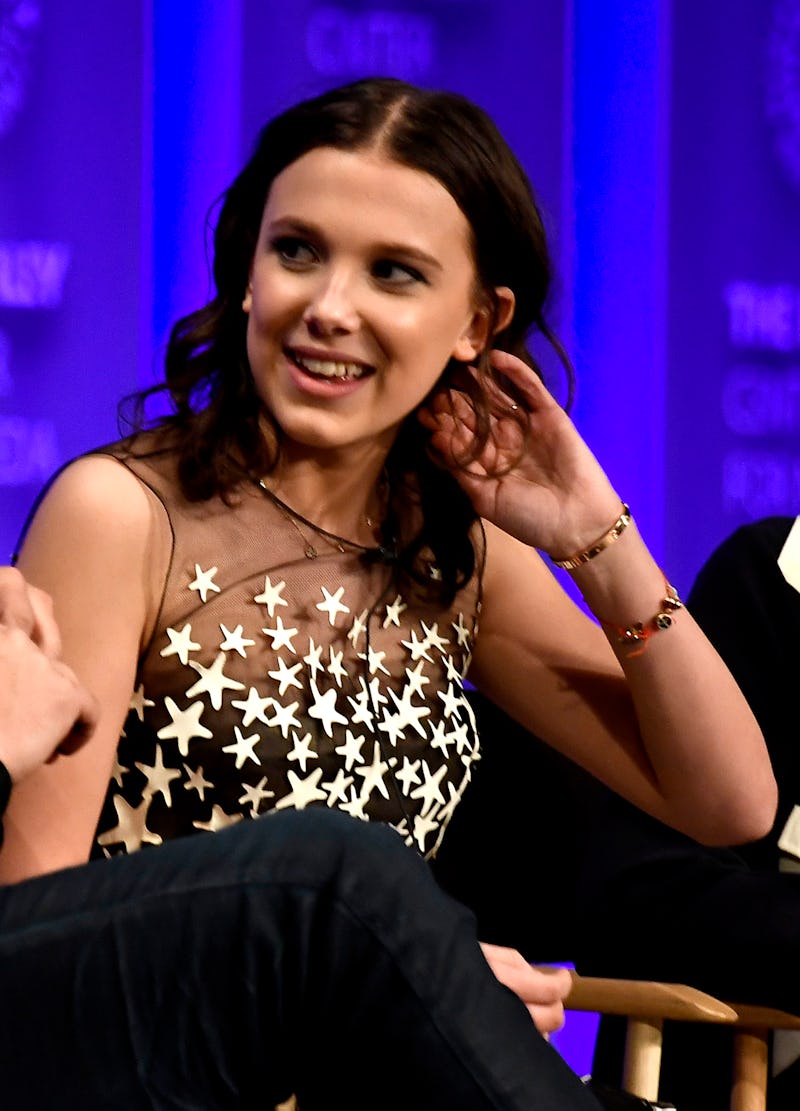 Frazer Harrison/Getty Images Entertainment/Getty Images
The annual list of TIME magazine's most influential people has been revealed, and it's full of directors, musicians, creators, and more writing about some of their favorite other people in the industry. Actor Millie Bobby Brown is 2018's youngest TIME Most Influential Person, and the reasons are endless. Brown has completely earned her spot on this list. She's stunned Hollywood with her portrayal of supernatural preteen "Eleven" on Netflix's Stranger Things, proved she can rap Nicki Minaj with the best of them, and honored the March For Our Lives organizers while accepting her Kids' Choice Award. Brown is intelligent, articulate, and passionate about the things she loves. Since she just turned 14 in February, the list also includes mimicking the Kardashian-Jenner family and recreating viral videos in addition to singing, acting, and her commitments to activism.
The magazine tapped Breaking Bad's Aaron Paul to write about the young actor, and he absolutely gushed over what it's like to spend time with Brown. Paul and his wife, who were fans of the show, first met up with Brown to talk about life, acting, and Stranger Things when Brown was 12. "It was like speaking to a future mentor with a perspective and groundedness that I could only have dreamed of at that age," wrote Paul of the experience, "Or at any age."
The Emmy-winning actor continued that Brown's "extraordinary" acting abilities must come from her nature. "She somehow understands the human experience as if she has lived it for a thousand years," he wrote in TIME, adding, "I'm proud to know her. To call her a friend. To call her my adopted daughter."
Brown rose to prominence in 2016 with her leading role in Stranger Things, but she'd been working in the industry long before that. After moving to the U.S. in 2011, she quickly began working in the entertainment industry. Brown racked up television credits beginning in 2013, and by the time she landed Stranger Things, the young actor had already appeared in Once Upon A Time In Wonderland, Intruders, NCIS, Modern Family, and Grey's Anatomy. Her next big role is in the 2019 film Godzilla: King of The Monsters. In between all that, Brown has found time to be a normal young teenager — she tweets at the Kardashian sisters and serves as an ambassador for EA game "The Sims" — and a proud activist as well. When does she sleep? That's anyone's guess.
Brown was born in Spain to British parents, but that hasn't stopped her from becoming involved in American politics. As previously mentioned, Brown was unable to attend the March For Our Lives that was organized by survivors of the school shooting in Parkland, Florida. However, Brown didn't let her conflicting schedule hold her back from acknowledging the march. Instead, she worked with Calvin Klein to design a one-of-a-kind denim outfit for her, one that listed the names of the 17 lives lost in the Parkland shooting and acknowledged the bright young voices that had organized the march against the NRA's involvement in American politics. The 14-year-old wore it onstage to accept an award at a show hosted by Nickelodeon, in case you need another reason that Brown is legit.
In addition to her professional work and budding activist career, Brown has befriended numerous other young women creatives. She's reportedly close with Maddie Ziegler, whose emotional dance routines made for some unforgettable Sia music videos, and Paris Jackson. While filming an ad campaign for Calvin Klein together, Brown revealed that she only has a few people whom she counts as "true friends", and that Jackson is one of them. In turn, the eldest child of the late Michael Jackson wrote, "I got teary eyed when you said that, [Millie]... I love you so much" on Twitter.
Brown may only be 14, but her influence on the industry is undeniable. It feels like she'll be making the TIME magazine 100 Most Influential People list again pretty soon — she surely has a long career of positive influencing ahead of her.