Millie Bobby Brown's 2018 Kids Choice Awards Tribute To The Parkland Victims Will Make You SO Emotional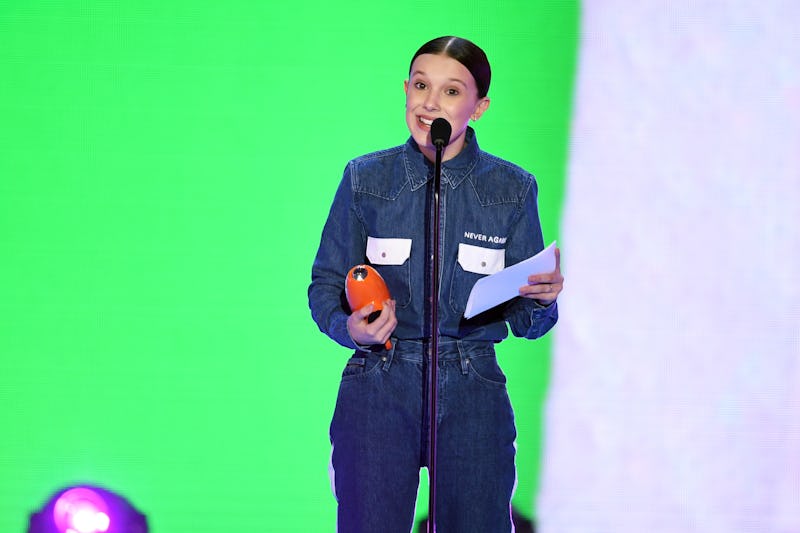 Kevin Winter/Getty Images Entertainment/Getty Images
On Saturday, March 24, the survivors of the Parkland shooting organized the March For Our Lives, which took place in Washington, D.C. and cities around the country. Later that night, Millie Bobby Brown paid tribute to the Parkland victims at 2018 Kids Choice Awards in such powerful way.
Brown accepted an award for Favorite Actress for her role as Eleven in Netflix's cult hit Stranger Things. When the young actor took the stage to accept the award, she dedicated her award to those affected by the Parkland shooting in her moving acceptance speech. Per UsWeekly, the actor said the following to the crowd:
"The March for Our Lives demonstrations that took place all over the world today have inspired me and impacted us all in one way or another. I'm fortunate to be here tonight to receive an award as an actor. I am so very grateful and I appreciate the love and support of my fans and the opportunity that our show, Stranger Things, has created for me. But more than anything, I get to be up here, and I'm privileged to have a voice that can be heard, one that I can use to hopefully make a positive difference and help influence change. There's an amazing support, love and kindness in this room right now, and I want to encourage everyone to embrace it and to pass it on. For the angels among us, your spirit lives on. This is for you."
At the Kids Choice Awards, Brown also wore an all-denim outfit that was custom made for her by Calvin Klein. On the front of the actor's shirt, the words "Never Again" are embroidered in capital letters, directly over her heart. On the back reads "March For Our Lives," and lists the 17 victims of the Parkland school shooting.
Take a look at Brown's empowering ensemble in the photos below.
Us Weekly also reported that the actor held up her award before turning her back to the camera on stage. This allowed her to show off the back of her denim shirt, which was all a tribute to the Parkland students. Brown posted about the night on social media, crediting Calvin Klein as the designer and tagged the March For Our Lives leaders in her posts. She also mentioned the march in the caption of the Instagram image.
March For Our Lives is an opportunity for us all to stand in solidarity against gun violence. No child, teen, parent or teacher should be afraid to walk into their school or classroom. This is our chance to be HEARD! This is our chance to MAKE A DIFFERENCE. This world needs to be filled with love, kindness and support of one another. No more fear, no more hurt, no more shootings, no more GUNS. To everyone participating in tomorrow's March all over the country, you have my love, support, strength and encouragement!
Brown was not the only celebrity supporter of the March For Our Lives on Saturday. Paul McCartney remembered John Lennon at the NYC March For Our Lives event. Lin-Manuel Miranda and Ben Platt performed "Found/Tonight," their new single inspired by the Parkland activists and Miley Cyrus performed "The Climb" live from the D.C. march. Kim Kardashian, Kanye West, and North West also marched in solidarity, and cast members from Parks & Recreation met up to march together as well.
Brown's tribute to the student activists was an important and powerful moment at the 2018 Kids Choice Awards. The moment shows that you're never too young to be informed about, concerned with, and an active participant in political discussions, especially one that majorly affects young people today.