Millie Bobby Brown Is The Queen Of Meeting Celebs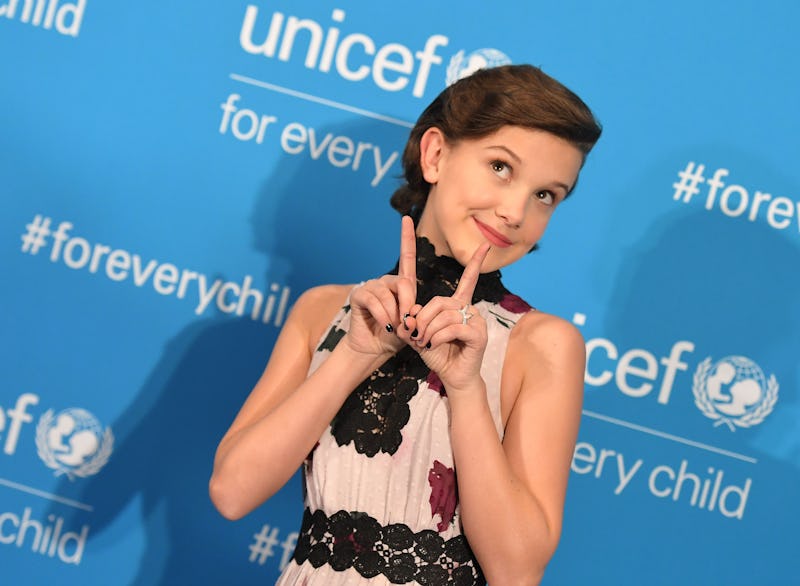 ANGELA WEISS/AFP/Getty Images
If there was an award for someone who is the best at taking photos with celebrities, I found the winner. Stranger Things star Millie Bobby Brown is the queen of meeting celebs. Similar to how her character, Eleven, is the biggest badass ever, that's exactly who Brown is in real life, especially when snapping photos with famous people. Yes, the 12-year-old is also a star, but she is new to Hollywood, so of course she is going to be starstruck upon meeting some of the biggest celebs in the entertainment industry. Wouldn't you be?
I'm not entirely sure what her strategy is when finding celebs to take a picture with and then share on Instagram, but Brown is very, very, very good at it. Obviously, the Netflix star attends events with fellow actors, but she has met some of top-notch individuals. If you ever wanted to meet your favorite actor or singer, just tag along with Brown, because she'll probably make it happen.
There is also a high chance that the following celebs seek out Brown. Ever since Stranger Things hit Netflix, everyone has fallen in love with Eleven. So, yeah, who doesn't want their picture taken with the person who brings her to life?
Prepare yourselves to be amazed at the queen of meeting celebs.
Ryan Gosling
Hey, girl, it's Millie, Ryan, and Noah Schnapp.
Blake Lively
Blake is everyone meeting Eleven.
Daniel Gillies
For all those fans of The Originals.
David Schwimmer
Ross Geller looks very happy.
Shay Mitchell
I think they just spotted A.D.
David Beckham
So posh.
Sterling K. Brown
Same, Sterling. Same.
Jeffrey Dean Morgan
Anyone else want to see an Eleven and Negan showdown?
Jaden Smith
The perfect throwback.
John Travolta & Kelly Preston
Travolta and Preston are obviously the ones starstruck.
Cuba Gooding Jr.
Show them the money.
Henry Winkler
Ayyy!
Aaron Paul
They're just one big happy family.
Robert Englund
Watch out, it's Freddy Krueger.
Mario Lopez
A.C. Slater in the house.
Julianne Hough
They're basically twins.
Joe Jonas
Do you think she was ever a JoBros fan?
Emma Stone
There is so much happiness here.
Justin Timberlake
Uh-dorable.
Anna Kendrick
Anna Kendrick clearly loves Stranger Things.
Vanessa Hudgens
So much beauty in one pic.
Amy Schumer
Schumer's face says it all. Also, is that Amy Adams hiding behind her/possibly photobombing?
Reese Witherspoon
The sweetness is real.
Priyanka Chopra
Two amazing TV stars in one photo.
And for good measure, here is a collage shared by Brown of every famous person she met over the course of a few days.
I told you she is the queen.