Millie Bobby Brown Went To Taylor Swift's Concert & Their Fanbases Are Freaking Out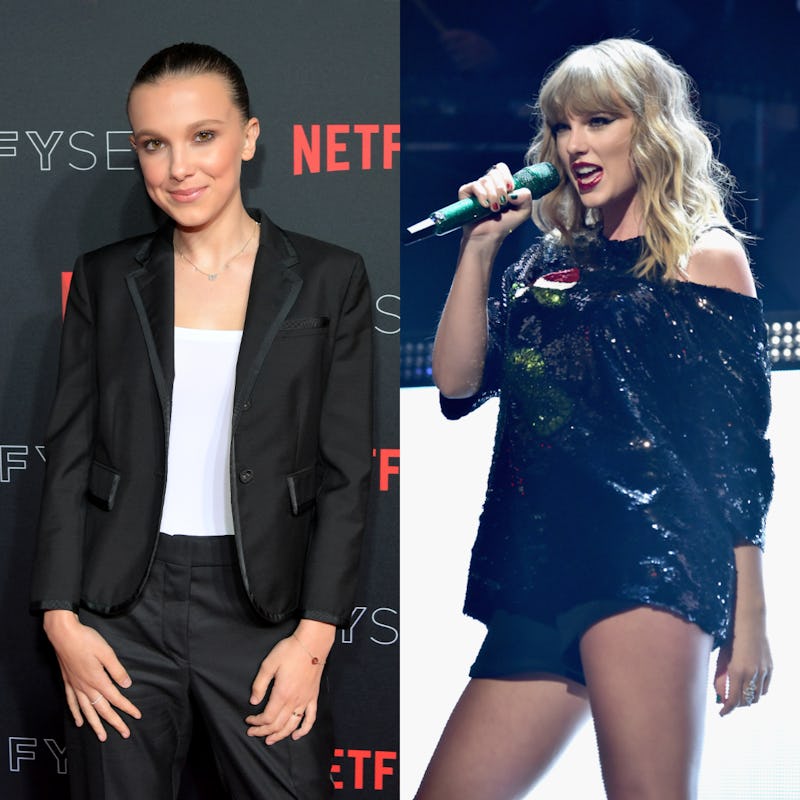 Charley Gallay/Getty Images Entertainment/Getty Images/ Theo Wargo/Getty Images Entertainment/Getty Images
Two massive fanbases have united in quite an unexpected way, and now, they may just be taking over the internet... and the world. On Saturday, Millie Bobby Brown rocked out at Taylor Swift's Reputation Tour and Swifties and Brown's fanbase Millions are freaking out. The world may not have known the two were friends until now, and people are just waiting for the day Brown is officially part of Swift's infamous squad. Or for Swift to make a Stranger Things cameo. Never say never, fans.
Over the weekend, the 14-year-old attended Swift's concert in Atlanta with her sisters Paige and Ava. The Stranger Things star documented herself rocking out to songs like "Delicate" and "Look What You Made Me Do" off Swift's 2017 album Reputation, shamelessly reciting the lyrics and dancing among the crowd. What's really driving fans wild is the backstage selfie Brown posted of herself and Swift, appropriately captioned, "look what u made me do."
Other stars like Rebel Wilson, Lena Dunham, Adele, and J.K. Rowling have caught Swift's Reputation Tour, while artists like Camila Cabello and Selena Gomez have joined Swift on stage. Brown is the latest to experience the show in all of its glory, and the internet is living for this apparent new friendship.
Although it's unclear how long Swift and Brown go back, Brown, who seems to know Swift's lyrics by heart, has clearly been a fan of the singer for some time. And the fact that their fanbases are completely supportive of this friendship says a lot, given that both are known to be super vocal, opinionated, and protective of their beloved role models.
Seeing these fanbases so happy about Swift and Brown coming together will only make you love their meeting even more.
Fans are living through them and for them. They're also pretty much declaring this the most epic Swift tour ever.
It's official: Taylor Swift and Millie Bobby Brown must collaborate ASAP. Twitter already has some awesome ideas about how it to make this dream team happen onscreen. As Twitter user @KelleyJ2587 tweeted,
"Next season on @Stranger_Things :
Eleven changes her name to Thirteen.
A glow up."
The perfection is real.
It's clear that these two were made for each other. What is "Look What You Made Me Do" if not an anthem to Eleven and her inevitable quest to get revenge against Papa? No, it's not an '80s jam, but if the show was ever going to make an exception to their period appropriate music rule, then they should do it for Swift. And Eleven.
Now that the Swifties and Millions have united, perhaps they can combine their energy for a common good? Like making more meetings between Swift and Brown happen, for instance. The world needs more of these two boss women together.
For now, fans will just have to patiently await a surprise cameo in some shape or form. Because Swift seriously needs to make her next Reputation tour stop Hawkins, Indiana.