Twitter Is Convinced Millie Bobby Brown Is Young Natalie Portman's Twin & These Pics Prove It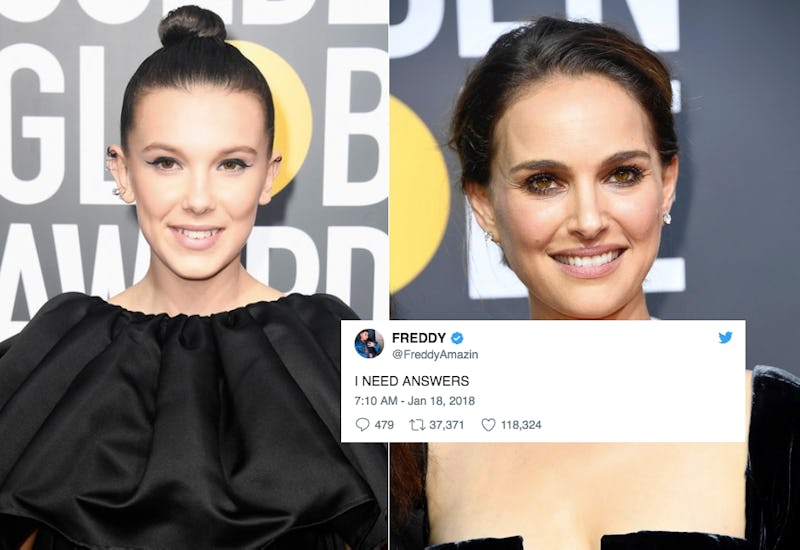 Frazer Harrison/Getty Images Entertainment/Getty Images (2)
Get ready, because you might need to do a double take. Millie Bobby Brown is Natalie Portman's twin, or so Twitter believes. There are many celebrity lookalikes and these two are now being added to the list. According to TIME, Twitter user @FreddyAmazin tweeted side by side photos of Brown and Portman on Thursday and captioned it, "I NEED ANSWERS", which got the attention of many other Twitter users. Soon after, people started responding and couldn't believe what they were seeing.
There is definitely a resemblance between the 13-year-old Stranger Things (director: Rebecca Thomas) actor and the Jackie (executive producer: Martine Cassinelli) star, especially when you compare pictures of Brown to a younger Portman. As you can see below, @FreddyAmazin thinks Portman's character in V for Vendetta (writers: Lilly and Lana Wachowski), in which she shaved her head, and Brown as Eleven with a shaved head in Season 1 of the Netflix series, are basically the same person.
Then, @FreddyAmazin juxtaposed two other images of the actors, and, well, there's certainly a similarity between them. They have similar smiles, once both sported the same hairstyles, and even donned almost identical outfits at one point. Feel free to take a moment to let all of this sink in.
The pictures definitely got the attention of other Twitter users, who have a lot of reactions and are also now sharing even more images comparing Brown and Portman. Check it out.
A Closer Look
Some just can't believe it.
These Pics Say It All
Their hair! Their outfits!
It's Just Shocking
They both look quite striking here.
Morphed Together
Wow.
So Many Questions
Seriously, what is going on?
Sure, But What About Steve & Jean-Ralphio?
You can't forget about these two.
"IS THIS A CYLON SITUATION?"
It's a legitimate question.
And It's Especially Clear In This Movie
This tweet actually came two days before @FreddyAmazin's.
It's Just All-Around Crazy
For real.
However, not everyone is falling for it. There are many who just don't see the so-called uncanny resemblance.
Really?
People need to open their eyes.
Nope
Just no.
Stop Trying To Make It Happen
Let it go, people.
"#Fail"
Yeah, this person is so not on board.
It seems people have thought Portman and Brown have looked alike for quite some time now. This lookalike situation goes all the way back to September 2017. Many thought Brown's 2017 Emmys look channeled a young Portman. So, yeah, people have been really feeling this comparison for a long time now. But, for some reason, it's now really taking the internet by storm.
Furthermore, on Jan. 8, before @FreddyAmazin's tweet was retweeted over 35,000 times and liked over 110,000 times, one person tweeted, "But seriously does anyone else think Millie Bobby Brown looks like a young Natalie Portman?!" Then, there is the following tweet that was posted on Jan. 9.
As for Brown and Portman, they haven't commented yet, but Brown did like a tweet from the Radio Times reading, "Millie Bobby Brown (@milliebobbybrown) is Natalie Portman's twin".
Beyond their looks, Portman and Brown have a lot in common, including their acting talents and both shaving their heads for roles. As Portman said in October 2014 about making the big change for V for Vendetta, "It was actually kind of wonderful to throw vanity away for a little bit. We're always expected to be preening ourselves, so it was a pretty nice opportunity not to have to think about that stuff for a while."
When Brown got rid of her hair for Stranger Things, it was a huge moment for her. "The day I shaved my head was the most empowering moment of my whole life," she tweeted on Jan. 14. "The last strand of hair cut off was the moment my whole face was on show and I couldn't hide behind my hair like I used to. As I looked in the mirror I realized I had one job to do. Inspire."
They both certainly inspire in more ways than one. Who wouldn't want to be compared to both of these amazing women? It's quite the compliment.