Millie Bobby Brown's First Comments Since Leaving Twitter About Anti-Bullying Are SO Important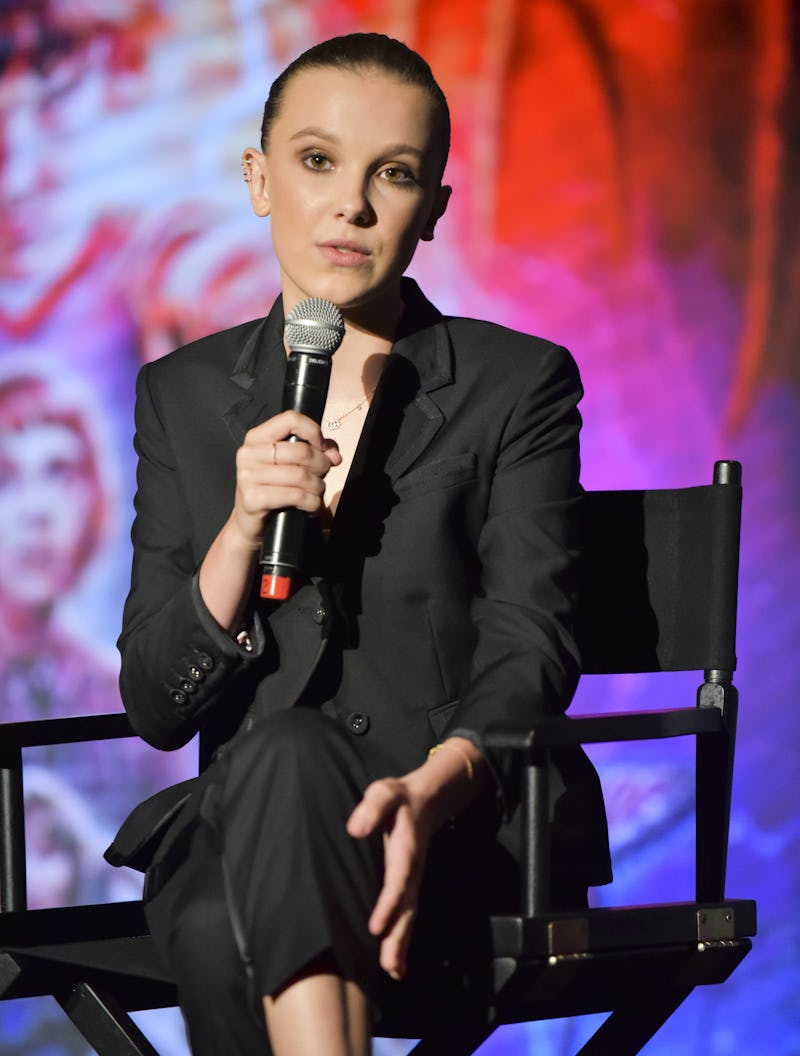 Rodin Eckenroth/Getty Images Entertainment/Getty Images
Millie Bobby Brown continuously demonstrates that regardless of your age, you can help make the world a better place. The Stranger Things actress recently won the MTV Movie & TV Award for Best Performance in a Show, and she ended up basically making her acceptance speech a PSA. That's because Millie Bobby Brown shared an anti-bullying message while accepting her MTV award. The 14 year-old seized the moment in a meaningful way, and it was the perfect way to respond to the recent news that Brown had quit Twitter after people used an image of the actress for a homophobic meme, according to E! News.
After thanking her co-stars on Stranger Things, in a video message, Brown got into her impactful statement. Brown said,
"Finally, since I know there are many young people watching this — and even to the adults too, they could probably use the reminder — that I was taught: if you don't have anything nice to say, just don't say it. There should be no space in this world for bullying, and I'm not going to tolerate it and neither should any of you. If you need a reminder of how worthy you are, and to rise above the hate, message me on Instagram."
She ended her statement with a wink after inviting fans to DM her on Instagram, as if to acknowledge that she's not reachable on Twitter, nor on her Instagram's comments since the star disabled them, as pointed out by Variety. It was a powerful message to hear from someone who recently became the target of particularly hateful online bullying, with commenters online claiming that Brown was homophobic.
The precocious teen handled her speech with so much poise and gravitas that it was a highlight of the awards show.
While it would've been great to see Brown attend the MTV Movie & TV Awards, the actress explained in her acceptance speech that she was following doctors orders while recovering from an injury. In an Instagram video posted the weekend of the Awards show by the young actor, she announced, "Another milestone in my life. I've never actually broken a bone — except for now. I have split my kneecap." Ouch, that sounds really painful.
Knowing that Brown was likely enduring some level of pain at the time that she accepted her MTV Movie & TV Award makes her even more of a badass than she already was — which was a lot. It also illustrates that Brown's anti-bullying message is one that's so close and important to the actor's heart, she's willing to push through an injury to deliver it.
Brown's 2018 MTV Movie & TV Awards speech wasn't even the first opportunity that the actor had used to share an important message that veered away from the usual "thank you" speeches. In March, Brown won the 2018 Kids Choice award for Favorite Actress, and she used the airtime allotted for her acceptance speech to honor the victims of the February Parkland school shooting. "More than anything, I get to be up here, and I'm privileged to have a voice that can be heard, one that I can use to hopefully make a positive difference and help influence change," Brown said at the Kids Choice Awards, while rocking a March For Our Lives inspired look.
With Brown constantly using her exciting award wins to speak about important current events, it's no wonder that she was named one of TIME's Most Influential People. Whether she's playing Eleven on Stranger Things, sharing DIY Carpool Karaoke videos of herself singing to Beyoncé in the car, or making powerful anti-bullying statements after winning awards, Brown is totally nailing this whole celebrity thing. She makes being kind seem totally cool, which it is, and that's exactly why she's such a fan-favorite.