You'll Be Psyched About Mindy Kaling & Ava DuVernay's Top Secret New Project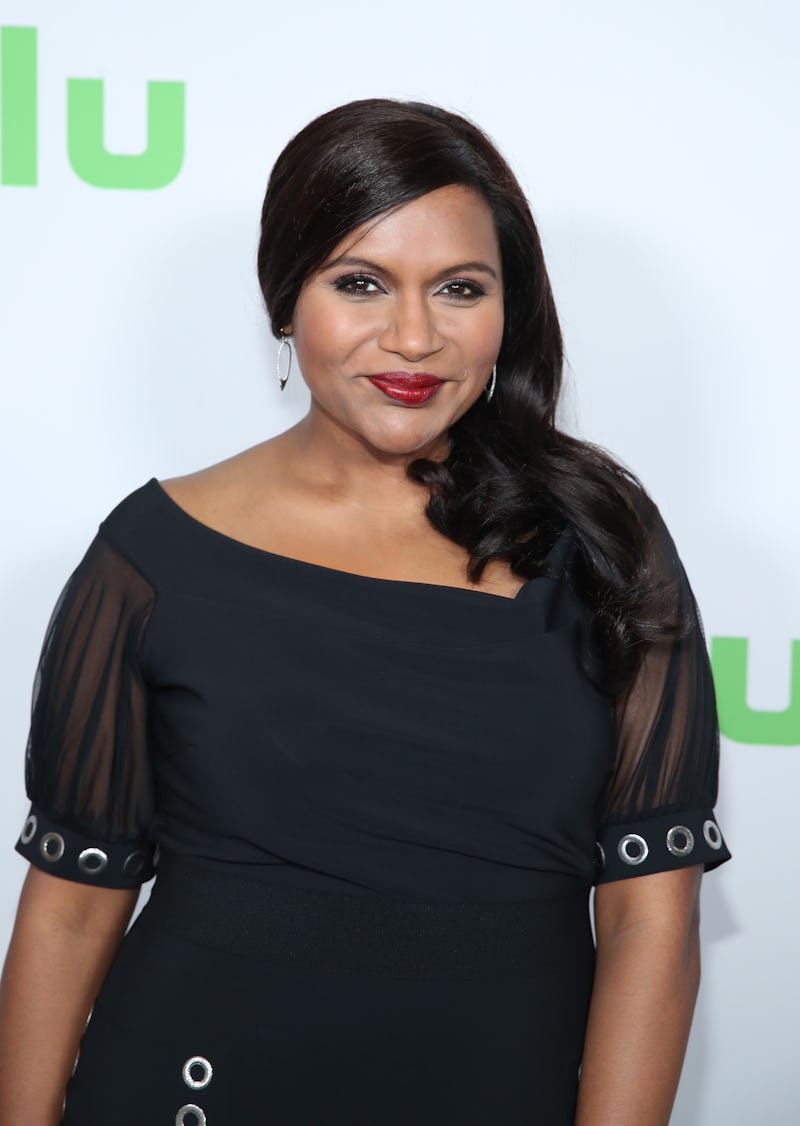 Jonathan Leibson/Getty Images Entertainment/Getty Images
Hollywood might have a new dream team on its hands. Mindy Kaling and Ava DuVernay are collaborating again just months after Kaling wrapped her role in the director's upcoming adaptation of A Wrinkle in Time. However, this time the project is top secret. Kaling revealed the news in an Instagram post on Sunday, but she remained mum on the details. The only thing she would say for sure is that her role is like nothing she's ever done before.
Kaling captioned her photo,
"This afternoon, leaving @ava's set on an incredible new project she's directing... top secret and unlike anything I've done! Can't wait until you see. #notWrinkle #somethingspecial"
Even though Kaling didn't divulge what DuVernay is working on, that doesn't mean there aren't a few clues. Currently, the only in-progress film on the director's IMDb page is Battle of Versailles, an HBO TV movie about the groundbreaking November 28, 1973 fashion show at the Palace of Versailles that broke down racial barriers in the industry as American designers went head to head with French designers. The project would be a perfect one for Kaling, who is regarded as a fashion icon herself by some of her fans. Adding to the idea that this could be the project the actor is referring to is the '70s flavored look she's rocking in her Instagram photo.
A film about the fashion industry would be something completely new for Kaling, while also being a perfect fit for the stylish actor. While she's best known for comedy, Kaling has proven through her work on The Mindy Project that she's just as adept at dramatic acting. Seeing her take on a role in a film about a runway showdown could be fulfilling for the actor and her fans.
Battle of Versailles isn't the only possibility though. DuVernay also signed on to develop Octavia Butler's novel Dawn for television in August. While it seems to be too early for the series to be filming anything, it's not outside the realm of possibilities. The post-apocalyptic story would be Kaling's first foray into hard sci-fi — A Wrinkle in Time straddles the sci-fi/fantasy line.
Since Dawn is meant to be a television series, it will probably take much longer to bring to fruition. In fact, DuVernay may still be in the early stages of getting the show off the ground. That means the project that has reunited DuVernay and Kaling could be truly top secret.
If DuVernay does have a secret project in the works, then that's all the more reason to get excited. Not only does that mean there's another team up between Kaling and the acclaimed director coming soon, it also means there's a DuVernay project out there that the world doesn't know about yet. The potential for awesomeness is truly off the charts.
No matter what Kaling and DuVernay are working on together, with so much talent involved it's almost guaranteed to be must see. And if the world gets really lucky, this film or show will only lead to mote collaborations between the two. A Wrinkle in Time doesn't hit theaters until March, but going off of the trailer alone, it looks like Kaling and DuVernay make magic together. The more projects these two team up for, the better off the world will be.