BJ Novak Is Mindy Kaling's 2018 Oscars Date & Twitter Is Screaming For Them To Kiss Already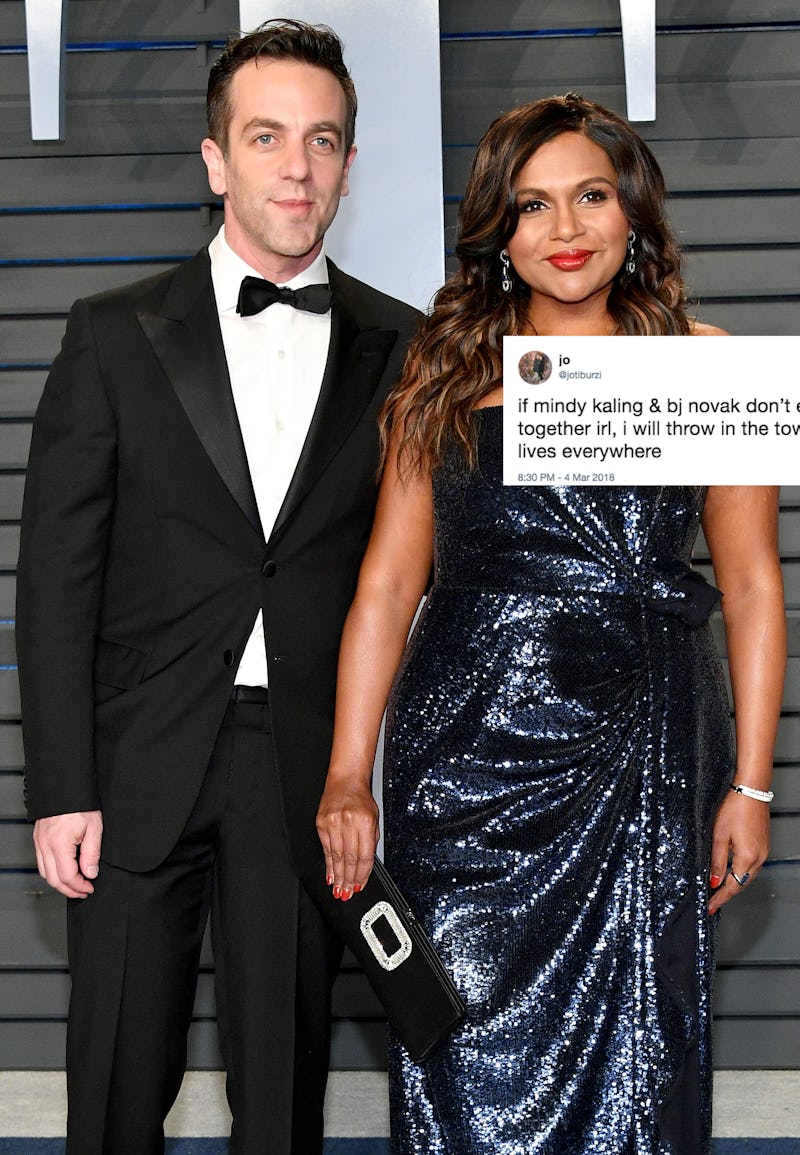 Dia Dipasupil/Getty Images Entertainment/Getty Images; jotiburzi/Twitter
It's a bewildering but true fact that former The Office stars Mindy Kaling and BJ Novak aren't dating right now. Though their on-screen characters, Ryan and Kelly, dated several ill-advised times no matter how much fans wanted them to stay away from each other, Novak and Kaling have a (kind of) much healthier friendship that fans have been wishing was a romantic one for years. This was only exacerbated by the fact that Kaling took Novak to the 2018 Oscars Vanity Fair party as her date — no, seriously, fans lost their minds. One even declared them the Tessa Virtue and Scott Muir of America, which, honestly, isn't that far off.
Both actors are also writers and producers, and working on- and off-camera on The Office was the inception of their close friendship. Novak was also a consulting producer for Season 1 of The Mindy Project, which Kaling wrote, produced, created, and starred in. Despite the fact that he appears to be single, and she hasn't been linked to anyone romantically despite giving birth to her first child, Katherine, the two haven't publicly been involved since their time on The Office. No, really.
In an issue of In Style from 2017, Kaling noted that,
"I will freely admit: My relationship with B.J. Novak is weird as hell. He is not my boyfriend, but he is not my best friend. I guess you could describe our relationship as a 'romantically charged camaraderie with loud arguments,' but I don't think Facebook would accept this as a new status."
Whatever the current status of their relationship, Facebook (and fans) can at least accept one thing: they are Oscars dates.
"I'm headed out for a night of fun with my best friend," Kaling says in a video that she posted to her Instagram, before panning the camera over to Novak, who shouts out... to Snapchat. Kaling's exasperation with each other can be felt, but not as much as her affection for the man in the car beside her.
The fact that she refers to him as her best friend was enough to have so many fans on Twitter swooning, because they continue to hold on to the hope that Novak and Kaling might actually, finally just kiss one day.
The comparison to Virtue and Moir is particularly poignant, because Novak and Kaling do talk about each other with the same amount of frequency and fondness as the Canadian Olympic skaters who captured everyone's hearts during the 2018 Winter Olympics. As Kaling told Vulture in 2012, the two,
"...kind of fell in love through doing [the first season of The Office], and then dated on and off for a couple of years, and now we are just, like, best friends. Like, real best friends. It's the kind of friendship you have when you are embedded with someone, that you can only get by putting in that insane amount of time with people."
Novak, for his part, gave a slightly different version of events when it came to his relationship with Kaling, saying that no one really knew what they were to each other — including the two of them. "We were never really dating, we were never really not dating. We didn't know. No one knew," he said. "All you'd know for sure as that you'd always find one of us next to the other, even if we weren't getting along."
Since then, the pair have given fans so much material about their friendship that whole lists have been made in honor of it — so is it any wonder fans are freaking out about them going to the Oscars together? Their constant teasing may hurt so good, but the fact that they give fans a front row seat to their amazing friendship is honestly a gift.