Chrissy Teigen's 'The Office' Instagram Story Is So Jan-Tastic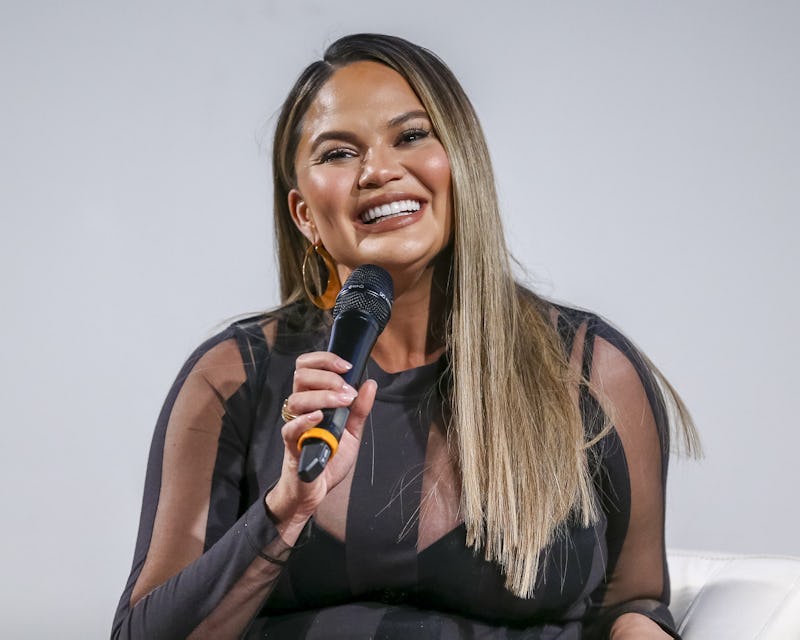 Rich Polk/Getty Images Entertainment/Getty Images
Sharing videos of a giant winged mystery insect that may or may not be a "nice bug"? Oh, that's so last week. Hold on to your beets, because Chrissy Teigen made a The Office joke while on vacation with her family. Teigen and John Legend have been in Bali with their two children, Luna and Miles, since last week, and both the Lip Sync Battle co-host and the award-winning musician have been putting a lot of great vaycay content on Instagram and Twitter, including the aforementioned anxiety-inducing "nice bug" video— but we are not going to get into that right now.
Instead, we are going to get into a selfie Teigen posted on Instagram Stories few days later. On Sunday, July 29, the social media queen uploaded a pic she snapped while swaddled in towels and wrote, "Tan all over, Jan all over." Like Michael Scott, she didn't say it. She declared it. And for the zillionth time, Teigen proved to the internet that she has impeccable taste in television.
In the twelfth episode of the fourth season of The Office, Michael sets out to support Jan after she sues Dunder Mifflin for wrongful termination. But as is wont to happen whenever Michael Scott is involved in something, the deposition does not go off without a hitch. And at some point during the proceedings, Michael's diary is read aloud to the room. In a now-iconic entry that was written after he and Jan took a trip to Jamaica, Michael said,
"Just got back from Jamaica. Tan almost everywhere. Jan almost everywhere. Hee hee."
And without further ado, here's the Cravings author's very Michael Scott IG Stories post:
Ugh, she really is the best.
Now, you might've noticed Teigen made a few tweaks to Michael's quote. This was an accident. When some folks kindly pointed that out to her on Twitter, she acknowledged the error with grace and lighthearted profanity. Again, she really is the best.
Misquoting a TV show or movie happens to the best of us — especially when you have vacation brain. Also? Teigen's caption really is close enough to the actual line, and if you are an Office stan, you more than likely got the joke. If someone says, "We aren't in Kansas anymore, Toto," you aren't going to look at them like they suddenly started to speak unintelligible gibberish at you. Instead, you're probably going to understand the reference and respond accordingly.
Frankly, all that truly matters is that Teigen took a moment during her breathtaking trip to share a fantastic The Office reference with all of her fans. As Michael Scott once said, "You miss 100% of the shots you don't take. — Wayne Gretzky."
When Twitter user @gabbi_samuel praised Teigen's nod to The Office, the Lip Sync Battle co-host replied, "thank u. no one got it :(" — which, shame, internet, shame.
Erm, not to go all "Well, actually..." on ya, but some people did get it. Do not fret, Teigen. While the reference might've been lost on some, there are plenty of people who know Michael Scott's post-Jamaica diary entry like Dwight Schrute knows table tennis.
And many fans were impressed by the reference.
Oh, and what have we here? The Office Twitter account's response to Teigen's post?
All of it is so good.
*Raises the roof to The Office theme.*