Miss USA Tackles Trump's Immigration Order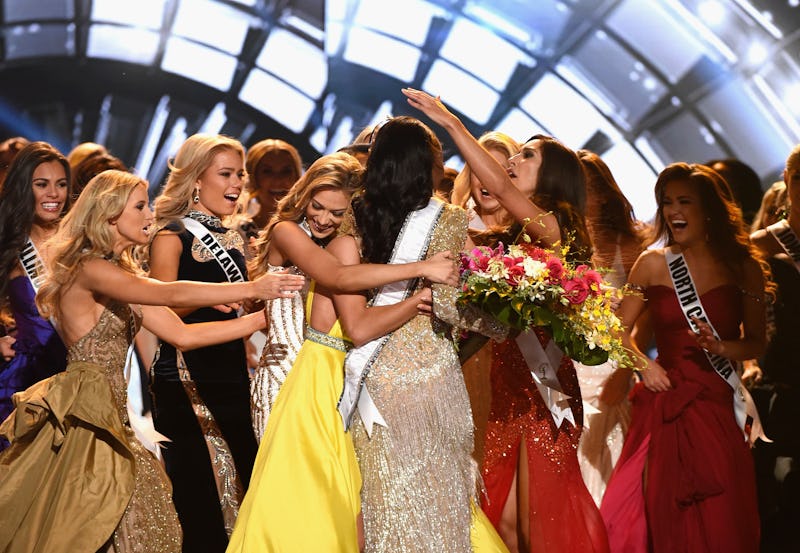 Ethan Miller/Getty Images Entertainment/Getty Images
If you ever had any doubt about the seriousness of beauty pageants, then you need to be tuned in to Miss USA 2017. During a pre-taped package, several Miss USA contestants discussed President Trump's executive order halting the immigration of individuals from seven countries to the USA. (Judges in Hawaii and Maryland enacted a temporary restraining order against the ban in March.) Pageant contestants are often asked about social issues and politics during the Q&A round, but rarely do viewers get to hear a conversation like this one. Not all of the semi-finalists agreed on the matter at hand, but their comments were thoughtful and thought-provoking.
Miss Hawaii Julie Kuo's words were particularly poignant. As one of five immigrants competing in the competition, Kuo was passionate about the contributions immigrants make to the U.S. and found the possibility of an immigration ban to be frightening. Several of her fellow contestants agreed, with one woman insisting that the country has a duty to welcome women and children who are seeking refuge from war-torn countries and other dangerous situations.
Other contestants believe that the safety of the U.S. should be put first, no matter what. The diverse range of opinions on display could have led to arguing, but the women were able to have a productive conversation on the topic. Even though the segment was pre-taped, it was refreshing to see such a truthful discussion about a controversial subject.
The immigration conversation illustrates just how far the Miss USA pageant has come. There should be no doubt in any viewers' minds that these women are leaders in their communities and careers. Their impassioned responses were measured, but also came from their own personal experiences.
Even though all of the women at the table didn't make the Top 10, they're obviously willing to tackle immediately important and divisive topics.