Miss USA's Ideas About Health Care Will Not Thrill You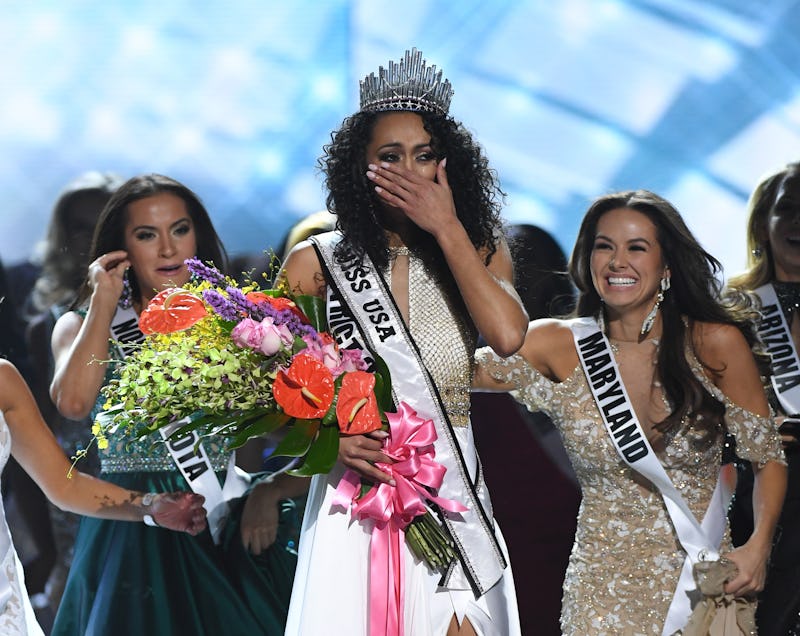 Ethan Miller/Getty Images Entertainment/Getty Images
On the one hand, the new Miss USA, Kara McCullough, is super inspiring. She's a woman of color and a scientist at the U.S. Nuclear Regulatory Commission, and she's dedicated to advocating for more women in STEM fields. On the other hand, Miss USA's ideas about health care — and who should have access to it — may not thrill you.
"I'm definitely going to say it's a privilege," said McCullough on Sunday, when asked about whether she saw health care as a privilege or a right. "As a government employee, I'm granted health care and I see firsthand that for one to have health care, you need to have jobs," she went on. "We need to continue to cultivate this environment that we're given the opportunity to have health care as well as jobs to all American citizens worldwide."
Her words don't exactly suggest that health care policy is one of her main focuses. She gives no indication of having considered any other position besides that of someone who has health care through her job; perhaps all she has seen firsthand is that people who have jobs have health care as well. Her comment about giving health care to American citizens worldwide is also a curious one, as Americans living abroad are generally subject to specific laws regarding health insurance that depend on the country where they are. Plus, many countries with high numbers of American expats live in countries that provide health care to everyone no matter what their job status is.
Without reading too much into her actual comments, what seems most likely is that she's simply parroting a conservative viewpoint that she hasn't considered in too much depth. However, she got a lot of pushback on social media after making the claim that health care should be a privilege and not a right. She also got some criticism for her claim that she's not a feminist and that she likes to go with the term "equalism" instead.
"I don't really want to consider myself — try not to consider myself like this die-hard, you know, like, 'Oh, I don't really care about men'," she said.
This, of course, is a false view of the feminist movement. Feminism is all about equality, and has nothing to do with misandry. McCullough's claim that she's not a feminist is just as damaging as her comments about health care, especially since she's a female scientist advocating for more female scientists.
As the new Miss USA, Kara McCullough has made herself into a public figure. Respect her for her achievements, in her career and in the world of beauty pageants. But clearly, she shouldn't quite be looked to for her groundbreaking ideas on health care or equality.