Here's How Auli'i Cravalho Booked 'Moana'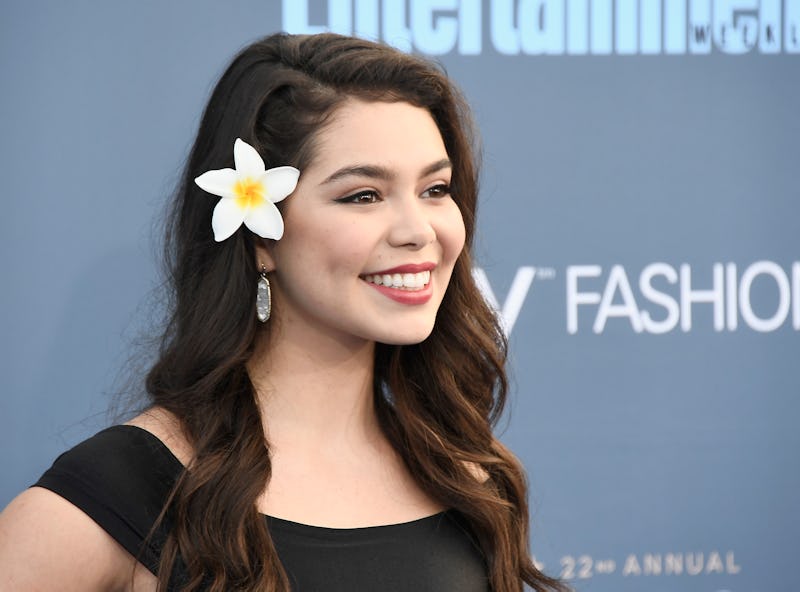 Frazer Harrison/Getty Images Entertainment/Getty Images
Like a tidal wave made out of Lin-Manuel Miranda songs and Dwayne Johnson's charisma, Disney's Moana crashed into audiences' hearts. This Oscar-nominated movie rules for a number of reasons, and one of the biggest reasons is, of course, the lead. Moana introduced the world to the tremendously talented Auli'i Cravalho, a 16-year-old newcomer with a soaring voice. In an exclusive behind-the-scenes clip, the movie's directors, producer, and stars talk about the actor behind the titular role.
The main takeaway: Just as I suspected, Cravalho is indeed the best.
"We put out an open call around the world," producer Osnat Shurer explains. "And then, on the very last day of casting in Hawaii, our casting director remembered somebody she heard." And you better believe that somebody was Cravalho. Director Ron Clements adds, "We were so lucky to find her."
"I've never done anything like this," Cravalho says. "I did backyard plays and I sang in the choir, but aside from that, this would be my first real role. And the fact that I come from this culture, it feels so good."
Do you smell that? Can you smell what the Rock is cooking? That, dear reader, is the smell of the Rock cooking up some lovely compliments. When asked about his co-star, Johnson replies, "You hear her in the movie, and for the first 10-15 minutes, you're like, 'Oh, this is going to be good. And then she starts singing? It's mic drop. It's game over."
Cravalho reacts to the Rock's praise accordingly. Rather than let me spoil what happens, why not check out the endearing clip for yourself?
You can see more making-of features like this when Moana drops on Digital HD on Feb. 21 and Blu-ray on March 7.