This Model Says No One Could Style Her Black Hair At Paris Fashion Week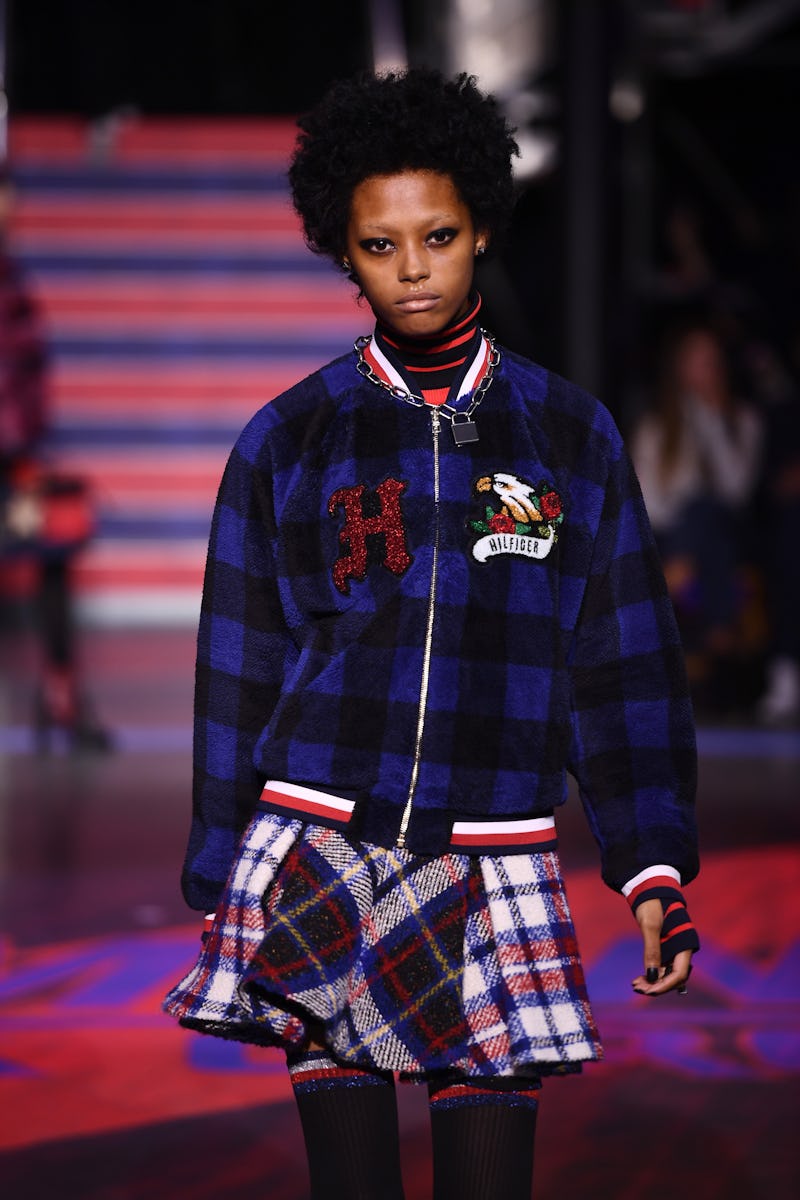 Ian Gavan/Getty Images Entertainment/Getty Images
Model Londone Myers is taking a stand against racism in the fashion and beauty industry, and her perspective on the issue is going viral for good reason. Myers, who is black and modeled in Paris Fashion Week, took to social media earlier this week to show how she was ignored backstage during a show, explaining that hairstylists didn't know how to work with her hair. Myers is boldly and bravely speaking out about this alleged discrimination at Paris Fashion Week, hoping her honesty will prevent future models from feeling ignored in the industry.
At first glance, it looks like global fashion weeks are getting more and more inclusive. Bustle even previously reported that this year was the first time that a person of color walked in every single show at New York Fashion Week. Unfortunately, strides toward inclusion on the runway don't necessarily translate backstage.
In Myers' viral Instagram post, the model appears in a time-lapse video which shows her being ignored by stylists backstage at Paris Fashion Week. Myers is seen sitting in the hair and makeup chair while models all around her get ready for the show. Throughout the 60-second clip, no one comes to help her get ready..
"I don't need special treatment from anyone. What I need is for hairstylists to learn how to do black hair," Myers' caption on the post reads. "I'm so tired of people avoiding doing my hair at shows. How dare you try to send me down the runway with a linty busted afro? We all know if you tried that on a white model you'd be #canceled.
"If one doesn't stand, we all fall," she adds. "If it isn't my fro, it'll probably be yours."
While it's still a major win to have black models on the runway, true inclusion goes a lot deeper than the surface. It's not enough to simply cast black models. Models of color need to feel welcomed into the industry, and that includes in the hair and makeup chair.
According to her interview with Teen Vogue, this isn't the only time that this has happened to Myers. She told the publication that she credits part of the problem to not being able to speak French, but notes that three or four other women of color who walked in the same show weren't styled well either.
"I was just so frustrated with how people would avoid even looking at me," she tells Teen Vogue. "I usually do my hair before every show, but this time I just showed up without anything on hand like everyone else."
In the comments section of the post, other models are speaking our about industry racism in solidarity. These models have come forward to tell their own stories, and share how the fashion world can be more inclusive.
The conversation is started, and it's not stopping any time soon.
Not just a truth — THE truth.
You know who you hired. Come prepared for them.
This comment is proof they exist.
It's not enough to have models of color walk in your show. Industry racism is still alive backstage.
Whether a show's in another country or not, there's no excuse not to be prepared for the models that are at the event.
She's not the only model that gets herself ready before shows. Unfortunately, this is happening to more models than just Myers.
I'll just set this right here.
With voices like Myer's bravely speaking out, hopefully the fashion and beauty industry will work toward meaningful inclusion of models of color. If the industry needs a call to action, this is it.