Mona Will Be Tempted By "The Dark Side" In 'PLL' Season 7B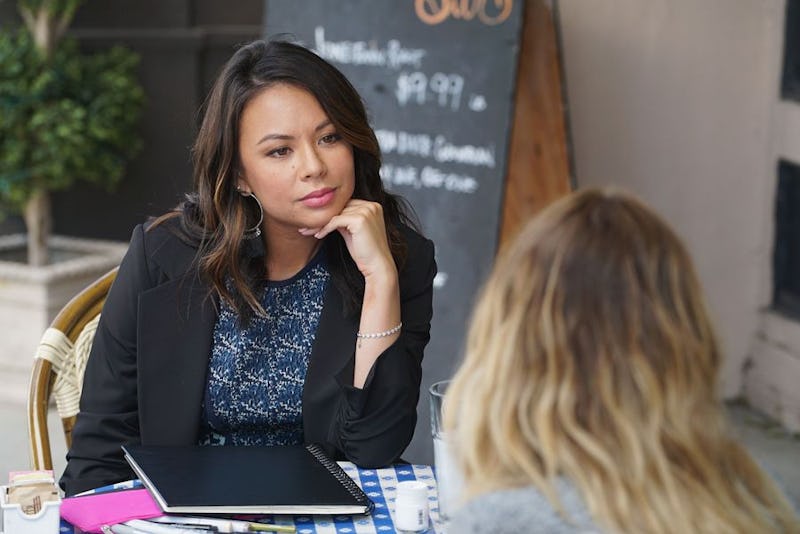 Eric McCandless/Freeform
There are no shortage of suspicious characters in Rosewood, but no one keeps us guessing quite as much as Mona on Pretty Little Liars. When the series premiered many moons ago (aka June 2010), she had taken Ali's place as the resident queen bee of Rosewood High. Upon Aria's return from Iceland, the Liars rekindled their friendship and Mona was furious when she felt Aria, Emily, and Spencer had taken Hanna away from her. In retaliation, she became the first character on the show to don the black hoodie and kick off the A game. A lot has changed since then and, in an interview with Bustle, Pretty Little Liars star Janel Parrish hints that Mona will be tempted by "the dark side" in the show's final season.
"She goes through a bit of a journey, a little bit of a self-turmoil type of situation where she gets tempted by the dark side and kind of has to decide which she's on," Parrish says of her character. "But I think that's kind of what people always like about Mona. You're never really quite sure with her what her intentions are and it makes her a really fun character."
A.D.'s identity is, of course, the million dollar question — but it makes sense that he or she would seek out Mona's help. After all, she's the original A — and many fans (including yours truly) would argue that she's the best A in Pretty Little Liars history.
After Charlotte took over the A game while Mona was in Radley, the tables were turned and she became a victim of the very game she started. Mona was presumed dead and Ali was convicted of her murder — but when the Liars were kidnapped and imprisoned in the creepiest Dollhouse ever, it turned out that Charlotte had held Mona hostage and forced her to dress up as Ali. The five girls, along with the ever-sketchy Sara Harvey, escaped together — but Mona still struggled to earn the trust of the Liars. Plus, it doesn't help that she's still suspicious as ever. Mona remains a suspect in Charlotte's murder and many fans have theorized that she's actually A.D., which would bring the show full circle.
"She definitely has a strong story and a really strong ending, as do all the characters," Parrish tells Bustle. This could have myriad meanings and all the actors are holding their cards close to the vest, but I'm definitely not ruling out Mona as a member of the A team. Or maybe she'll totally redeem herself once and for all — you just never know.
Regardless of whether or not Mona is pulled back to the dark side, Parrish describes the final season of Pretty Little Liars as "brilliant" and fast-paced. "It goes real fast because every episode, something crazy is happening," she says. "So I'm really excited for fans to see that."
Although there are plenty of mysteries to be solved in Season 7B, the big A.D. reveal is the most highly anticipated moment — and Parrish promises that fans won't be disappointed. When she learned A.D's identity, "I was like 'that is so brilliant and it makes so much sense,'" Parrish says. "[It] could not have been a better ending in so many ways. I'm super stoked for everyone to see it."
Needless to say, Pretty Little Liars devotees everywhere are stoked to see the entire puzzle come together in Season 7B — and I'm especially excited to see what Mona's up to.
Additional reporting by Leah Thomas