'Mulan' Secures A Female Director & That's Huge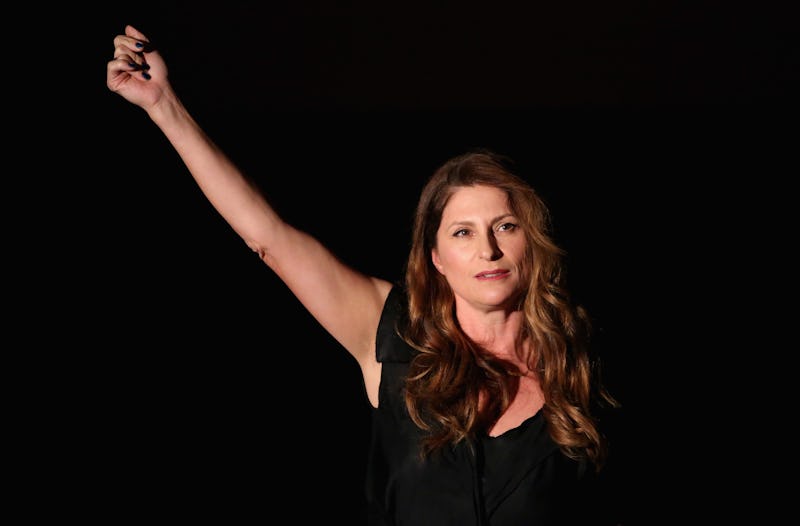 Jesse Grant/Getty Images Entertainment/Getty Images
Get ready for some news that would make any legendary warrior woman take her cow (or more accurately, horse) on a triumphant gallop up and down a snow-covered mountain. According to The Hollywood Reporter, the new live-action Mulan secured a female director — and that's great news for the film. Disney has chosen director Niki Caro to sit at the helm, a New Zealander with outstanding credits such as the '00s classic Whale Rider and the more recent drama, The Zookeeper's Wife.
While, in an ideal world, the person Disney chose to take on the responsibility would be an Asian female director, this move should still be seen as a victory. It's still incredibly rare for a woman to be chosen to direct something at all, let alone a film budgeted at over $100 million. THR issued the reminder that Caro will be only Disney's second female director to be offered such a big-budget film, the amazing/inspiring/talented Ava Duvernay reached the accomplishment first for her A Wrinkle in Time adaptation. So despite the down sides, Disney's decision can be seen as just one more step on the way to breaking the glass ceiling — i.e making it easier for women of all races, creeds, shapes and sizes to enjoy creative freedom in Hollywood.
A story that inspired and empowered so many young women deserves a director who understands what it's like to be inspired and empowered as a woman. Hopefully, girl-identifiers will look to this movie in the future as the story that helped make them feel proud and comfortable with who they are. Basically, let's try to be grateful the big execs got something right while still aware things could always be better!
In the past, Caro has proven herself to be a warrior for gender equality — an activity we can only assume Mulan would appreciate. Actor and women's rights activist Jessica Chastain penned an essay about Caro's "like 20 percent women and 80 percent men" crew for The Zookeeper's Wife. While 20 percent may seem like small potatoes, Chastian pointed out that such a large amount is rare for a film set and claimed, "this comes from when women in power make room for other women." That's the kind of powerful woman I can get behind!
Despite (or perhaps because of) fan concerns about the live-action Mulan's "white-washing" of the Chinese heroine's tale, THR reports Disney and producers Chris Bender, Jason Reed and Jake Weiner are working hard to make sure the new movie is culturally sensitive by taking part in "extensive conversations with Chinese cultural consultants and working closely with Disney's own China-based team."
Previously, in October 2016, the blog Angry Asian Man prompted the trending hashtag, #MakeMulanRight, by claiming that the Mulan spec Disney has purchased allegedly told the story of "A white merchant's business brings him to the heart of a legendary Asian conflict — he unwittingly helps save the day while winning the heart of the Asian female." Fans were outraged though Disney was quick to announce that Mulan and all primary characters in the script, which was adapted by Rick Jaffa and Amanda Silver, are Chinese.
Part of the move to be more culturally accurate includes bringing on Hong Kong-based executive producer, Bill Kong, who's been behind hits like Hero, House of Flying Daggers, and the Oscar-nominated Crouching Tiger, Hidden Dragon. Disney is also looking to cast a Mulan actor from mainland China.
I'm hopeful that Caro, Kong, and the rest of the team will do my girl, Mulan proud. Keep being appropriate (but not appropriating) and empowering, Disney, because future generations will be looking up to this story for years to come!