'Nailed It' Host Nicole Byer Made The Same Mistake All Season Long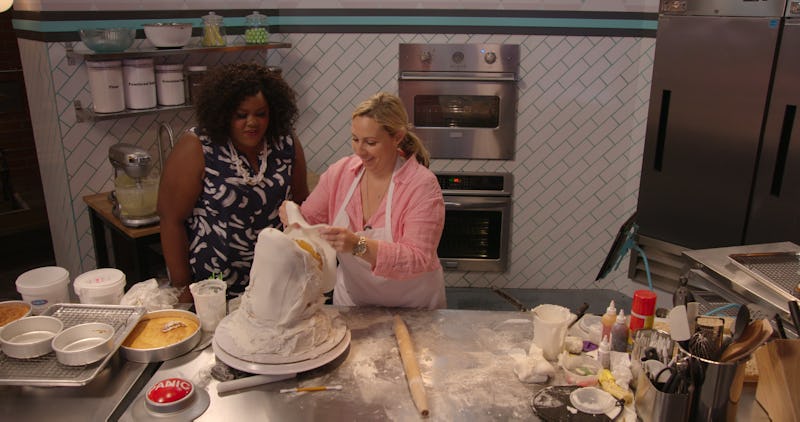 Netflix
Nicole Byer would like to set the record straight about her new Netflix show, Nailed It, the competitive baking series that proves how hard it actually is to recreate Pinterest-worthy treats. No, the host tells me over the phone, the show doesn't sabotage its contestants, they do that all on their own. "They didn't have instructions on how to assemble anything," Byer says, "but they have like making the cake instructions that people f*cked up routinely," she laughs. "But I feel like, how hard is it to follow simple cake instructions?"
As those who've watched Nailed It already know, it's not hard at all. Especially if you're an amateur baker who has to make a cake that resembles an emoji, a princess' castle, or President Donald Trump in just two hours. In the last episode of its debut season, the contestants were tasked with replicating an edible bust of Trump, right down to his hair, which was made out of ramen noodles. All three bakers — Kyle, a UPS supervisor; Anabelle, a fashion designer; and Kymberli, an accessories designer — did the best they could molding Trump's face, but it was Kymberli's terrifying twist on the current POTUS that left Byer and fellow judge chocolatier Jacques Torres shocked and dismayed.
Byer admits that she still can't get the image of that emaciated red-eyed cake version of Trump, which she joked looked as if "the stress" had gotten to him, out of her head. Fans certainly aren't helping things by sharing the photo of the cake with her on Twitter. "You can stop," she says, "I was there for it."
Byer, a comedian who starred in MTV's Girl Code before creating her own series Loosely Exactly Nicole, isn't just there to judge baking experiments gone wrong, but to joke about them. She's also a hilarious support system for contestants who lets them know it's all going to be OK — even if their cake pop is so, so not.
It wasn't always easy to find the good in these baking fails. Seriously, did you see full-time grandma Amanda's swashbuckling jelly doughnut? Bless her heart. But Byer, who is admittedly a "very bad cook," says there was something inspiring about these novice home bakers doing whatever it took to nail it. That perseverance is why Byer believes so many people are connecting with the series. "I think everyone has tried to make something once that went wrong," she says. "You kind of just see yourself on screen."
Nailed It wears its mistakes like a badge of honor. No one is perfect, not even its host, who pronounced the word "fondant" wrong throughout the season. "I called it fon-daunt," Byer says, adding a bit more flare to the word for icing. "It was purely by accident," she says of her take on the word, "because no one corrected me."
Nailed It, on the other hand, is the reality cooking show version of a Kris Jenner meme: You're doing amazing, sweetie, and that's all that matters.
On another other food competition show, it would be hard to imagine a host mispronouncing a word (just try to picture Top Chef letting Padma Lakshmi deliver anything less than perfection). Nailed It, on the other hand, is the reality cooking show version of a Kris Jenner meme: You're doing amazing, sweetie, and that's all that matters.
So yes, failure is very much an option on this Netflix series where contestants are taking vodka shots in the back and wedding cake extraordinaire Sylvia Weinstock is stealing pots. "She sure did," Byer tells me when I ask if Weinstock really took the pot home home with her like she claimed she would. "Oh, she took it."
Perhaps the reason so many people have found joy in the show is because it highlights the fact that sometimes, it's important to mess up. "How will you know what success is if you haven't failed a couple of times?" Byer says. "Everybody fails and everybody has to learn it's not the end of the world, you just get up on the horse and you try again."
Amid a sea of Insta-worthy baked goods, it can be easy to forget that not everything always turns out picture-perfect, and it can be fun to celebrate the imperfections. "There's a lot of things going on in the world where levity is needed," Byer says. "Just a little silliness, just a little bit of fun." That's why Nailed It feels like the show the world needs right now: it wants to embrace the fun that comes with failing and give everyone permission to laugh at themselves.
It's something Byer has been doing for years in her stand-up and now on her podcast Why Won't You Date Me?, which looks at the funny side of singledom while getting real about sex and relationships. Byer's frankness was a bit too real for Netflix, though. "I made maybe ten thousand d*ck jokes that didn't make it on because it's family friendly," she says.
Not every joke will land with everyone, but that hasn't stopped Byer from forging ahead with what she thinks is funny. "People can sniff out when you're lying, when you're being dishonest," she says. "So being honest is the most helpful thing you can do because your truth is nobody else's truth. Other people can relate to it, but it's yours."
The truth is the contestants on Nailed It aren't the best bakers in the world, not even close, but they're brave enough to try something new, and that's empowering. It's even inspired other home chefs to send Byer their baking photos, which makes her very happy, even if she's not always impressed with the results.
"Someone made a cake with just the words 'Nailed It' on it," Byer says. "And the words were so scribbly and weird. I was like, 'How?'" Now, that seems like a question for next season.