Twitter Is LOVING Naomi Osaka's Response To Michael B. Jordan's Invite To A Movie Premiere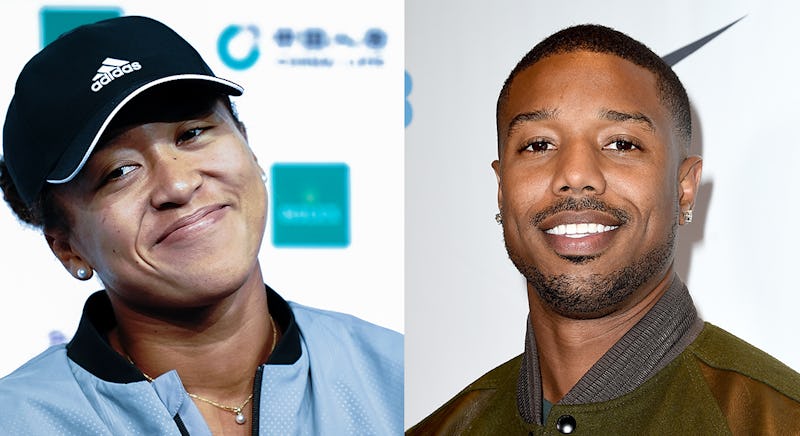 Lintao Zhang/Getty Images Sport/Getty Images; Kevin Winter/Getty Images Entertainment/Getty Images
What started as a lighthearted series of shirtless photos might be ending in an actual date. Michael B. Jordan invited Naomi Osaka to the Creed 2 premiere. And based on the tennis player's response, it looks like she might actually attend the red-carpet event.
If you haven't been following the Twitter exchange between Jordan and Osaka, let's back up for a minute. The whole thing started when Osaka said Jordan was her celebrity crush during an appearance on The Ellen DeGeneres Show. Being the jokester that she is, DeGeneres tweeted a shirtless photo of Jordan to Osaka. Not to be outdone, Jordan added another shirtless photo onto the thread. But the birthday message Jordan tweeted for Osaka is what really captured fans' attention. Jordan tweeted,
"This one is better and more recent. LOL Happy Belated Bday Naomi. But seriously I want to invite you to the Creed 2 premiere as a bday present"
It looks like Osaka didn't quite know what to do with the birthday tweets. (For the record, Osaka turned 21 on Tuesday.) But she responded to the Creed actor's message, writing that if he really wanted to bring her to the sequel's premiere, she'd be down. Osaka tweeted,
"LOL what is going on ??? Thanks for the bday wishes, If you're serious I would totally want to go"
Jordan hasn't responded to Osaka's most recent tweet, but his original message definitely sounded like he really wants to bring Osaka to the premiere. And fans are loving the fact that these two might really be going on a date in the near future.
Fortunately for fans, the Creed 2 premiere is only a month away. So there won't be long for Jordan-Osaka 'shippers to wait to see if Osaka really does go to the event, and how the two of them get along. Who knows — what started as a joke from DeGeneres could turn into an actual relationship. When it comes to celebrity couples, stranger things have happened.
Plus, when Osaka was on Ellen, Jordan had some kind words to share about the tennis champion. DeGeneres apparently texted the Black Panther actor a selfie of herself and Osaka, and Jordan responded with a video.
"I wanted to send my love and support and just say congratulations," Jordan says to Osaka in the clip. "The way you carry yourself with such humility and grace, it's really amazing to see."
It's worth noting that at the time, Osaka told DeGeneres she didn't want her to send Jordan the photo. The tennis player seemed a bit embarrassed about revealing her celebrity crush on the show. But it looks like the fandom went both ways, and Jordan seems just as impressed with Osaka as she is with him.
Could this be the beginning of an unlikely celebrity pairing? Even if the two of them don't start dating after the Creed 2 premiere, it sounds like they'll have a great time together at the event. If nothing else, they can laugh about the fact that DeGeneres is responsible for putting all of this in place.