Nathan Chen's Net Worth Makes Him A Lot Richer Than Your Average Teen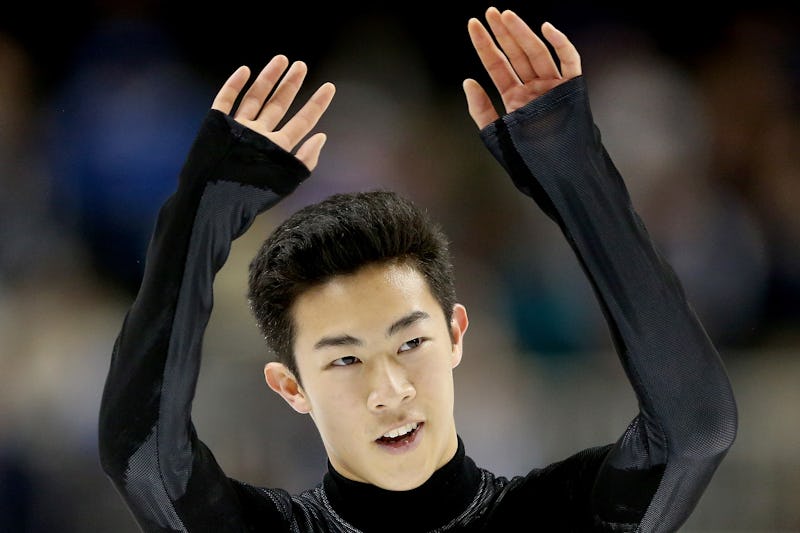 Matthew Stockman/Getty Images Sport/Getty Images
The start of the 2018 Winter Olympics means the return of a lot of familiar faces, but it's a debut athlete who's making the biggest splash. One of Team USA's youngest competitors has already raked in some hefty endorsements, which means figure skater Nathan Chen's net worth is definitely worth talking about. There are no exact numbers available, but, based on what's known about his fellow Olympic athletes, it seems safe to place Chen's net worth in the high hundred-thousands or the low millions.
The 18-year-old is coming into the PyeongChang Games with an impressive record and is an early favorite to skate his way to a medal. But even if Chen takes gold, Business Insider reports that the prize money is a tax-exempt $37,500, plus the value of the medal, which is estimated to be around $600. (However, athletes often auction off their medals for much more.) It's a lot for a single performance, and certainly more than the skater pulls in for an average victory on the ice.
According to documentation from the International Skating Union, Chen took home $18,000 for each of the 2017 Grand Prix of Figure Skating series events that he won throughout the year: the Rostelecom Cup, 2017 Skate America, and the Grand Prix final. He was also the champion at the Four Continents Figure Skating Championships last February, a win which netted him $20,000, and he won the 2018 U.S. Championships, a competition for which prize money information was not readily available.
So, all in all, Chen has had five major victories in the 2017-2018 season, and he has the potential for two more before the season ends in March. (The Olympics, of course, and the World Figure Skating Championships, which, in 2017, offered $45,000 for the top prize.)
That means that, this season alone, Chen could go home with around $160,000 from prize money. It's a hefty price tag for us normals, but it likely barely cuts into the expenses that the teenager has poured into his career over the years. He's been skating since he was three, which is 15 years of lessons, training, travel, costumes, all of it. Plus, Chen has been repeatedly sidelined by injuries as he asks his growing body to perform impossible tasks. In 2016, the then-16-year-old sustained a hip injury that required surgery and 10 weeks of recovery, and that kind of treatment doesn't come cheap. (Nor does missing out on potential prize money while you convalesce.)
It's very likely, therefore, that the majority of the Olympian's net worth, whatever it is, comes not from prize money but from endorsements. Even among a group of world-class athletes, Chen's jaw-dropping abilities that make him stand out. He can execute a record-breaking five quadruple jumps, and it's caused a string of companies to snap him up for endorsement deals. Anywhere you turned in the weeks leading up to the Opening Ceremony, you'd be likely to catch a commercial starring Chen. He's signed contracts with companies like Kellogg's, Bridgestone, United Airlines, and even giants like Nike and Coca Cola.
And while the monetary values of those endorsement deals isn't public, it's safe to assume that Chen is being well compensated for his image. Similar endorsement deals for fellow Winter Gamers like snowboarder Shaun White and alpine skiers Lindsey Vonn and Mikaela Shiffrin have reportedly earned those athletes millions of dollars. The range is wide, of course, with White's net worth reportedly sitting around $40 million, and freestyle skier Gus Kenworthy estimated at a more modest $300,000.
But no matter where Chen falls within that range, he deserves every dollar he gets. He's put in an immense amount of work to be here, and that dedication deserves to be rewarded. The eyes and hopes of the nation will be pinned on the overachiever for the next few weeks as he competes in South Korea, and it's hard to put a price tag on all of that pressure.