Olympian Nathan Chen's Parents Have Seriously Inspired His Career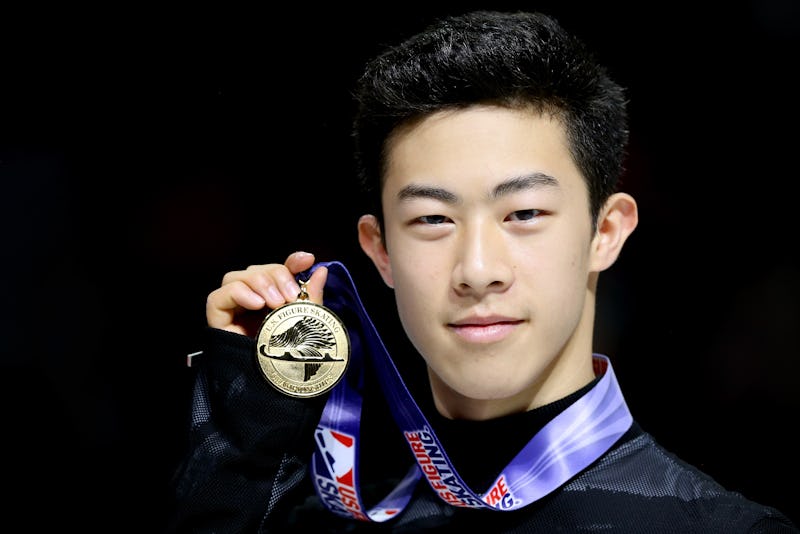 Matthew Stockman/Getty Images Sport/Getty Images
Making it to the Olympics takes passion, hard work, and talent, but it also helps to have a supportive family in your corner too. There's no denying that 18-year-old figure skater Nathan Chen's parents are supporting him every step of the way. Since the Olympian first strapped on a pair of skates at age 3, his parents, Zhidong Chen and Hetty Wang have been encouraging their son to never give up, and their persistence has paid off in a big way for Chen.
At the 2017 U.S. Figure Skating Championships, Chen made history when he became the first skater to ever land five quadruple jumps in one routine. His achievement would be impressive all on its own, but when you factor in the fact that in 2016, Chen suffered a hip injury that left him benched for six months, his performance becomes all the more remarkable. Much like his parents, Chen is proving that his drive to succeed is unwavering.
Chen is a first generation American whose parents immigrated from China in 1988. His father, Zhidong, is a medical research scientist who worked and went to school at the same time, and his mother, Wang, is a medical translator. In an interview with NBC, Chen credits his parents strong example for helping him stay focused at such a young age. When asked what the best piece of advice he had ever received was, Chen said,
"My parents always enforce the idea of never giving up upon all of my siblings and me, and I think that's something that will stick with me my whole life."
It didn't take long for Wang in particular to realize that her son's passion for skating was unstoppable. During a 2017 interview with ESPN, Wang recounted how Chen started crying when he had to leave the ice skating rink after his first time out. She recalled, "He didn't want to leave. He just stood there and cried and cried."
Chen has four older siblings, and it's not lost on him just how much his parents have sacrificed to give his family the best life possible. He told ESPN,
"There are a lot of cultural differences between Americans and Chinese, and I think that having both aspects be part of my life has helped me in a lot of ways, from an academic standpoint to an athletics standpoint. They came to the U.S. with not much, and it's really inspirational to see how far they've come and how hard they worked for us. To be able to raise that many kids, and my dad was going to school at the time, just to listen to some of the stuff they've been through really motivates me."
In addition to supporting Chen's Olympic dreams, his parents have also instilled the importance of education in their son. Athletes' careers often end early, and Chen's parents want to make sure that their son has a plan for his life post-Olympics. During his 2017 interview, Chen expressed a desire to one day go to medical school, but first he's staying focused on being the best skater he possibly can be as he represents his country in South Korea.
Knowing that his parents worked so hard to make sure Chen and his siblings had the absolute best opportunities in life seems to play a big role in the skater's unwavering dedication to his sport. When Chen heads out onto the ice at the Olympics, he'll do so knowing that his parents are cheering him on every step of the way. And for this young Olympian, knowing that he has his family's support appears to be the extra boost he needs to keep on smashing records.