Here's How To Get Free French Fries This Friday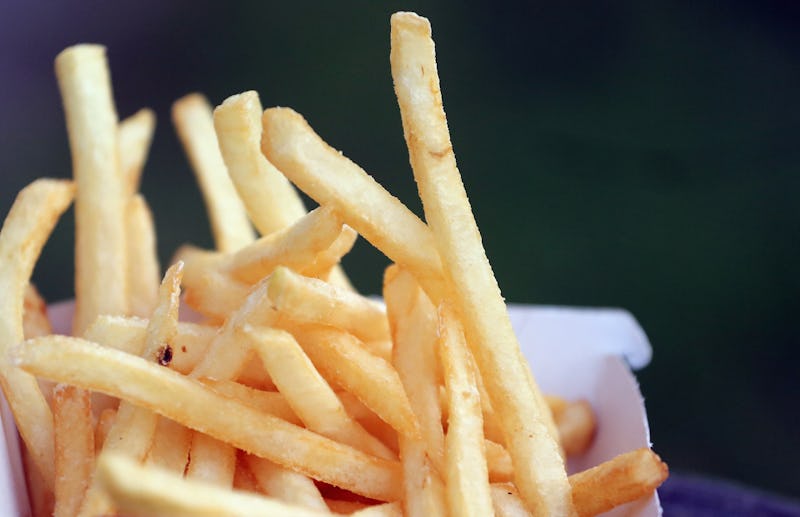 Matt Cardy/Getty Images News/Getty Images
Even though everyday that you get to eat French fries feels like a holiday, there is only one official fry-related holiday: National French Fry Day falls on Jul. 13, and I think we can all agree that it's worth celebrating. You'll want to know all about the National French Fry Day deals and freebies, because there's no better way to celebrate the starchy salty delectables than by getting them for free. And because everyone makes French fries just a little bit differently, you have your holiday plans all mapped out: try all the fries.
That's right, take advantage of all of the deals and get your hands on as many cartons of fries as you can. Celebrate chili fries, cheese fries, spicy fries, crinkle fries, waffle fries, curly fries, air fries, rustic fries, diner fries, and fast-food fries. While you're at it, make up your own signature fry order. Add relish or mustard or mayo or ice cream (maybe not all at the same time). Make your fry order your very own and then show it off online with the hashtag #NationalFrenchFryDay. Substitute all of your meals for fries if you feel like it — it's a national holiday!
Here are some of the best National French Fry Day 2018 deals that are worth checking out:
Bite Squad
The restaurant is offering free fries on any order of $20 and more in honor the holiday. Valid Jul. 13 only.
Chickie's & Pete's
If you want to try something different, this restaurant is offering $1 crabfries! They're not made with crabs, but they are seasoned with Old Bay spice. Valid Jul. 13, only.
With any burger order from the main menu, you'll get a free order of fries. This offer excludes the kid's menu. Valid Jul. 13 only.
BurgerFi
In honor of National French Friday Day, BurgerFi restaurants will be offering guests a free order of regular hand-cut fries with any purchase all day long.
Dunkin' Donuts
If you haven't heard, Dunkin' Donuts recently debuted Donut Fries, so in honor of National French Fry Day they're giving fans a chance to try them for free. The first 100 guests at 25 participating Dunkin' Donuts restaurants will get a free order of Donut Fries from 10 a.m. to 2 p.m. on Jul. 13.