Here's What NBC's Matt Lauer Report Has To Say About That Secret Button Under His Desk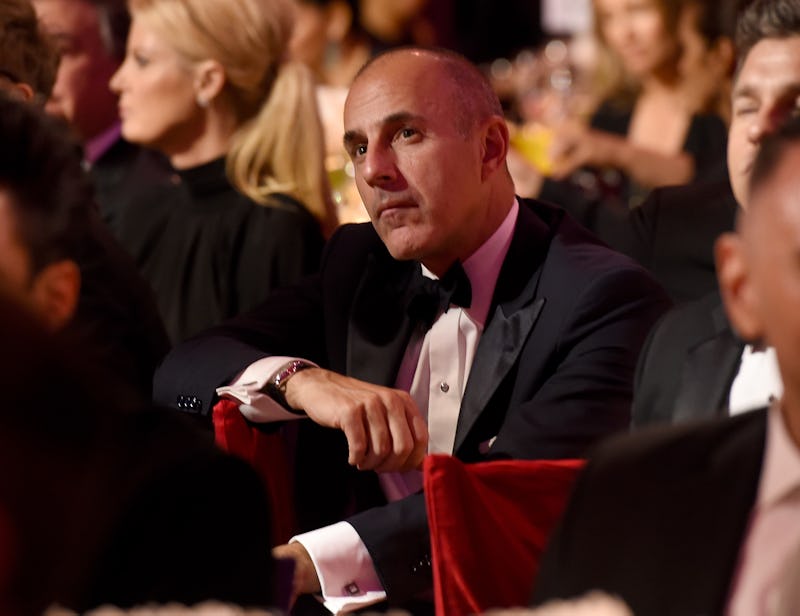 Larry Busacca/Getty Images Entertainment/Getty Images
When accusations of sexual misconduct against Matt Lauer broke late last year, there was one detail about the news anchor's alleged behavior that stood out as particularly shocking. By the account of at least two of his accusers, Lauer had a button underneath his desk he allegedly used to lock the door to his office, trapping the women in there with him. An internal NBC report on Lauer is now out and it has an explanation for that infamous button, although it isn't 100 percent reassuring.
The report, which was shared with NBC employees and obtained by The Hollywood Reporter on Wednesday, details the results of an internal investigation the network launched after Lauer was fired in November. The button referenced in the women's complaints "is a commonly available feature in executive offices in multiple NBCUniversal facilities," according to the report. However, the network said that the button "does not lock the door from the inside," as was previously reported.
Variety was one of the first media outlets to report that Lauer had a button under his desk that allowed him to lock the door to his office without having to even leave his desk chair. "His office was in a secluded space, and he had a button under his desk that allowed him to lock his door from the inside without getting up," Variety reported. "This afforded him the assurance of privacy. It allowed him to welcome female employees and initiate inappropriate contact while knowing nobody could walk in on him, according to two women who were sexually harassed by Lauer."
NBC's explanation for the button under Lauer's desk echoes something his former Today co-host Katie Couric said earlier this month in an interview on The Wendy Williams Show.
"I think a lot of stuff gets misreported and gets blown out of proportion," said Couric, who left Today in 2006. "They make it sound like some kind of den of inequity. I don't know what was happening but a lot of NBC executives have those buttons that open and close doors."
Couric, who said that her office did not have such a button that allowed her to open or close the door, went on to say the buttons existed as "really just a privacy thing" before host Wendy Williams shushed her.
"Honestly, I think it was just an executive perk that some people opted to have," Couric said. "But I don't think it was a nefarious thing. I really don't and I think that's been misconstrued."
NBC moved to clear its name Wednesday, announcing that the internal investigation found no evidence to suggest top network executives had any knowledge of Lauer's alleged sexual misconduct before several women filed complaints.
The report states that "we found no evidence indicating that any NBC News or Today Show leadership, News HR or others in positions of authority in the News Division received any complaints about Lauer's workplace behavior prior to" a complaint being filed with human resources, according to The Hollywood Reporter. Lauer was fired on Nov. 29, two days after the network received a complaint about his allegedly inappropriate behavior with a subordinate.
The internal report also noted that "the investigation team does not believe that there is a widespread or systemic pattern of behavior that violates company policy or a culture of harassment in the news division," according to The Hollywood Reporter. NBC Universal general counsel Kim Harris led an all-female team in conducting the internal investigation, according to the network.
Lauer, who'd previously admitted to "past relationships with co-workers," said in a statement issued Wednesday that "there are aspects of the NBC report with which I clearly disagree." He did not go into detail about what he thought NBC's internal report got wrong.