This Comic Collection Is Benefiting Planned Parenthood In An Amazing Way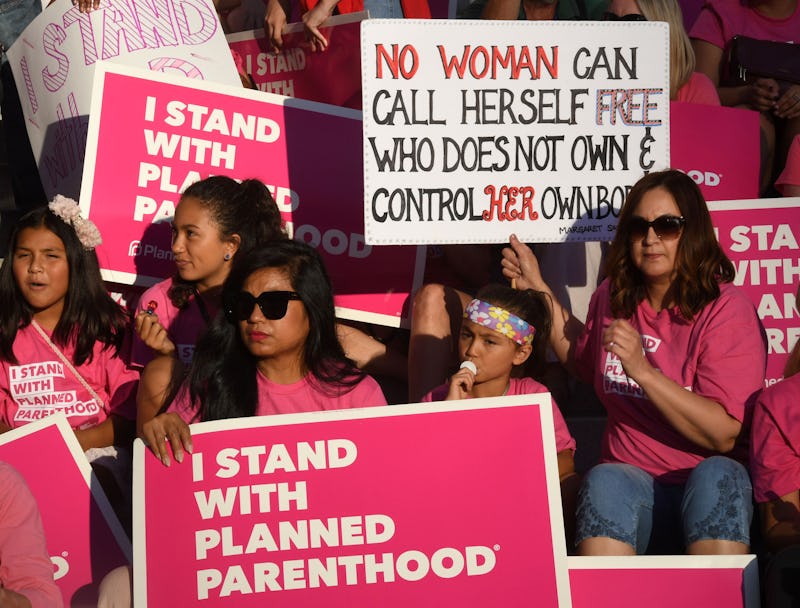 MARK RALSTON/AFP/Getty Images
Between presidential threats to defund Planned Parenthood and the ongoing fight for affordable healthcare in America, supporting Planned Parenthood is more important now than ever. Millions of people all across the country depend on this organization to make smart reproductive decisions, and now you can help make sure that they have access to low-cost health services. With comic books.
Mine! is a new comics collection to benefit Planned Parenthood, with all proceeds going straight to PP. The comics range from personal anecdotes about reproductive health to fantastical stories, superhero adventures, re-tellings of Greek mythology, and visions of a not-so-distant future both with and without affordable healthcare. The anthology will have something for every reader, with an all-star line up of contributors: Neil Gaiman, Mara Wilson, Gerard Way, Gail Simone, and Gabby Rivera, just to name a few. Marvel and DC veterans are teaming up with indie artists for this one incredible collection, with some of the biggest names in comics standing up for reproductive rights. You can still back the project on Kickstarter for bonus material, signed books, and other extras, including a matchbook full of condoms (but be sure to get your name in before the deadline!).
Mine! contributors Dave Kelly and Lara Antal spoke with Bustle about why comics are a great way to support Planned Parenthood.
Kelly and Antal run So What? Press, where they collaborate on the acclaimed horror comic Tales of the Night Watchman. For these two comic artists, supporting Planned Parenthood hits close to home. "Almost every woman I know has been to Planned Parenthood, myself included," says Antal, "and I've only heard stories of compassion and comprehensive care."
To Antal, the welcoming atmosphere at Planned Parenthood is part of the service they provide. "Patients can feel vulnerable when they arrive but are greeted by a staff who knows when to be soft spoken, matter-of-fact, or crack a joke," she says. "You feel camaraderie, respect, and a myriad of other emotions not normally associated with doctor's visits"
"It's good for people to have options," Kelly agrees, "Going to a regular hospital can be a nightmare, and it's only gotten worse in the past few years."
Between sex ed, STI screenings, HIV prevention, pre-natal care, and access to birth control, Planned Parenthood is a vital organization for so many people. But what makes comic books the right medium for defending it?
"Comics are inherently accessible," says Antal. "They are unpretentious. You do not need a formal education to understand them, and you can read them in different ways: Visually, textually, and sequentially."
Ideally, though, any reader is able to grasp a comic on all of those levels. "The magic happens when a reader synthesizes all three into a complex, singular reading experience," says Antal. "I love making work that can be engaged with in multiple ways. The accessibility and range of comics make it an incredible vehicle to express ideas, teach, or call to action."
Comics also have the benefit of high-end visuals without a big budget. "I like telling stories without limitation," says Kelly. "Comics is the most creatively freeing artistic medium. Others, like movies or TV, require a lot of money and manpower. The bigger the story, the more involved it becomes."
On the comic book page, however, small, intimate moments or huge space battles can be brought to life with a few extra strokes of the pen. "With comics, I can tell a big story or a small story all within the same framework," says Kelly. "You can show people immediately what it's all about. A potential reader can grasp the idea as soon as they open it. It's very grassroots."
For the Mine! collection, Kelly and Antal are putting a new twist on their usual tales of horror. "We're contributing a story from our series, Tales of the Night Watchman," says Kelly. "The series itself is about baristas who fight monsters, but this one focuses on one of the main characters, Serena, who lives in a tent on a Brooklyn rooftop. She's a bit of a huckster, but she has a lot of endearing qualities. It's an origin story about how she came to New York and found acceptance here. Personal empowerment is a big theme in the book."
"There will be farm livin', sexual awakening, begrudgingly sentimental friendships, and takeout phở, all set against the backdrop of the NYC skyline," promises Antal.
After all, monster-fighting barista adventures and personal stories of sexual awakening don't have to be mutually exclusive. Comics of any genre can be politically engaged, and any creator can use their work to send a message.
"My favorite thing about comics is that anyone can do it," says Kelly. "If you have something to say, self-publish. Start tabling at shows. Start selling your work at stores. Comics is what you make of it. You can challenge the status quo, or tell a story about a ghost fighting a monster from the Gowanus Canal, or both, which is a kind of what we do."
You don't even have to be a comic book artist to make an impact. "Support by donating your most valuable assets: Time, energy, or money," says Antal. "Create work that celebrates and informs. Sell work and donate the proceeds, or create work to be directly used by an organization. But be honest with yourself and assess what you can realistically give. You can't do it all, but opt to do what you can well."
Mine! will be hitting the bookshelves sometime in December 2017. In the meantime, you can still become a backer on Kickstarter, or check out Dave Kelly and Lara Antal's comics about baristas, monsters, and personal empowerment over at So What? Press.