Neil Gorsuch Was Confirmed To SCOTUS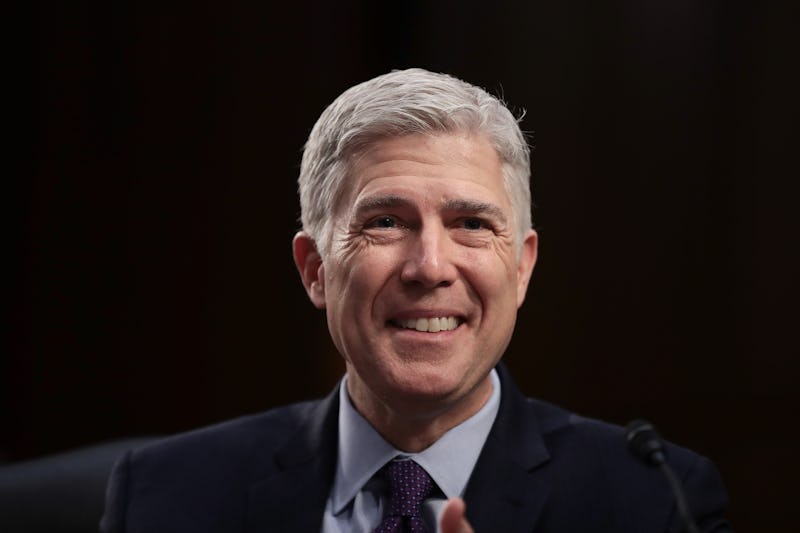 Drew Angerer/Getty Images News/Getty Images
It has been a long road to having a full Supreme Court since Justice Antonin Scalia died on Feb. 13, 2016, at his favorite hunting resort in West Texas. Most of the following year, it seemed that another nominee would make it to the bench: Merrick Garland. Since Scalia died during former President Obama's term, he got the pick. Then the Republicans obstructed Garland's confirmation process, trying to make the November election a referendum. And ultimately, it seems they succeeded, as Neil Gorsuch was confirmed Friday afternoon as the newest Supreme Court justice.
The move follows Senate Republicans' unprecedented decision Friday to end the filibuster option, essentially forcing the nomination of Gorsuch. Citing his position on women's rights, among other issues, Senate Democrats had pledged to filibuster Gorsuch's nomination and stop him from taking a Supreme Court seat. In response, Senate Republicans took the "nuclear option" of wiping out that step entirely.
In a normal year, had Gorsuch's nomination come under a Republican president with a Republican majority in the Senate, the confirmation would likely have been without controversy. He is, for many, not a particularly controversial candidate. At least that was the case when he was nominated to his prior job working in Denver on the Tenth Circuit Court of Appeals. He was unanimously confirmed by the Senate with a voice vote in 2006. But given the manner in which the Senate stopped Garland last year, this nomination has seen more opposition.
One of the reliefs during the confirmation hearings was to hear that Gorsuch would remain an independent justice and stand up to President Donald Trump, who has regularly attacked the judiciary since taking office. Gorsuch said that he would be his "own man" and had a "gavel not a rubber stamp." Gorsuch told the Senate Judiciary Committee:
When anyone criticizes the honesty or integrity or the motives of a federal judge, well I find that disheartening, I find that demoralizing, because I know the truth.
Gorsuch also denied that he had agreed to overturn Roe v. Wade. Trump had promised supporters that he would appoint a justice that would do just that. Gorsuch said that if he had been asked to do so in his talks with Trump, he "would have walked out the door."
Gorsuch told the committee, "I have offered no promises on how I'd rule in any case to anyone, and I don't think it's appropriate for a judge to do so."
Thus, what remains to be seen is whether Gorsuch will be filling the Supreme Court in the style of Scalia, who regularly wrote fiery dissents — many of which ran in counter to recent civil rights advancements for LGBTQ Americans, affirmative action, and more. The night his nomination was announced, Gorsuch explained his thoughts on the revered justice:
The towering judges that have served in this particular seat of the Supreme Court, including Antonin Scalia and Robert Jackson, are much in my mind at this moment. Justice Scalia was a lion of the law. Agree or disagree with him, all of his colleagues on the bench share his wisdom and his humor, and like them, I miss him.
Now all that remains to be seen is whether he agrees or not. The view of many progressives is that he will. So stay tuned for some interesting oral arguments and decisions. At the very least, 4 to 4 decisions are a thing of the past.