Netflix Is Sharing Fans' 'To All The Boys'-Inspired Love Letters & You'll Have So Many Feels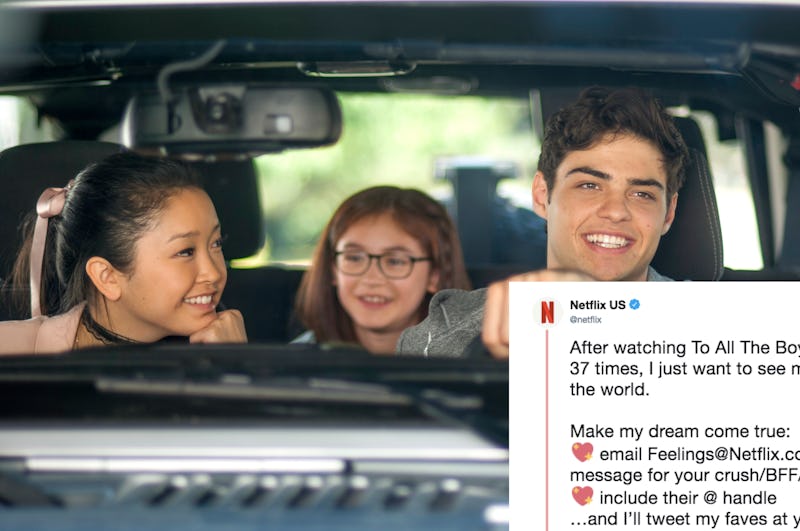 Netflix; Netflix/Twitter
There are plenty of reasons fans love Netflix's rom-com To All The Boys I've Loved Before. Lara Jean Covey is super relatable, and Peter Kavinsky is just too sweet. And who woudn't want to receive a heartfelt love letter? With that in mind, Netflix asked fans to write their own love letters in the spirit of the movie.
In a tweet on Tuesday, Netflix encouraged fans to email the streaming service — they set up the account feelings@netflix.com for the occasion — with a message for their crush, whether famous or not. Netflix asked fans to include the person's Twitter handle, so that they could share the messages anonymously. (Yeah, having Netflix share your love letter definitely beats sending a candy gram in school.)
Since the tweet was posted, the streaming service has received more than 700 love letters, according to a press release from Netflix. Scrolling through some of the anonymous notes on Twitter will definitely restore your faith in love — and maybe even inspire you to write a love letter of your own.
There's one message for a woman whose friend (and possibly coworker, based on the letter) says they're "head-over-heels in love" with her. "I couldn't imagine my life without you," the letter reads.
Some of the letters, meanwhile, aren't exactly anonymous, but that doesn't make them any less sweet.
And, of course, some fans wrote love letters to Lana Condor and Noah Centineo, the actors who brought To All The Boys I've Loved Before to life on screen.
In the movie (and in the Jenny Han novel the film is based on), Lara Jean doesn't actually intend for her crushes to receive the love letters. And unlike with Netflix's initiative, she doesn't have the protection of anonymity — the letters are signed with her real name. But when her secret letters, many of which were written years prior, are mysteriously sent out, Lara Jean's life undergoes some massive changes.
Slight movie spoilers ahead. Even though she's embarrassed at first, the letters end up being a blessing in disguise. If they hadn't been mailed, Lara Jean wouldn't have ended up fake-dating Peter — and they might not have ended up actually dating, either. And as any fan of the movie will tell you, Lara Jean and Peter are the perfect couple.
Plus, if the letters worked for Lara Jean and Peter's relationship, who's to say the Netflix tweets haven't inspired some real-life romance? Yes, the tweets are anonymous. But the people who've been tagged in the tweets likely have at least some idea of who the senders are, based on the messages. And if being set up by Netflix isn't the perfect 21st-century relationship origin story, who knows what is?
Whether or not the letter writers' love is unrequited, it's super fun to scroll through the love notes that Netflix has shared. It's easy to get caught up in negativity sometimes, but these notes are a reminder that romance is alive and well, and not just for characters in romantic comedies.