Netflix Just Expertly Trolled Every Single Person Who's Obsessed With 'A Christmas Prince'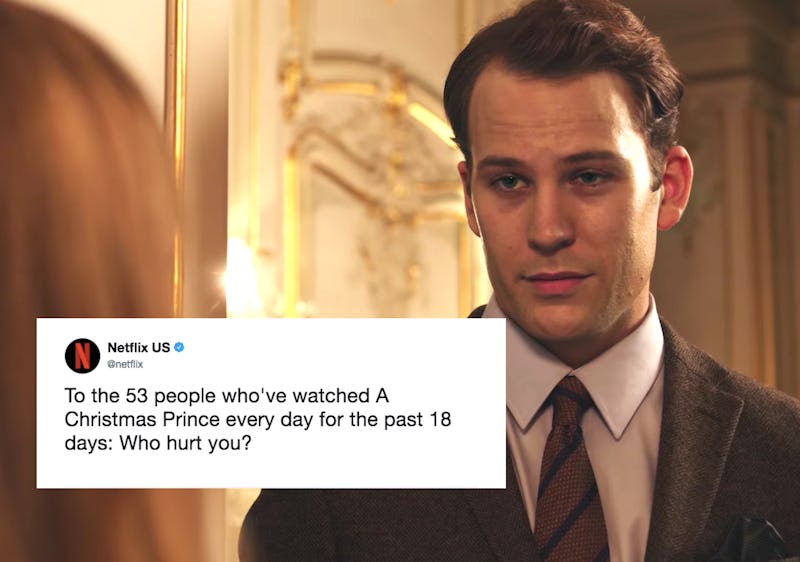 Apparently, even your favorite streaming service is concerned about you watching A Christmas Prince. In fact, Netflix's A Christmas Prince tweet may make viewers feel personally attacked, because it reads, "To the 53 people who've watched A Christmas Prince every day for the past 18 days: Who hurt you?" However, the only rational response to this discomfiting question requires another, more important one to be posed. Why wouldn't you marathon A Christmas Prince on Netflix for over two weeks?
The seasonal movie centers on a young journalist, Amber, who is sent to Aldovia to cover a royal press conference. But when Prince Richard fails to appear at the press conference, she ends up being mistaken for his much younger sister's tutor and goes with it, clearly aware that working inside the royal household could lead to the scoop that makes her career. But it isn't long before she gets a bad case of the feels for the prince, who's rumored to be a feckless playboy, and the plot thickens. Actually, it kind of curdles, but that's beside the point, because the internet is obsessed with this movie.
Admittedly, it's a very specific sort of obsession — the kind where people think something is so bad that it's reached the point of being art.
While it's everywhere on Twitter, this isn't reflected on rating sites like Rotten Tomatoes; A Christmas Prince has received so few reviews from official websites that it doesn't have a score yet, though it does have an audience rating that is as divided as the internet itself seems to be about the movie. It scored a 57 percent audience rating at the time of writing, something that seems a little lackluster given how much conversation it's generating.
But this doesn't account for the movie's memeable quality. Sure, it's dumb, but it's also undeniably joyful. It boasts classic tropes like female-journalist-being-sent-on-a-weird-assignment (see: How to Lose a Guy in 10 Days, His Girl Friday, Never Been Kissed, The Ugly Truth), royalty (see: America's obsession with the upcoming Meghan Markle/Prince Harry nuptials, millennials being nostalgic for The Princess Diaries), and bucketloads of snow. How can people respond to this with anything but being totally compelled and unhealthily obsessed? Even to the point of watching this every day for 18 days? Netflix created this monster itself.
Of course, it bears repeating that there are a bunch of movies that you could (and should) watch if you're in love with A Christmas Prince and want to watch pretty much the same film but with a different title and cast. The most obvious pick has to be How to Lose a Guy in 10 Days; just like in the Kate Hudson classic, Amber wants to be a real, respected journalist and is willing to go the extra mile for her career (pretending to be a tutor seems like a more ethical choice than having to pretend-date and repel someone though). And just as Andie Anderson isn't who Benjamin Barry thinks she is, so too, does Prince Richard believe that Amber is just Princess Emily's sweet tutor.
Obviously, you should also take a trip to Genovia instead of Aldovia if you haven't seen The Princess Diaries already. Just like in your new favorite movie, there's a makeover scene, there's the media getting in the way of a girl's love life, and buckets of fish-out-of-water stuff as normal teen girl Mia has to prepare to become a princess.
Of course, if push comes to shove, you could always just take the streaming service's recommendations. As Twitter user @ingrediments has observed, "Since I watched #AChristmasPrince the other night, Netflix just gave me a bunch of recommendations based on it. You guys, Netflix has a whole category of terrible Christmas movies!"
But, really, will any of their Yuletide films reach the same dizzying lows as A Christmas Prince? Yes, it's a little crazy that 53 people have watched it every day for 18 days. But that's the thing; true love is pretty close to madness. So Netflix should take it as a compliment.